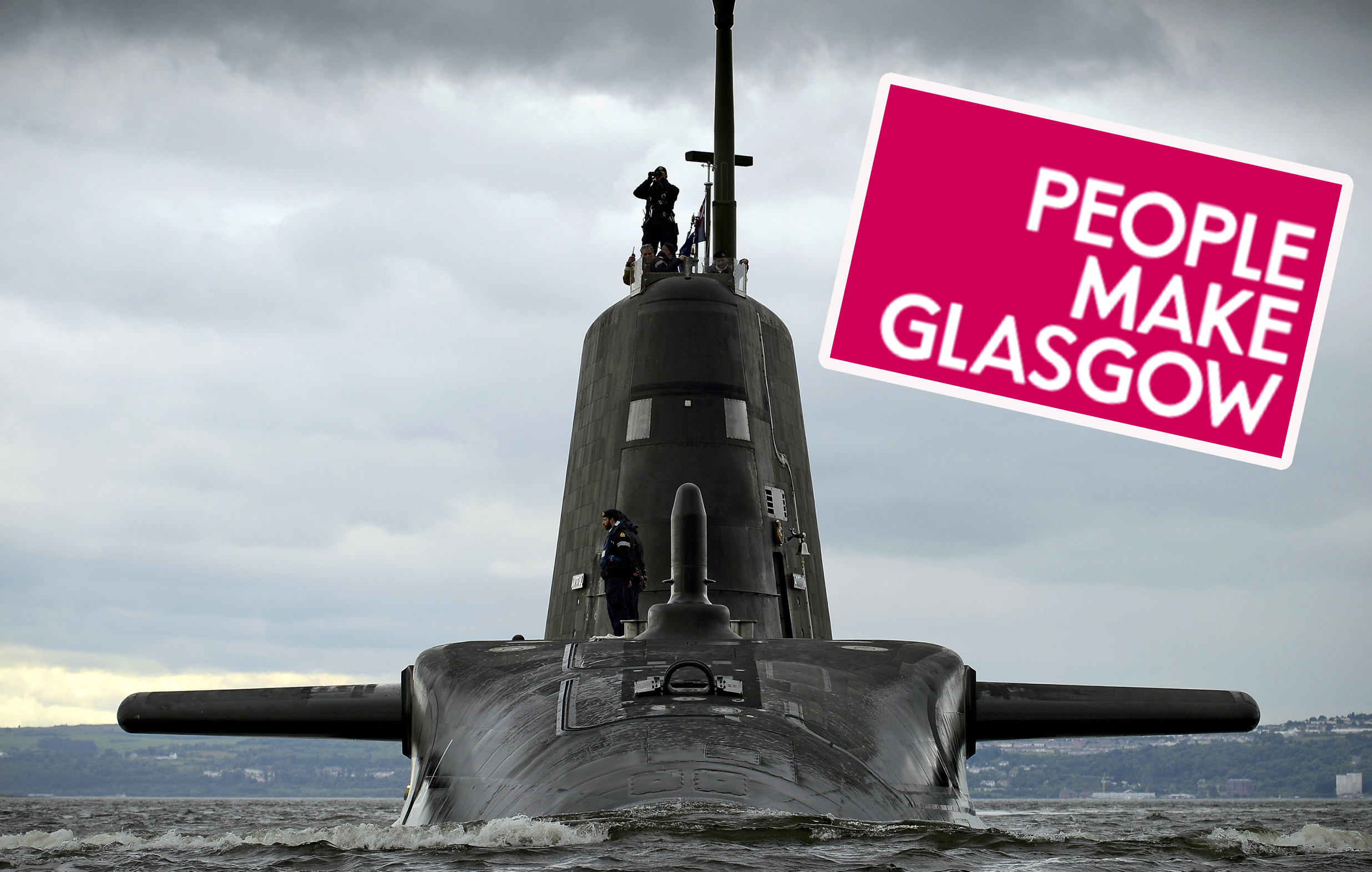 THE charity promoting cultural attractions in Scotland's biggest city has been criticised for sponsoring an arms fair.
The Undersea Defence Technology event will take place in June at the SEC in Glasgow with more than 1,000 people from 40 nations invited.
But critics of the arms trade have questioned why the leisure and culture arm of Glasgow City Council is supporting the conference selling weapons and backed by firms involved with the Trident nuclear submarines.
The council is dominated by the SNP which opposes the renewal of Trident and recently criticised the UK Government for sanctioning warfare in Syria.
UDT brings together professionals from the military, industry and academic sectors, describing itself as, "the underwater defence and security community's most relevant exhibition and conference".
People Make Glasgow, which is part of Glasgow Life – a company that manages and promotes leisure and culture services for the council – is one of the event's sponsors along with several arms firms.
They include the Italian multinational Leonardo MW, which has a factory in Edinburgh, a firm we revealed recently had links to the bombing of Kurds in Syria, an assault described by critics as "ethnic cleansing".
Other sponsors include BAE Systems and Babcock, both pivotal to a new fleet of Trident nuclear submarines, prompting criticism by anti-nuclear campaigners who said they plan to demonstrate.
The event is run by Clarion Events which organises the huge DSEI arms fair in London. Firms listed to exhibit include the world's 11th largest arms firm, Thales, a French company that makes drones, among other products, in a joint venture with Israeli arms company, Elbit.
The fifth largest arms firm in the world – Northrop Grumman – is also listed as an exhibitor. It makes drones, stealth bombers and nuclear missiles.
Speakers include Rear Admiral Moises DelToro III, Deputy Commander for Undersea Warfare with the United States Navy, and Fredrik Palmquist, commanding Officer with Sweden's armed forces.
Critics of the event include Scottish CND which said it was organising demonstrations.
Arthur West, chair of Scottish CND, added: "It is frankly disgusting that an event which seems to be about developing weapons of war also looks to have gained the support of public agencies such as Glasgow Life.
"It really is time to move away from concentrating research and financial resources into weapons of war such as Trident and to start giving meaningful support to areas such as dealing with climate and building decent and dynamic public services."
Andrew Smith of Campaign Against Arms Trade, said: "Council bodies should not be sponsoring an event that is a blatant propaganda vehicle for arms dealers. Councils are meant to work in the public interest, not endorse and legitimise events that promote weapons and war."
However, Aileen Crawford, Head of Conventions at the Glasgow Convention Bureau, defended UDT and said: "Last year, Glasgow hosted more than 500 conferences, which brought £130 million to the local economy.
"In recent years, the UDT conference has been hosted in major cities including London, Oslo and Liverpool.
"The conference will bring more than 1,000 delegates to Glasgow with an estimated economic benefit of £1.2 million for the city."
A spokesman for UDT said the event would not feature Trident or the Trident replacement programme.
He confirmed the event's website uses an image of HMS Ambush, capable of carrying sea-to-land Tomahawk missiles, returning to Faslane.
Green MSP Ross Greer said: "The Scottish Government is giving public money to arms manufacturers and ministers admit as much.
"Their excuse, that the money is to support diversification projects away from making weapons, just doesn't wash.
"To see our largest city council in on the act shows that the SNP just can't walk their own talk on ethical foreign policy.
"Given their longstanding opposition to Trident, it's just inexplicable that their administration could support a showcase for these genocidal weapons systems."