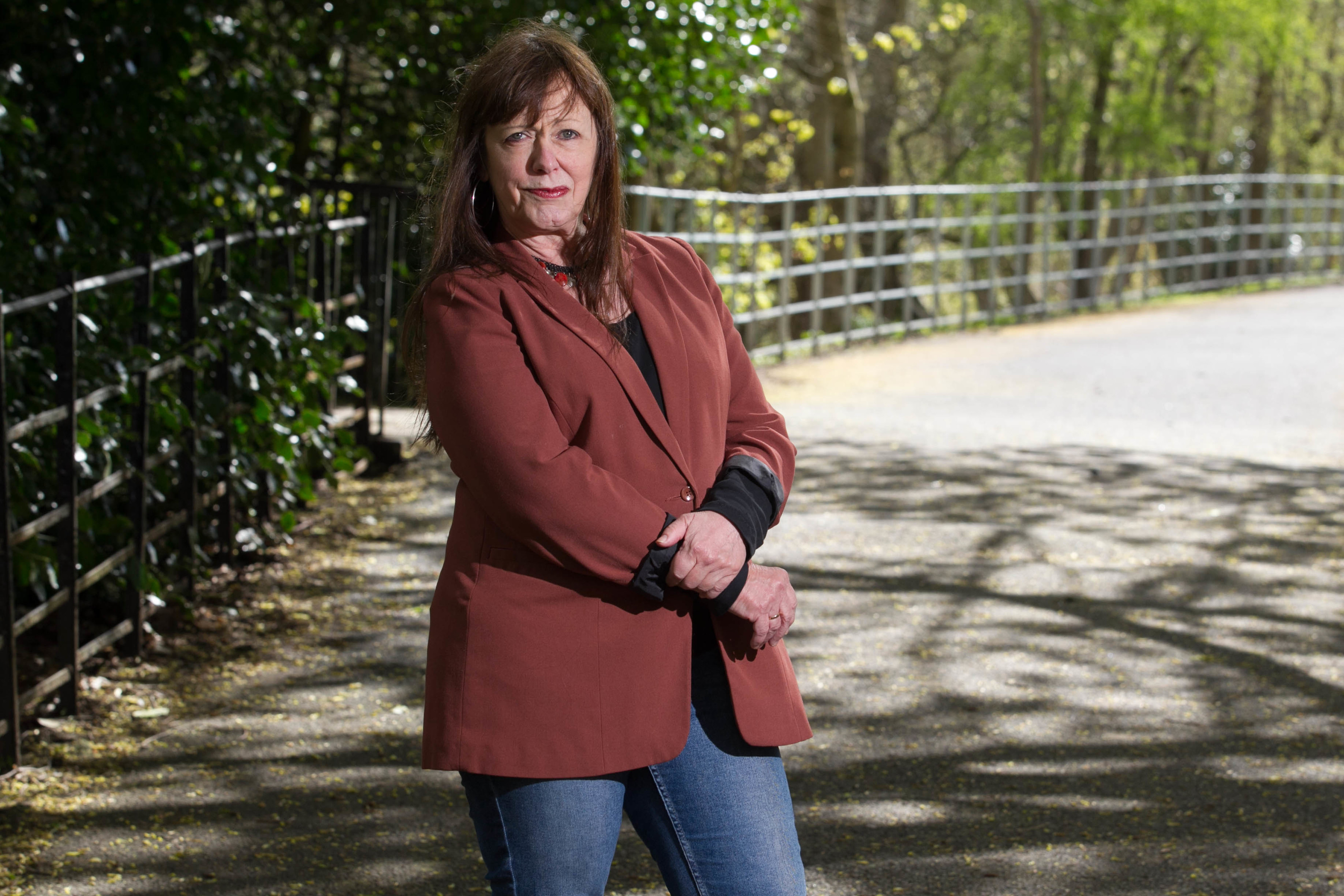 DONNA FRANCESCHILD is remembering how she told the boss of a theatre where she was directing a play that she was out for the weekend from hospital where she was being treated for "women's troubles."
"I'm a bad liar, but I figured I'm a woman, and I was definitely in trouble, she recalls.
In fact, she was on a weekend pass from a psychiatric ward.
She lied to the theatre manager because she thought it was easier than telling the truth about her mental illness.
"I remember someone told me just to say that because people – men – wouldn't ask any more," said the Scottish-based screenwriter.
Eight years on, much has changed. Not only has the play – about a woman contemplating taking her life – been made into a film, Donna no longer cares who knows she spent time in what she calls "the bin."
In fact, she thinks, the more people who know, the better,.
The Chicago-born writer, who lives in Tarbert, Argyll, feels the time is right for her to speak candidly about her struggles with mental ill-health to highlight the prevalence of mental illness and tackle the stigma around it.
"This has been a really hard one," she says over a coffee at her son's home in Partick, in Glasgow.
"I have been a mental health advocate all my life, and it's still hard for me to talk about being in 'the bin'."
It was during a stay in hospital in Argyll that Donna met a woman who had been admitted for psychiatric care after attempting to end her life.
She had already been in discussions with David McLennan, the late chief of Glasgow theatre Oran Mor's popular lunchtime A Play, A Pie And A Pint series, about a play centred on a brief encounter on a Glasgow bridge.
What no one who came to see the resultant production realised, was that Donna decided to write it when she was receiving psychiatric care as a hospital inpatient, herself inspired by a meeting with a stranger.
"When this woman came in to be my room mate in the hospital, we hit it off, and I decided I wanted to write something for her," she said.
"I'd already had the idea, about a gallus, clueless Glasgow guy encountering a woman on a bridge. A good Samaritan story, told in a non-sentimental, Glasgow way."
The play – originally just two minutes long as part of a slate of 30 such micro-productions – had an immediate impact.
The story of a woman struggling with parenthood, addiction and isolation was adapted for Radio 4 and a full-length version was later staged at A Play, A Pie And A Pint, garnering positive reviews.
All the while, Donna had managed to hide the truth of her struggle.
"I didn't want anyone to know I was a 'resident'," she said, recalling its first outing.
"I had to tell Dave I couldn't make a rehearsal, and told him I was in hospital."
Having cited "women's troubles" she even found herself having to talk her way out of the misunderstanding that she was having a hysterectomy.
"I don't even remember what I said to talk myself out of that one," she said.
Now, Donna feels differently. While she says society is becoming better at understanding mental ill-health, and the stigma surrounding it, she maintains there's a long way to go – well beyond celebrities revealing their mental health diagnoses.
"Spike Milligan had been 'out' about being bipolar for years, and some other celebrities, too," she said.
"But now I think it's more of a hindrance, like it's OK for celebrities, but when anyone else does it, it's still a problem.
"I want to see things move on from 'Celeb reveals they're bipolar'.
"It's never schizophrenia. Celebrities never have that as it's not 'cool'.
"All that does is take time and space away from issues that really have to be addressed, like in the workplace where there are still issues about disclosing mental health problems.
"And the issue around people with these problems having their benefits withdrawn, when the very nature of the problem is that dealing with bureaucracy can be terrifying for someone."
Donna praises the work of some TV producers in handling mental health storylines but fears some coverage can still be harmful.
She said: "Whenever there's an economic downturn certain groups are demonised. Whenever anybody is different from whatever the idealised perception of the norm is, they'll find themselves targeted. We're seeing that, so we need to be even more vigilant."
The play's eventual impact itself bore out the message about hope in adversity, not only for its characters, bit for its writer.
"After the radio thing it really exploded," said Donna. "People took it to their hearts."
One such person was Iain Robertson, who played the male lead in a stage production of the play in 2014. The story has such an impact on the River City actor that he set about raising funds to turn it into a film, his first as a director and raised £25,000 on a crowdfunding website.
Later this month the film, Bridge, starring Katy Murphy and Steven Duffy, will be given its World Premiere at the Scottish Mental Health Arts and Film Festival.
At just over 10 minutes long, the tale is simply told without relinquishing any of its emotional pull.
Donna said: " When I conceived it, it was just a moment where life and death is at stake. We don't know the backstory, why they're there. It's a little urban moment."
Bridge is part of a CV including BBC2 drama Takin' Over The Asylum, with David Tennant, and last year's BBC Radio Scotland's Jack's Birthday, both of which tackled the subject of psychiatric distress.
The writer said: "I just want people to realise how important it is to ask, 'Are you okay?'. It can really make a difference."
Kindness of strangers funded movie
When Iain Robertson saw the two-minute version of Bridge, he knew he wanted to take it to a wider audience.
The actor, who directs the film version, said: "It made the hairs on my neck stand up.
"It makes me feel the same way I did when I saw It's A Wonderful Life.
"I loved the script for seven years, but I only found out last year that Donna had spent time in a mental health facility when she wrote it."
Speaking about his successful crowdfunding campaign, Iain said: "It's a film about the kindness of strangers and it was funded by the kindness of strangers."
Bridge will be shown at Glasgow's CCA on Friday. The Scottish Mental Health Arts and Film Festival runs across Scotland from tomorrow until May 27. See their website at mhfestival.com