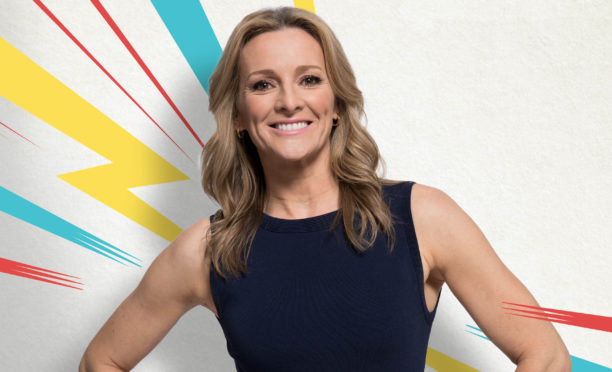 It's set to be a feast of football, part of a summer-long celebration of women's sport. But as the Women's World Cup kicks off in France this week, Gabby Logan says sexist attitudes need to change off, as well as on, the park.
Gabby was a trailblazer for female sports broadcasters but she has told P.S. of her disgust over the horrific sexist attacks on the new kid on the block, football pundit Alex Scott. And she insists it simply has to stop.
Alex, 34, who was capped 140 times for England, said she found it "really hard" to deal with the social media abuse she received "every single day".
Ahead of hosting coverage of the opening game on Friday, Gabby, 46, said: "It's disgusting, ill-placed and there's absolutely no room for it.
"Alex is only a year into her full-time broadcasting life and because she's a new face to them, a very vocal minority have a kneejerk reaction to a woman talking about football.
"It shows that attitudes need to be addressed. I thought things had changed much more than they obviously have and I was really upset and surprised to learn how much Alex has been receiving."
Gabby admits many of the male pundits she works with, all with vast experience in the game, also still suffer abuse.
But she says the attacks on Alex, who has taken to the TV studios with ease, are mindless and ill-founded.
"There are, sadly, some not very nice people out there," said Gabby, who has 13-year-old twins, Reuben and Lois, with former Scotland rugby star husband Kenny.
"Football, at least the men's game, has become quite toxic. The last year has thrown up some issues with racism and sexism. I really thought we'd done better than that.
"If people were critiquing in a constructive way, fair enough. But it's trite and hackneyed, like 'get back in the kitchen' or using sexual innuendo.
"It's water off a duck's back to me now and I definitely don't take it to heart. I don't lose sleep over it but it doesn't mean I think it's right or that I shouldn't speak out over it.
"Occasionally I will call somebody out but I don't want to give oxygen to people. I've done so much weeding out and blocking over the years it's not too bad.
"And they've realised I'm not going anywhere and the only way Alex is going is up."
The sporting summer sees football segue seamlessly segue into netball, tennis and cricket with Clare Balding, Eilidh Barbour and Hazel Irvine among the powerhouse presenters joining Gabby.
And while Gabby says she's proud to be a key part of it, she insists it's all about the right person, with the right experience, for the job.
"I believe television is getting better at that and none of us want to be there because we tick a box somewhere," said the former gymnast, whose dad is ex-footballer and Welsh international manager Terry Yorath.
"We want to be the best we can be. Every time I come off air, I'm my biggest critic. The next time I go on I want to be better.
"I treat it like a sports person because that's my background. You don't set goals like wanting to host this or that next year, but you know your performance is what will keep you there.
"So many people want to do your job. When Kenny was playing for Scotland, so many people wanted his number 11 shirt.
"Week in week out in club rugby, he had to prove he was still the man for the job. I've got that attitude, whether I've grown up with it with my dad or my own sport or with Kenny.
"It doesn't mean you can't enjoy it. I love it and I'm never happier professionally than when I'm doing a live show."
Sports presenter Eilidh Barbour on dismay at hanging up her boots but joy at picking up mic for Women's World Cup
With no Olympics, men's World Cup or European Championships this summer, the women have the sporting field to themselves.
And with the BBC giving their prime TV channels over to coverage, Gabby says the boost the sports get will be huge.
Right up there among the highlights will be the match between Scotland and England, who have been drawn together in Group D, next Sunday.
"Having it on BBC1 at 5pm will hopefully attract a massive audience.
"It's a huge opportunity and a real game-changer. I think it will be a much closer encounter than the one we saw two years ago in the Euros.
"That was a depleted Scotland side comprehensively beaten by England. This Scotland team will give England a much sterner test.
"This is not an easy game for England. You've got a lot of the spine of the Scotland team playing at the top level and it's a team playing with real confidence. To have that Auld Enemy rivalry for the opening game for a UK audience is just brilliant."
And she is in no doubt about where family loyalties will lie.
"While I'm out in France covering the game for the BBC, I've no doubt the household will all be cheering for Scotland," laughs Gabby, who says initial concerns over the draw and potentially one nation failing to qualify have been replaced by the hope that both will get out of the group.
With sporting blood coursing through the family veins, it's hardly surprising that Reuben and Lois have competitive and athletic passions.
Reuben has just finished his rugby season and is focusing on rowing, golf and tennis over the summer before rugby pre-season ramps up. Lois, meanwhile, is into showjumping and athletics.
"They're both really passionate and they make great friends out of it and that's what's important for me," said Gabby.
"Becoming a professional at any sport is the hardest thing to achieve and just a pipe dream.
"It's really about working hard and enjoying it, because I know the enjoyment I got out of sport.
"I've got the friendships and the memories and I'm so happy they've got that opportunity."
Gabby has worked across a host of disciplines, picking up numerous Sports Presenter of the Year awards, as well as fronting other types of programmes.
She says her dream when she started out was to host a chat show but, in the current broadcasting landscape, so much is possible.
"You can try podcasts or maybe YouTube if you thought there was something you wanted to explore," she adds.
"I'm 46, at the midway point in my life if you like, and I love doing exercise, being healthy and the challenges of getting older.
"We're going to be expected to work a lot longer than previous generations.
"My kids will probably have three or four different careers and it's important we stay as healthy and enjoy what we do.
"So I'm not sure exactly what I want to do, whether it's programming or chatting about that to others who are in a similar situation."
Women's World Cup starts on BBC1, Friday, 7.30pm
---
Gabby's secrets to health and happiness
Gabby keeps in shape with various activities including regular weightlifting and yoga, which she took up more than 20 years ago.
But with two dogs, boxer Milo and labradoodle Maggie, to look after, there are simple fresh-air pleasures that ease the tensions of live broadcasting to millions.
"Just going for a walk in the woods with the dogs relaxes me," said Gabby. "I find hearing the birds really cathartic.
"We live just out of London and to be able to smell freshly-cut grass or hear the wind in the trees…those very simple things make me feel quite chilled."
But while she has pushed her body for years and still has a weekly exercise schedule some would find pretty hardcore, Gabby admits she's also into a bit of well-earned pampering.
"On a more hedonistic level, I love a facial!" she smiles. "And I'm a sucker for a massage, just surrendering and allowing my body to relax.
"In my dream, utopic life I'd have a masseuse come round every day."