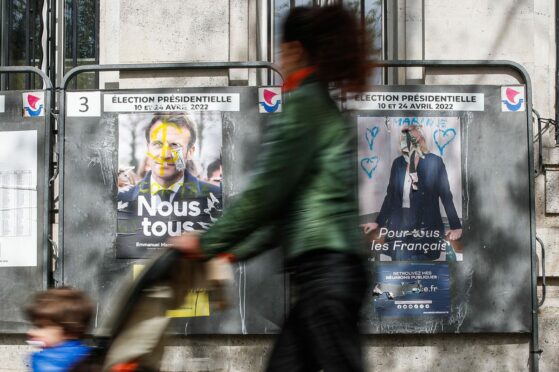 When Emmanuel Macron came from nowhere to become President of France, he knew he had been riding his luck.
A perfect storm of malice, incompetence and corruption among rivals ensured that, on May 6, 2017, the clean-cut civil servant became one of the most powerful leaders on earth.
Macron was not yet 40 and contesting his first democratic election but he sealed the top job with relative ease.
His main opponent, Marine Le Pen, was considered a dud because of her supporters' links to the worst kinds of racist crimes, from physical attacks on Muslim immigrants to Holocaust denial.
Nobody expected Le Pen's far-right party – then called the Front National (FN) – to seriously challenge a self-styled centrist moderniser who had created his own political movement, En Marche! (On The Move!), around his EM initials.
Sure enough, Macron won with a 66% landslide and the French hoped they could move on to better days.
Despite this, France will today once more see Macron and Le Pen going head to head for the presidency, with the country even more angry and divided than it was half a decade ago. And although the latest polls put Macron between 10 and 14 points ahead, the fact that nearly three in 10 voters say they will not vote or have not made up their minds means a surprise Le Pen win cannot be ruled out.
"The racists are even stronger – a third of the country is now voting far-right," said Lucille Moulin, a Paris businesswoman and one of 48 million eligible voters.
"Everybody thought that Macron's massive defeat of Le Pen five years ago would mean an end to the extremism but the reverse has been the case. Even if Macron wins again this time around, we will be looking at more division and social upheaval."
Moulin used to vote for the conservative Republicans party but they disintegrated in 2017 when their candidate, François Fillon, was caught up in a fraud scandal.
Fillon falsely claimed that his British wife, Penelope, was his parliamentary assistant, and illegally paid her thousands – meaning both were eventually convicted in a criminal court.
The Socialists also collapsed after five years of ineffective rule under President François Hollande, leaving Macron – who had served as Hollande's finance minister without being an MP or even a Socialist – against the fringe candidates.
Macron described himself as "neither left nor right" and, crucially, never really spoke out convincingly against Le Pen, nor her party's dark roots. Instead, he told supporters in his victory speech: "Tonight I want to offer a Republican salute to my opponent, Madame Le Pen. I know the divisions of our nation which have led some to vote for the extremists, and I respect them."
Yes, Macron promised "a new page in our long history" and "a period of hope and regained confidence" but there was no attempt to crush the radicals. This time around, Macron has been more critical of Le Pen. A live TV face-off on Wednesday night saw Macron accuse his arch-rival of being a Russian puppet who would "start a civil war".
He said the NR took out an £8 million loan from the First Czech-Russian Bank in 2014 and was still paying it back as the war in Ukraine intensified. "You are not just talking about Russia, but your banker," Macron sneered. "It's hardly surprising that Russia took part in the campaign to destabilise me in 2017."
A snap Elabe poll published after the debate showed the incumbent head of state on 59% of the vote,and his far-right rival on 39%, with 2% abstentions.
Le Pen had craftily accordingly changed the FN name to Rassemblement National, for National Rally, and said she was softening its image.
The convicted racist and anti-Semite Jean-Marie Le Pen, who founded the FN in 1972, was kicked out of the party but he remains hugely popular among the rank and file. More crucially, as Marine Le Pen's dad, it has been confirmed that he will be welcomed at the Élysée Palace if she wins today.
Yes, her current campaign has highlighted the need to tackle rising living costs but its main focus is on reducing immigration by up to 75% and clamping down on Islam.
There are more than five million Muslims living in France and Le Pen continually baits them with attacks on everything from what they eat to how they dress.
"She is her father's daughter and nobody with any sense can argue against that," said Mohammed Brahimi, a 19-year-old student from the Paris suburb of Nanterre.
"If a Le Pen finally wins power, then we can expect absolute chaos," said Brahimi, who referred back to 2002, when Le Pen Senior was runner-up in the presidential election.
"They try year after year, and they get closer every time. Compliant presidents like Macron make it easier for them – he's moved further and further to the right and doesn't care who suffers because of it."
The lack of authority Macron has displayed in reaction to threats to public order has been undeniable.
A year after Macron's election, so-called Yellow Vests – the Gilets Jaunes – started smashing up cities and towns in an outpouring of populist dissent.
Rather than stand up to the Vests, Macron granted them concessions – he scrapped green taxes on fuel, for example – and the riots continued.
Le Pen took advantage of such leniency, praising the Vests as they supported her anti-EU agenda. Jean-Luc Mélenchon, the former Trotskyite revolutionary, also attracted a huge number of votes from those disillusioned by the mainstream left, including the Socialists.
Mélenchon, of the France Unbowed (La France Insoumise) movement, came close to beating Le Pen in the first round of voting two weeks ago and the 7.7 million who supported him could prove crucial to the outcome.
He has instructed them to not vote for Le Pen, as a so-called Republican Front swings into action to keep the far right out.
Despite this, many of the Mélenchon faithful will abstain or enter a "blank vote" today, rather than support Macron.
They view the one-time Rothschild banker as a lackey of the big banks and Paris industrialists who are obsessed by creating huge profits for the few.
They believe the republican and EU institutions Macron represents need vital reform and a radical remaking, a revolution, is long overdue.
Whoever is elected today – always very accurate exit polls should confirm the result by 7pm – is unlikely to avoid it.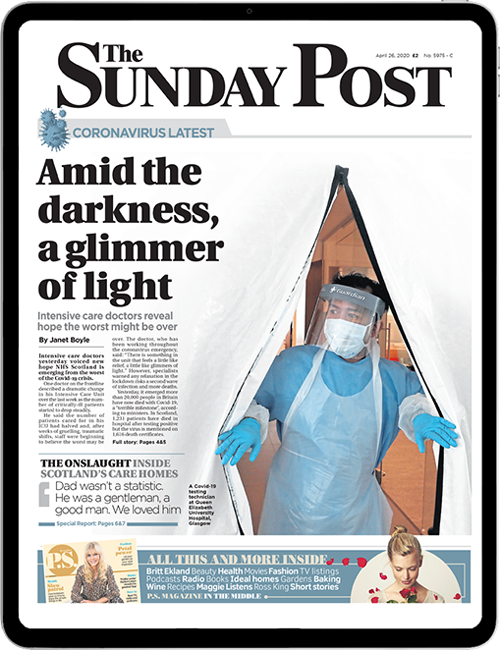 Enjoy the convenience of having The Sunday Post delivered as a digital ePaper straight to your smartphone, tablet or computer.
Subscribe for only £5.49 a month and enjoy all the benefits of the printed paper as a digital replica.
Subscribe