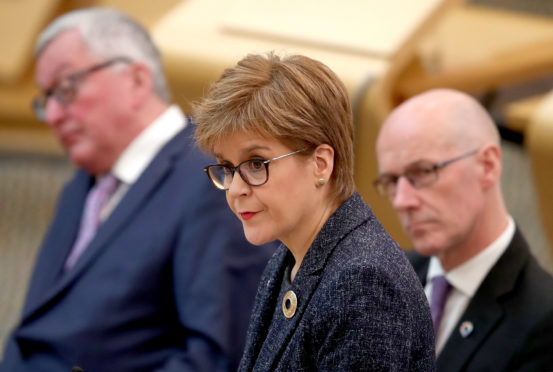 Tory leader Jackson Carlaw has pressed Nicola Sturgeon over what was being done to help women who have suffered painful and debilitating side effects from vaginal mesh surgery.
He raised the issue at First Minister's Questions after Dr Dionysios Veronikis, an expert surgeon from the US, who had planned to come to Scotland to treat sufferers, cancelled his trip.
The development was first reported in last weekend's Sunday Post.
Mr Carlaw said Dr Veronikis' decision was largely due to a "co-ordinated attempt to block him by powerful people in the NHS and the medical hierarchy".
He said: "The clear suspicion of many is that there is a professional and institutional campaign to frustrate Dr Veronikis' involvement. It is the view of many that establishment figures in the NHS are trying to protect their own backs."
.@Carlaw4Eastwood asks if the FM agrees that mesh implants are the "greatest medical scandal of modern times".@NicolaSturgeon says she shares his concern and that the halt to new mesh procedures is an "ongoing priority"

Follow LIVE: https://t.co/tW2a1BGHpt #FMQs pic.twitter.com/rW2P9MNl3H

— BBC Scotland News (@BBCScotlandNews) October 10, 2019
The Conservative leader added that a leading Scottish mesh surgeon had told him that there was "no doubt there is a professional conspiracy against his visit".
Mr Carlaw called on the First Minister to intervene, saying: "If this is true it is an outrage."
Ms Sturgeon said she was "genuinely" not aware of evidence to back that up.
But she told Mr Carlaw: "If there is evidence I would certainly want to see that and be in a position to take action."
.@LabourRichard says a US mesh surgeon feels NHS staff "obstructed" him coming to Scotland to treat survivors. @NicolaSturgeon responds saying she regrets the delays and that attempts to get him here are continuing.

Follow LIVE: https://t.co/tW2a1BGHpt #FMQs pic.twitter.com/jyyRa278wp

— BBC Scotland News (@BBCScotlandNews) October 10, 2019
The First Minister also insisted the Scottish Government still wanted Dr Veronikis to come to Scotland to treat women here.
But she said a visit by Scottish medics to him in the US, that would be necessary for that to happen, had "regrettably" had to be postponed.
Scots doctors had been due to visit the American surgeon in August, as part of the conditions necessary for him to be able treat patients in UK, but this was cancelled due to clinical commitments.
FM: "I want to make it very clear to women affected that this has my personal attention, and the close personal attention of the Health Secretary. That can be demonstrated in the actions taken and we will continue to demonstrate it in the actions that will be taken." #FMQs

— The SNP (@theSNP) October 10, 2019
Labour's Richard Leonard also questioned the First Minister on mesh, reading from a letter from Dr Veronikis to Neil Findlay where the surgeon explained why he rescinded his offer.
Mr Leonard quoted the surgeon's concerns that "the Scottish mesh injured women are vindicated in what they presented to minister Freeman in March 2019. What has been recorded in their medical records as a full removal was not, it was a partial removal."
Mr Leonard asked: "First Minister, why have these women been misled and what are you going to do about it?"
Ms Sturgeon responded: "That is a point that concerns me deeply and one that we are determined to help women get to the bottom of."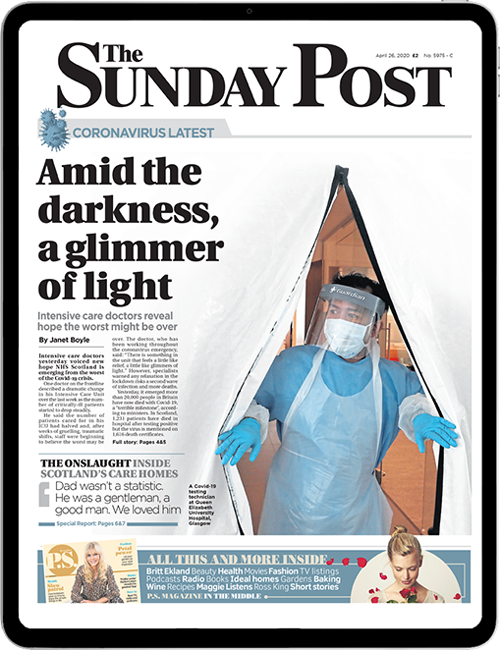 Enjoy the convenience of having The Sunday Post delivered as a digital ePaper straight to your smartphone, tablet or computer.
Subscribe for only £5.49 a month and enjoy all the benefits of the printed paper as a digital replica.
Subscribe