In the early years of The Great British Bake Off, contestants shared a few simple goals – rise to the occasion with an impressive cake, avoid dropping any showstoppers on the floor, and maybe even wow the judges enough to win a coveted Hollywood Handshake.
But, as the most wholesome show on TV has grown in popularity – last year the series attracted a peak of more than seven million viewers per episode – so too has the ambitions of the home bakers. And success in the famous white tent can result in more than just a sweet treat.
In the 10 years since the show first aired, Bake Off has been the launching pad for many successful media careers, with previous participants and winners, including John Whaite and Nadiya Hussain, securing book deals and lucrative presenting gigs, as well as partnerships with big brands.
Those underestimating the impact of joining the hit series include Flora Shedden, a semi-finalist in 2015.
Looking back at her time on the show, Flora, who was a 19-year-old student when she entered the tent, admits she didn't think it would change her life as much as it did.
"I think naive is the word for that period of time, definitely," she explained. "It was an interesting experience and I enjoyed seeing how TV shows are put together. When the opportunity presented itself, I was already writing and taking pictures of food, but I hadn't really viewed Bake Off as an opportunity to turn that into a career.
"But it was a fairly natural progression. Baking was something I did in my spare time, and I had always worked in catering and hospitality all the way throughout school. It didn't feel like I was turning 180 degrees, but I was definitely grateful I had worked in that industry beforehand."
Even if it wasn't planned, Bake Off certainly did boost Flora's career – although the now 24-year-old walked a very different path to her cooking contemporaries. Yes, the ubiquitous book deal followed, and her debut collection of recipes, Gatherings, was published in January 2017.
But, rather than move to London to pursue a career as a celebrity baker, Flora returned home to Dunkeld, Perthshire, to open her very own artisan bakery. Flora explained: "I don't think telly would have been the one for me. It was fun when I was doing it, but I really struggled with the attention and kind of 'nowhere to hide' side of Bake Off.
"It's a very bizarre experience and I suppose it can be quite damaging. I was just aware it wasn't something I wanted to do again.
"I know there's a huge focus on doing that and lot of people feel pressure to move. There was a lot of chat and a fair amount of pressure to do that, and capitalise on Bake Off, but I think I'm probably just a bit stubborn. I was happy where I was previously, and I didn't want to jump on that bandwagon."
She added: "I live in a really beautiful area and I wasn't hugely keen to move away. I was really lucky that the community I live in is so supportive, and everybody I've worked with has given me the luxury that I can write and work from here. I don't need to move down south."
Housed within a 200-year-old building, which she bought with her partner James in 2016, Flora's bakery, Aran – Gaelic for bread – is the kind of community space many smalltown Scots will be familiar with, albeit with a notably Instagram-friendly aesthetic.
Only 21 when she received the keys to her very own business, Flora admits she took a "blind leap of faith" when she set up the bakery, and credits her friends, family, neighbours and customers with helping her to flourish – something she acknowledges in her second cookbook, which is part-baking guide and part-love letter to her community.
Released late last year, and shortlisted for the 2020 Guild of Food Writers Award, the Aran cookbook provides recipes for everything from fresh baguettes and rolls to cakes and pastries, as well as stories and anecdotes about the regulars who visit her small shop each day.
Flora explained: "My love and understanding around food has always been the communal aspect. My first book was all about cooking for people and, although I loved writing it, I did find it a really bizarre experience.
"At the time I was living in St Andrews and didn't know a huge amount of people, so I ended up cooking these big feasts and had no one to eat them! I think that's really where Aran, the bakery, came from – I really missed cooking for people."
She added with a laugh: "That's a silly reason to open a business, but that's kind of it in a nutshell."
---
Aran by Flora Shedden, Hardie Grant, is out now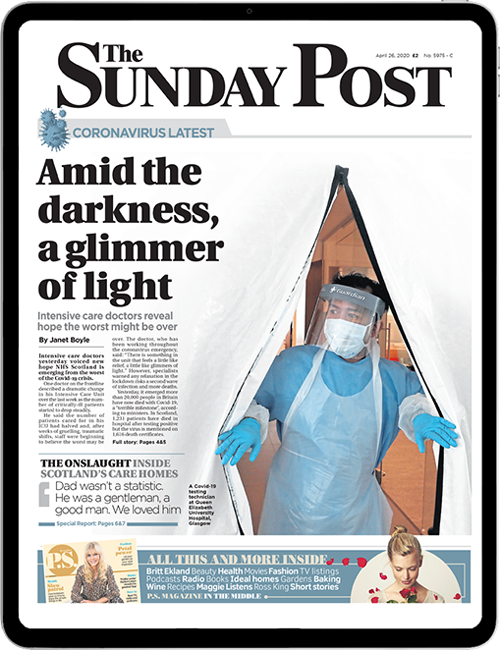 Enjoy the convenience of having The Sunday Post delivered as a digital ePaper straight to your smartphone, tablet or computer.
Subscribe for only £5.49 a month and enjoy all the benefits of the printed paper as a digital replica.
Subscribe