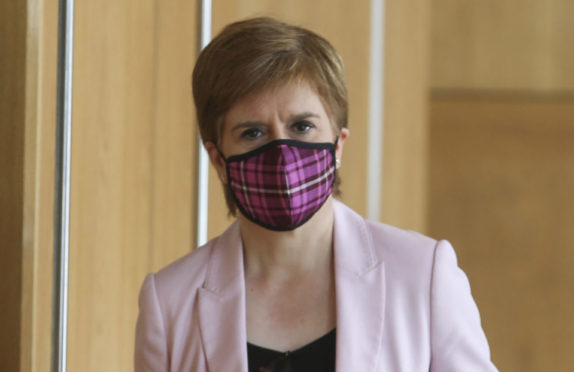 Nicola Sturgeon was quizzed on a number of issues at today's first minister's questions.
She covered the first recorded Covid-related deaths in Scotland since 16 July, to the ongoing Covid clusters across the country as well the easing of Aberdeen's lockdown.
She was also grilled by the Conservative's Ruth Davidson on when she knew patients who'd tested positive for Covid were transferred to care homes, and by Scottish Labour leader, Richard Leonard on Scotland's fiscal deficit reaching £15bn.
---
First Covid-related deaths since 16 July
Nicola Sturgeon confirmed during FMQs that in the past 24 hours, two deaths were reported of patients who tested positive for Coronavirus in the previous 28 days.
This is the first time that any newly registered deaths have been reported in daily figures since 16 July.
Ms Sturgeon told that 19,988 people have now tested positive for Covid-19, an increase of 67 from yesterday.
249 patients are in hospital with confirmed case (up six), with two being treated in intensive care.
The first minister said we have become used to no deaths in the daily figures.
The NRS weekly update, which includes deaths where Covid is suspected, shows six deaths by Sunday 23 August.
The total number of deaths now stands at 4,222.
---
Bars, cafes and restaurants can now open in Aberdeen
There are now 261 cases associated with the Aberdeen pubs cluster, with no new cases in the past 24 hours.
In total, Grampian has seen 435 cases in the past month.
Ms Sturgeon confirmed all bars, cafes and restaurants in Aberdeen are opening again today.
---
Covid Clusters
The first minister also addressed the current clusters in Scotland, beginning with the outbreak linked to the 2 Sisters food processing plant in Coupar Angus, where there are now 156 positive cases.
That's a rise of four cases, all of whom are workers in the factory, she said.
Ms Sturgeon pointed out almost all the workers have now been tested as well as more than 5,000 people have now been tested in Tayside in the past seven days.
She said there is still no evidence at this stage of wider community transmission.
She advised workers and their households should still self-isolate until 31 August, even if a negative result has come back from a test.
Ms Sturgeon said the cluster linked to Kingspark School in Dundee, now totals 31 cases.
Two of those are pupils and all school staff and pupils have been given advice on self-isolation, as have their contacts, she added.
Seven people have tested positive for Covid-19 linked to three businesses in Hawick.
---
Scottish fiscal deficit at £15bn
Labour leader, Richard Leonard quizzed the first minister on Scotland's fiscal deficit.
Scotland spent £15.1bn more on public services than it raised in taxes last year, according to Scottish government statistics.
This public spending deficit was £2bn higher than the previous year, and represented 8.6% of the country's GDP.
The figures cover the financial year to 5 April 2020, so do not reflect the full impact of the Covid-19 pandemic.
The deficit for the UK as a whole rose from 1.9% of its GDP to 2.5% for same the period.
The statistics also estimated that Scotland raised £308 less per person than the UK average in taxation, while public spending was £1,663 per person higher in Scotland.
---
Care home inquiry
The Conservative's Ruth Davidson pressed the first minister on when she knew that patients who'd tested positive for Covid were transferred to care homes.
The Sunday Post revealed dozens of patients who had tested positive for Covid-19 were transferred from hospitals into care homes in the critical weeks around lockdown.
Hospitals in five Scottish health boards sent patients into care homes after they had tested positive for Covid-19
Ms Sturgeon said: "I don't know the clinical condition" of people when they're moved out of hospital.
Ms Davidson asked if the first minister was first told about hospital patients being transferred to care homes as far back as March "or did she find out about it from newspaper reports."
She accused Ms Sturgeon of "ducking the question" four times at FMQs.
Ms Sturgeon responded to Ms Davidson's question by saying she has asked Public Health Scotland "to look in detail" at the subject of hospital discharges.
The first minister said she wants to know whether patients were tested for Covid-19 before being discharged and what the rationale was behind the move.
"When we have that information we will transparently and fully make that available to parliament," she added.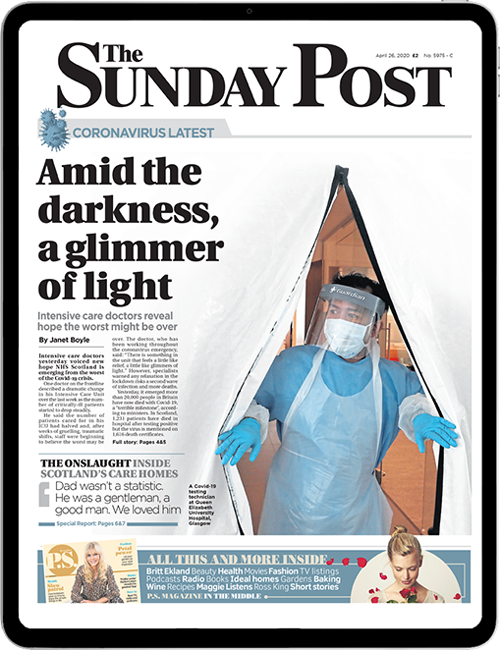 Enjoy the convenience of having The Sunday Post delivered as a digital ePaper straight to your smartphone, tablet or computer.
Subscribe for only £5.49 a month and enjoy all the benefits of the printed paper as a digital replica.
Subscribe