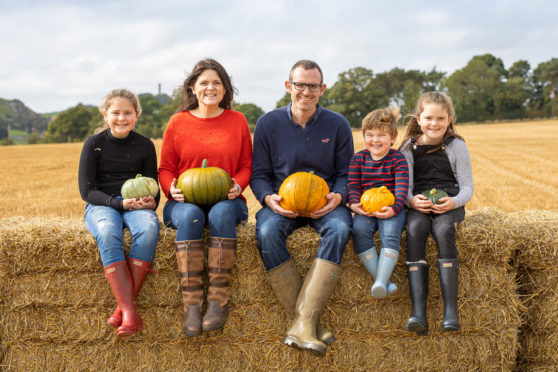 Despite Halloween celebrations this year being curtailed by the pandemic, Zero Waste Scotland estimate that over 650,000 pumpkins could be heading straight to the bin come November 1.
Synonymous with spooky season, many people carve the fruit and simply dispose of it once its time as a jack-o-lantern is extinguished.
However, it is hoped that a wide array of tasty recipes using carvings and seeds could reduce a frightening potential total of around 1472 tonnes of edible food waste.
Lucy and Russell Calder, who run a patch on Kilduff Farm in East Lothian, are among those on a mission to prove that pumpkins aren't just for Halloween.
"It's a real misconception," Lucy said. "We opened up the patch in 2018 to the public and very quickly we became aware that people didn't know you could even eat pumpkins. It was very much that you buy it to carve, put it on your doorstep then it goes in the bin.
"I think the most common question asked was how to make pumpkin pie. We grasped onto that and thought we could show people not just how they grow, but how you can eat them."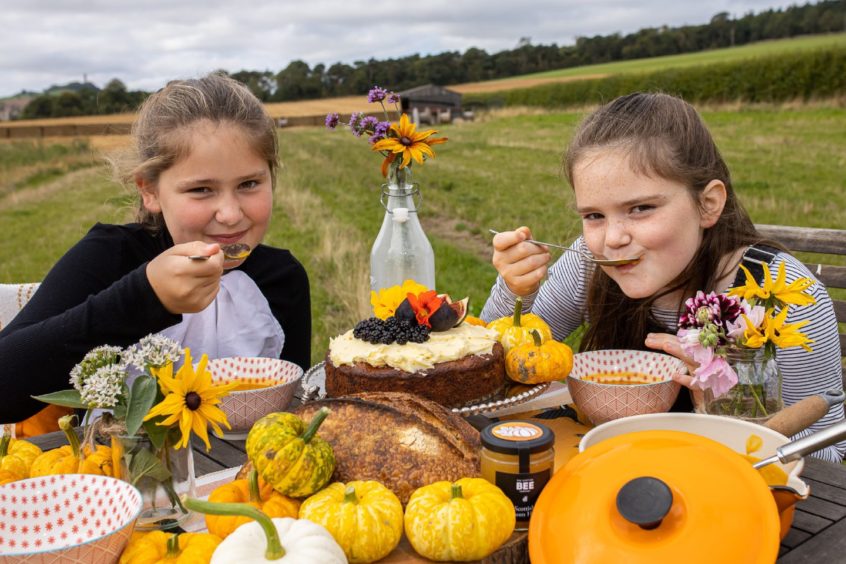 As food producers, the looming spectre of food waste associated with Halloween has proved frustrating for the couple.
"It's something we should all be reducing," Lucy said. "We understand that people aren't all going to cook with their leftover pumpkins, but just educating people that you can eat them and use their seeds or cook with the carvings is important for us.
"It's a family project which turned into a mission to help educate big kids and wee kids about where their food comes from, how things grow, and give them a wee bit of a snippet of farm life.
"People often take it for granted and don't know where food grows, where it comes from. That's one of the best things for me on the patch – seeing kids coming and being quite surprised and excited to find them growing and not just on the shelves of Tesco."
The couple started growing pumpkins as a way of getting their children involved with their farm life.
Growing wheat, beans and oats on a large scale wasn't the most accessible for children Maisie, Charlie and Louisa, so they tried something a little different.
"I blame my husband – every time we're having a bad day with pumpkins, he takes responsibility for it," Lucy laughed.
"We were really trying to find something to involve the kids in and teach them more about farming and where their food comes from.
"We're not the first to open up a pumpkin patch but it definitely fits with all the things we're trying to achieve.
"It's about spending time together, so we decided to embark on this mad pumpkin journey."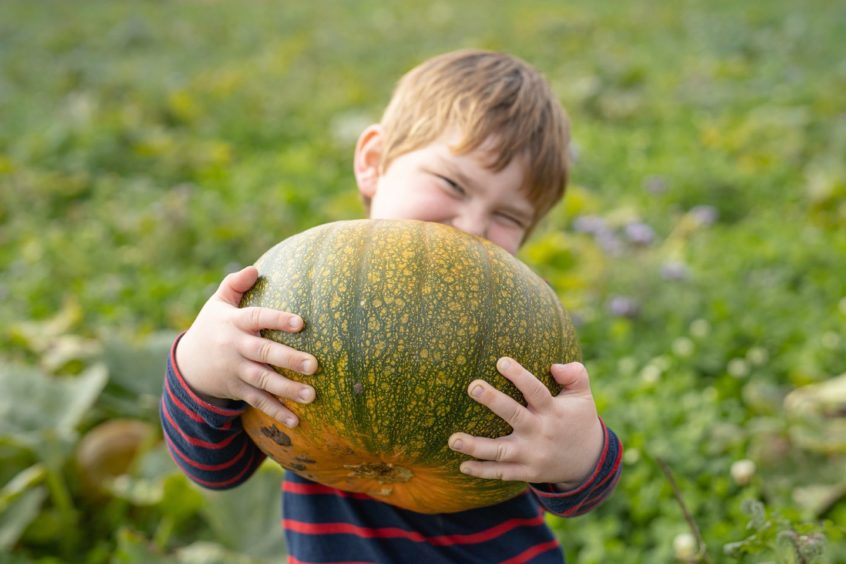 Pumpkins in Scotland are notoriously difficult to grow. Seeds are planted in April, and they go into polytunnels to establish and form strong plants.
They are then transported outside into the ground in May, with the hope that they'll be ready to harvest during September or October.
"This year's been tricky," Lucy said. "The beautiful six weeks of sunshine that saved lockdown for a lot of people was pretty difficult for us because we had no rain which doesn't bode well for pumpkins. Every year is quite tricky, and farmers face that with every crop."
On the farm, the family grow different varieties of pumpkins. Those specifically for carving are bigger and turn bright orange. Longer-lasting culinary varieties are developed to be sweeter, and have a better consistency for cooking.
"We've invested a lot of time into trying all the varieties that we can grow to make sure we know what they taste like and how they cook," Lucy said.
"We work closely with a food specialist to do that. Out of the carving ones you can make a nice pot of soup, and some of our culinary ones you can add to anything.
"We've got muffin recipes, granola, stews, curries – the list is endless."
There are a number of health benefits associated with pumpkins too.  They contain potassium, which works with sodium to help the body's water balance and, in turn, helps manage blood pressure.
Pumpkins are full of vitamin A, vital for healthy eyes, and their high fibre content is excellent for gut health and the digestive system.
"They're amazing and really underrated – it's not something most people would pick up in the supermarket," Lucy added.
"Last year we had somebody who was vegan who was going to have pumpkin for their Christmas dinner, which was really cool. I like the stories you get from people using them. We're trying to start a pumpkin revolution."
Sue Roberts, programme manager for food waste communications at Zero Waste Scotland, said:  "Pumpkin flesh is perfectly edible and makes a delicious centrepiece in a soup or a curry. Yet, often they aren't thought of as food around Hallowe'en and we end up wasting a lot of pumpkins every year.
"Throwing out food wastes the resources involved in growing and transporting it and if it goes in the general waste bin it will create the climate warming gas methane as it decomposes. So please, always use the food caddy for any food you don't eat.
"Hallowe'en is the ideal time to experience the satisfaction of using the whole pumpkin. We'd also urge people to recycle their lanterns after Hallowe'en, possibly by letting children have some smashing pumpkin fun that breaks up the lantern so that it fits in their food waste recycling caddy."
---
Pumpkin, Sweet Potato and Lentil Soup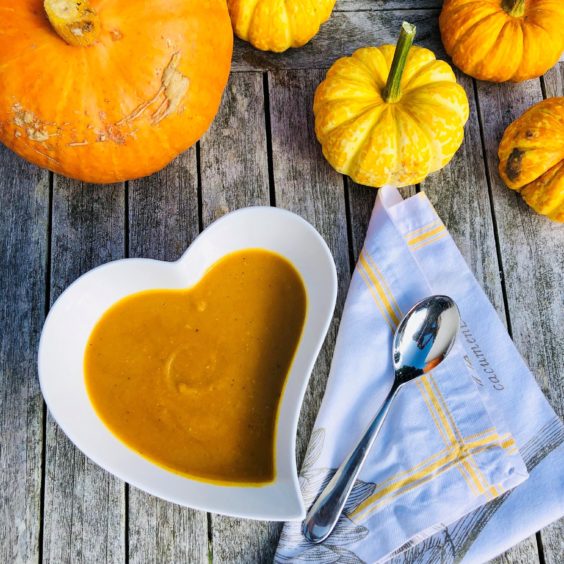 This recipe is perfect to reduce waste and use up the often-discarded pulp of a large carving pumpkin.
Any pumpkin variety will work. You will get a thicker soup with some varieties and thinner with others, but the warming autumnal flavour will still be there.
You'll need
1 tbsp olive oil
1 large onion, diced
2 large garlic cloves, crushed
½ tsp of turmeric
2 tsp ground cumin
250g pumpkin or a pumpkin/squash mix (cooked weight).
1 large sweet potato, diced
2 handfuls red lentils
2 tbsp tomato puree
900 ml water
2 tbsp vegetable bouillon
Salt and pepper to taste
Method
1. Heat the oven to 190C / 180C fan / gas 5.
2. In this recipe, it is best to roast the pumpkin first, to release its sweet flavour. Simply cut the pumpkin in half, scoop out the seeds (save for later, see below) then cut again into quarters. Lightly brush with olive oil, place on a baking tray and roast for approximately 30 – 40 minutes, until soft. Remove from the oven and cool.
3. Once cooled, remove the skin and use the flesh only in this recipe. If using the leftover pulp from carving, roast it on a baking sheet lined with tin foil and brush with a little olive oil to prevent sticking.
4. While the pumpkin is roasting, put a large pan on a medium heat, add the olive oil and soften the onion until translucent.
5. Add in the crushed garlic, cumin and turmeric and toss in the onion for a couple of minutes to help release the spice oils.
6. Add the diced sweet potato, lentils, tomato, water, vegetable bouillon, salt and pepper to the pan and bring to the boil. Simmer until the vegetables are tender, about 15 minutes.
7. Add in the cooked roasted pumpkin flesh and blend the soup with a hand-held blender or liquidiser, until smooth.
8. Serve hot with fresh crusty bread, a dollop of natural yoghurt and sprinkling of roasted pumpkin seeds. Delicious & nutritious!
Roasted Pumpkin Seeds
Rinse the pumpkin seeds, discarding the stringy pumpkin pulp and dry. Sprinkle the seeds with a little olive oil, add your favourite seasoning, then roast flat on a tray at 190C, for about 15 minutes until crunchy but not burnt. These are delicious as a nutritious snack or added to soups and salads.
Top Tip
This soup freezes well, so it's perfect for batch cooking.
Recipe created by Sonia Lee of LeeLifeNutrition for Kilduff Farm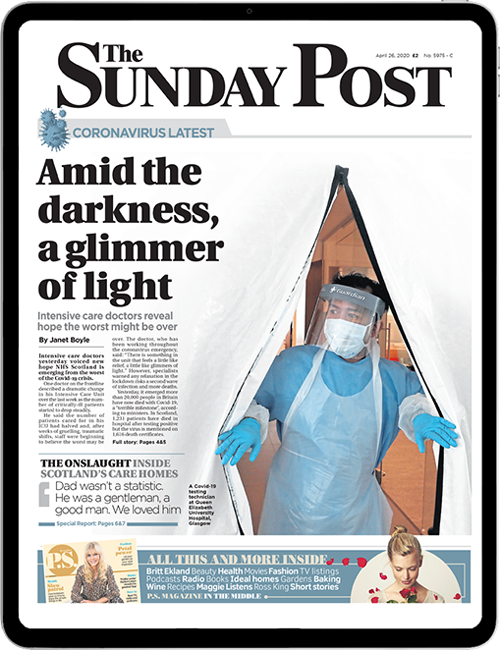 Enjoy the convenience of having The Sunday Post delivered as a digital ePaper straight to your smartphone, tablet or computer.
Subscribe for only £5.49 a month and enjoy all the benefits of the printed paper as a digital replica.
Subscribe