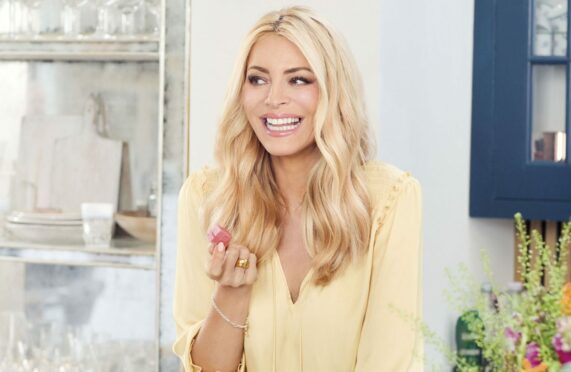 Tess Daly says she'll never pay attention to calories – because of the negative impact it could have on her teenager daughters.
"What's the point? Are you going to maintain that forever? I don't count calories, I don't want to encourage my daughters to do it," she says. "Really, we can all tell when we feel full, or if we overeat."
The Strictly Come Dancing host (Daly has presented the show for 19 years) has two daughters with husband Vernon Kay – Phoebe, 18, and Amber, 13.
Instead, the 53-year-old wants to teach them not to "judge themselves too harshly".
She knows how problematic weight pressures on young women can be. Before her TV career, Daly was a model travelling the globe from age 18.
"I was an awkward, gangly teenager. I'd run down to the beach holding the lilo in front of me, because I felt embarrassed in a swimsuit," she says. "Then I entered a world where people were not eating food because they were being told their weight might be an issue.
"I'd be around people who were battling whether or not to eat certain things. I was told by agents, 'You should put weight on', 'You should lose weight' – something different from week to week. And as far as I was concerned, nothing had changed.
"So I realised quite early that you couldn't keep everybody happy all the time. So I might as well just keep myself happy."
After 11 years posing for the camera, she realised it was time to pursue something else: "You get to a stage where you don't want it to just be about your appearance, you want it to be about the content of your character – that's when I thought it's time to move on."
That healthy relationship with food ("one of life's great pleasures") stuck – and now Daly has released her first health and cookery book, 4 Steps To A Happier, Healthier You. In it, she shares the affordable and accessible hacks that help her feel good, from nutrition and exercise, to breathing and sleeping.
"Looking after our health and wellbeing is no longer a luxury, it is a necessity. I'm as guilty as the next person of putting everyone else in my life first, and putting the to-do list before myself," she reflects.
"Every single woman I know is wearing an invisible superhero cape, she is juggling everything. Women are life's fixers, we are nurturers, we are caregivers, we have so many roles."
Daly is the main cook in her household, though Vernon makes a mean roast ("His roasties are amazing") – and she's all about healthy comfort food.
"I love food, I love cooking, I love feeding my family healthy dishes. But it's a constant challenge because I've got teenagers and their tastes change from week to week."
Hailing from Stockport, white potatoes featured heavily in her childhood, she says. "It's soul food for me. I grew up on them – seven days a week. I've got Northern and Irish blood, so it's what we eat. But they don't always like me. I eat them because I love them, but they tend to make me a little bit bloated."
She's been focussing on her gut health for years. "I'm fascinated by the power of food to be medicine or poison.
"If you have an unhappy gut – and you have more bad bacteria than good – then it's going to affect your digestion, your sleep, your mood, the production of serotonin, your happy hormones, and hormones govern the way we feel."
Her book brings in experts in different areas to dig into this stuff. You can find immune-supporting recipes like pumpkin and ginger soup, and gut-friendly crunchy superfood salad, or gently fermented coleslaw. Comforting, family-friendly dishes include a turkey shepherd's pie (easier on your digestion than red meat) and golden chicken nuggets with sweet potato mash (and gut-friendly yoghurt marinade).
"It's wonderful when food you really enjoy, is doing wonderful things for your body at the same time," Daly says.
Breakfast is important for her, particular during Strictly filming. "It's 15-hour days, so I always have a good breakfast," she says. "I'll take some Greek yoghurt, some berries, seeds, maybe banana and some honey, and just chop all that out. At least I know I've had something substantial, and then I'll graze throughout the day."
---
4 Steps To A Happier, Healthier You, Bantam, £18.99, out now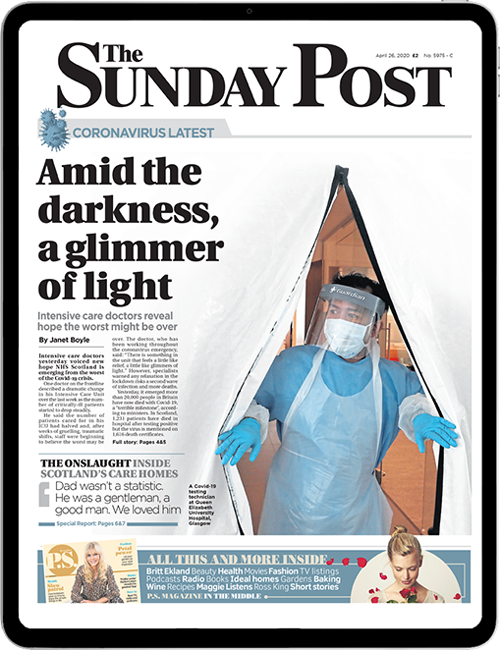 Enjoy the convenience of having The Sunday Post delivered as a digital ePaper straight to your smartphone, tablet or computer.
Subscribe for only £5.49 a month and enjoy all the benefits of the printed paper as a digital replica.
Subscribe