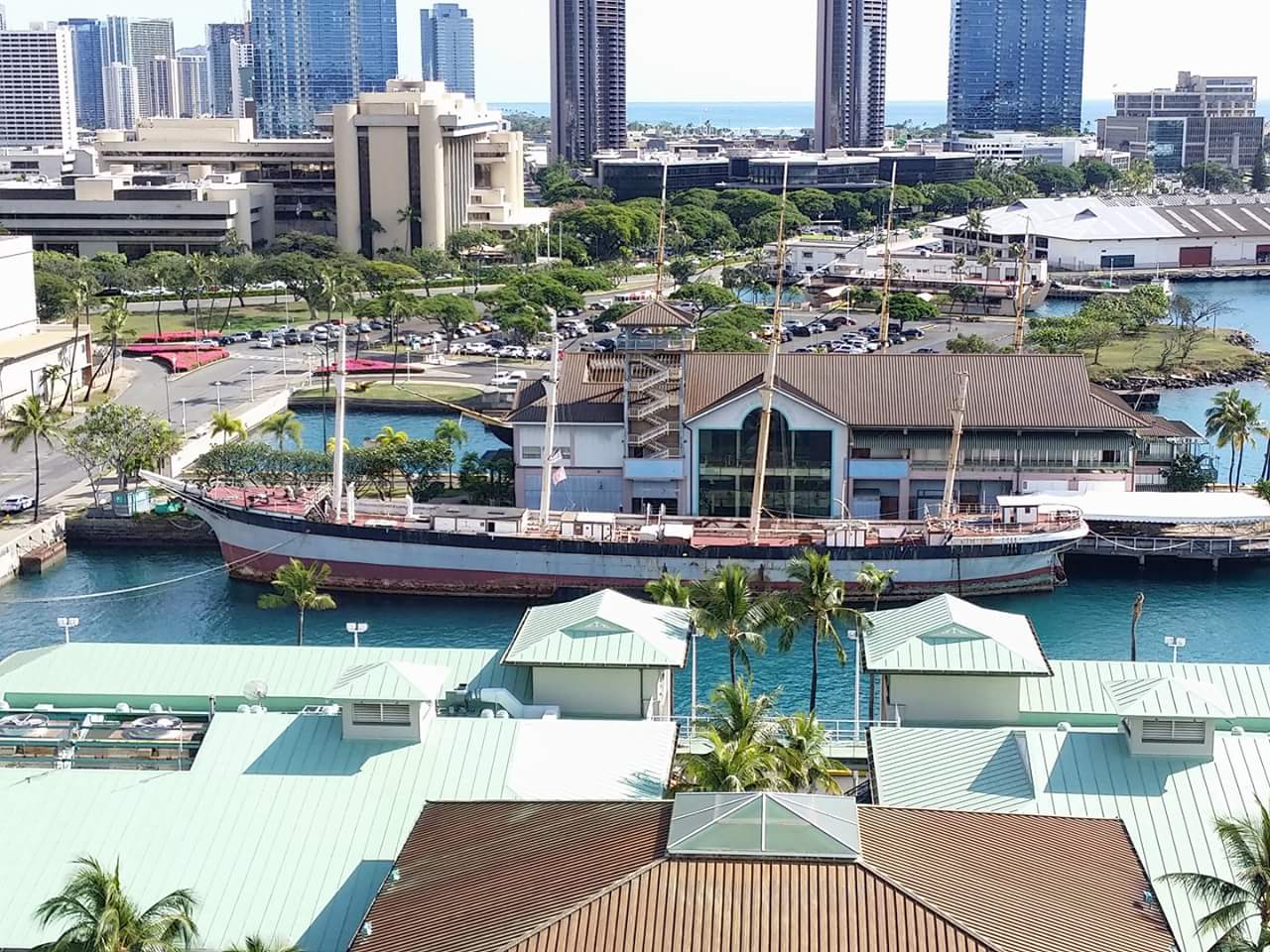 Having languished in a Hawaiian harbour for many years, a Clydebuilt tall ship is set to return home for a new eco-friendly operational life in Scotland.
After a number of setbacks, a bid to save the Falls of Clyde and remove it from Honolulu harbour has finally been accepted by officials at Hawaii's Department of Transportation.
Scottish-based Falls of Clyde International has ambitious plans to transport the ship, built in 1878 in Port Glasgow, to either Greenock or Glasgow where it will be restored.
Rather than being a static attraction, the project aims to regenerate the four-masted former oil tanker and cargo carrier for a return to sea with a focus on being environmentally conscious and zero-emission.
David O'Neill, who has spearheaded the group since finding out about the ship's plight via Facebook in 2015, was delighted to finally get the go ahead.
"There have been so many hurdles and hills to climb," he said. "This was always about a bold enterprise, a new vision on sustainability, on self-reliance.
"I've had so many businesses approach us offering to help and people interested in financing and technical partnerships. It shows the hard work we've been doing for the past six years has reached the right people.
"The first domino has fallen now, which was getting the agreement."
With the Waverley, Glenlee and Queen Mary all already on the Clyde, O'Neill realised it was important that Falls of Clyde would go beyond being just a heritage project.
"It's a ship to use, to modernise," he said. "We're not turning it into a replica of what it was when she was built.
"What we were trying to do was use that heritage angle initially, then think about how we could make her sustainable, what we could do to help her earn a living. It's a business enterprise.
"We'll convert her for modern safety requirements for future operations; education at sea, sail cargo, clean emission technologies, sail adventure holidays and ghost net collection."
The project has taken inspiration from a similarly aged ship based in Australia, the James Craig, which was refloated after laying sunken for decades.
After extensive restoration work, she was returned to a seagoing state. It's hoped that a similar blueprint can be followed with Falls of Clyde.
"How she's still floating I don't know, but nonetheless from the last surveys done there's enough confidence," O'Neill said.
"The inspections that have been done show the wrought iron frames and keel seem to be pretty sound and intact, we just need to replate the hull and redesign the interior for future use.
"Based around previous ships of a similar age that have been restored around the world, their wrought iron frames and keels are solid which is amazing, a tribute to the technology of those days."
The vision for the Falls of Clyde will be a ship that is zero-emission, with a number of eco-friendly propulsion systems proposed.
Work would be done on the ship at a site on the river, with Govan's Graving Docks – opposite where Cop26 was held – and Greenock's Victoria Harbour possible sites.
If the ship is able to return to sea, it would then quite literally fly the flag for Scotland.
O'Neill said: "In the Clyde's history, as a shipbuilding river, the reason for its success was built around innovation and technological development.
"What we're trying to do here is to say, the Clyde may have gone from the shipbuilding market but it can still innovate. Scotland as a small country can produce something that the world needs and wants.
"We want the vessel to sail around the world and fly the flag for Scotland's industries, technology and climate values. I'm trying to order a giant saltire flag at the moment!"
O'Neill, who grew up in the Gorbals and Pollok, hopes the ship will also give young people who are struggling to find the right path in life a platform to develop skills and confidence.
"With Falls of Clyde, we want to offer an apprenticeship scheme, further education, opportunities for kids in the local community, a chance to sail on this ship.
"To get a place on board, they'd have to volunteer in the local community for 12 months.
"What we're trying to do is inspire people and open the door to character forming life experiences, give people the hope to get out of a rut.
"That all comes from a personal experience, I didn't have a higher education but fortunately I met people that put me on the right path and gave me encouragement and motivation. I don't think enough people get the opportunity I was lucky to get."
O'Neill is also hoping to secure another ship built on the Clyde, a Type 21 destroyer which has served in both the UK and Pakistan's navies, to sit alongside the Falls of Clyde.
He has held positive discussions with the MOD and representatives of the Pakistan Government about acquiring the warship, built at Yarrows in the 1970s.
"What we're trying to do is create this heritage visitor site that would become a destination that people would want to visit to learn more about the Clyde's shipbuilding heritage, a real tangible thing to be proud of.
"The warship has served both countries, something two cultures can work together and share a commonality over. From day one, community has been at the heart of this."
Subject to compliance with US / Hawaiian procurement and labour laws, the next steps for the Falls of Clyde are making arrangements to transport the ship on the long journey from Honolulu.
A number of events will take place in the US and Canada, aimed at the Scottish diaspora, to seek new partners, investors and sponsors.
O'Neill hopes the journey will culminate in a public event on the Clyde to welcome the ship back home.
Looking to the future, there are also plans to revive the Clipper Tea Races with a 21st century twist.
Historically, clippers which carried tea from China to the UK would compete informally to see who would return home with the cargo first.
The new event, which aims to start from 2025, is described as "a race between the technologies, encouraging development and using heritage to send out modern message on tech and the climate."
The plans for the Falls of Clyde are ambitious but O'Neill believes the backing is there to make it happen.
He hopes now that the agreement is in place he will receive more support for the project from the Scottish Government and its enterprise agencies, not in terms of funding but for helping with co-operation and partnerships.
"We've deliberately not raised expectations but now's the time to promote the opportunity, the potential for jobs," he said.
"The approach we've taken has been a very much business to business approach to try to find commercial sponsors and partners for technology and environmental. Now the first domino has fallen the others are starting to fall now."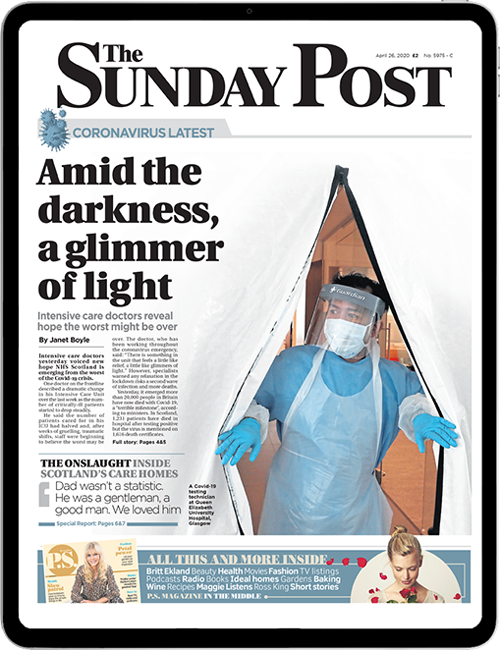 Enjoy the convenience of having The Sunday Post delivered as a digital ePaper straight to your smartphone, tablet or computer.
Subscribe for only £5.49 a month and enjoy all the benefits of the printed paper as a digital replica.
Subscribe