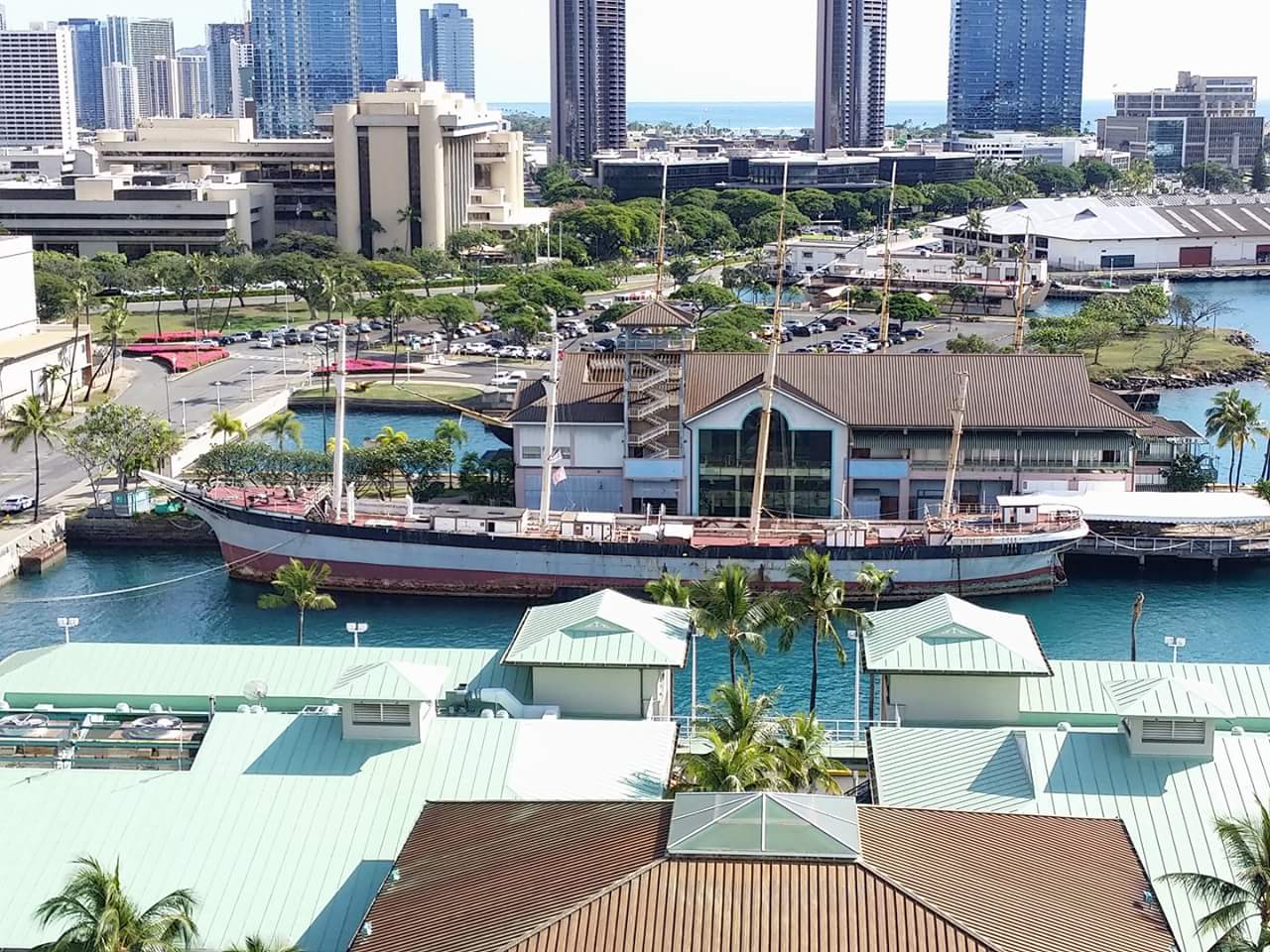 SHE is a Clydebuilt survivor that's called Honolulu her home for decades.
Now, the Falls of Clyde tall ship looks set to be heading back to her birth place.
It was announced at the start of the month that a contract had been agreed to transport the Port Glasgow-built ship home after years spent as a visitor attraction in Hawaii.
It follows painstaking work by campaigners to keep her afloat and now brings forward the possibility of restoring her to 21st century seagoing condition.
Built at the Russells yard in 1878, the Falls of Clyde is the world's only remaining four-masted sailing ship.
In a working career spanning several decades, she sailed the world before settling on the North American Pacific coast.
Over the last hundred years, she's had a variety of uses, including as an oil tanker, passenger ship and cargo vessel.
Once her sailing days were over, she became a static attraction and event space before falling on some hard times and an uncertain future.
In the 1960s, while in Vancouver, there were plans to sink her to form a breakwater.
And 50 years later, having been rescued and moved to Bishop Museum in Honolulu, there were plans to plunge her into the depths of the sea as a 'shipwreck' for divers to explore.
After months of work to prevent a similar fate following seizure by harbour authorities, David O'Neill of Save Falls of Clyde International is relishing the chance to bring her home.
"She's been through a hell of a lot in the past 75 to 100 years," David, based in Glasgow, says. "Time has not been kind. The last time she got major work done was in 1967.
"I found out about this ship two years ago through the power of Facebook when somebody put a post up saying 'does anyone in Scotland care about this ship?'
"I read the story and realised there was this ship named after the river that built this city and it was going to be disposed of."
David got in touch with the ship's owners, the Friends of Falls of Clyde, and worked with them for several months.
He soon realised that it would take a lot more work to preserve the ship, raise funds and share its story worldwide through social media.
Coming from a sales background, he decided to give it a go himself.
"Despite neglect and the hard life she's had she's still afloat without any help," he says of the ship that celebrates its 140th birthday on December 12. "She's a survivor."
David met with the harbour authority in Hawaii last year, delivering a presentation on what he and supporters wanted to do with the ship.
"I pleaded with them to give us time to come up with a plan to secure the safety of the ship long term, and have a future planned for her," he says.
"We decided early on that, as much as heritage is fantastic and the thought of the ship being disposed of got my back up, there's no point trying to bring the ship back if she's going to be a drain on the public purse.
"We should only bring this ship back if we can come up with a future that will earn a living, and will make her self-sustaining."
To fund the journey home and the subsequent rebuilding work, David embarked on an ambitious sponsorship campaign.
"We've been very much thinking outside the box," he says. "There are still no 100% guarantees yet even though we've got a contract [to bring her home].
"I'm not bringing it back unless I know we've got the funding here to do the part we need to do here and to do the rebuild."
Initially, a small crowd-funding campaign was launched to get the public involved.
But most of the money will be coming from commercial sponsors and business opportunities presented by taking the iconic ship on a tour of coastal cities while homeward bound.
The ship has been fully de-rigged but the 250ft tall masts remain on deck and look set to be put to good use.
The plan is to rig up triangular sails to carry logos and brand names, and to sell advertising space on the deck awning and the hull.
"We went to some marketing agencies across the country, as well as in the US and Hawaii," David explains. "They all came to the same conclusion; you've got a winner here potentially if you handle it right."
With a 40ft yacht commanding million pound sponsorship, the 300ft Falls of Clyde could attract much more as she makes her journey home aboard a yacht lift ship.
Factoring in the media coverage expected as the ship reaches each port, and the potential brand reach through local TV syndication to Asia and the US, David estimates they could make up to £20 million from the journey.
On-shore events in the likes of San Diego and New York will allow people to come aboard the lift ship and have a look, and the Falls of Clyde will bid a fond farewell to her adopted home of Hawaii in a special leaving party that will combine traditional island celebrations with a hint of tartan.
The Falls of Clyde is scheduled to start her journey home in February, with stops also planned in Fort Lauderdale in Florida and Costa Rica.
When she arrives back on the river that built her, and is offloaded onto a submersible barge, it is hoped that a record-breaking flotilla of up to 3000 vessels will then escort her up the Clyde.
Once she's safely home, the intention is to convert the 140-year-old vessel into a craft fit for the 21st century.
"Heritage is important but the message we're trying to send out is that Scotland can still build ships and be innovative," David says. "What we want to do is take this Clydebuilt ship that was at the peak of design in 1878 and put her back in the water as the peak of design now.
"We had to have a long look at how this ship could be self-sustaining because we've not asked governments or councils for money," David, who closed his business to concentrate on the project full time, says.
"This is still a community initiative as far as I'm concerned. I want to turn it into something that helps communities through jobs, skills, learning and training and gives people opportunities."
At present, there are five options for putting the ship to use once it is home.
Firstly, it will be a tourist attraction during its rebuild, with around 250,000 visitors expected per year and skilled jobs provided to help make her shipshape again.
The search is on for a quayside for the ship to dock at, with room for a pop-up museum about the ship and Clyde shipbuilding, as well as a genealogy centre.
But David is keen to stress the ship's future lies not just permanently moored on the Clyde, but back out on the seas she used to roam.
Naval architecture students working on their PHDs in Glasgow have been hard at work redesigning the ship for her new future, and have been consulting with Ferguson Marine.
"We're thinking way ahead deliberately to raise awareness of what we're doing, so we're not just seen as an old ship that's going to sit on the Clyde and that's it," David says.
"We can put her back to sea and help her earn a living. We've been told she needs serious repairs but if we can find the money, why not?"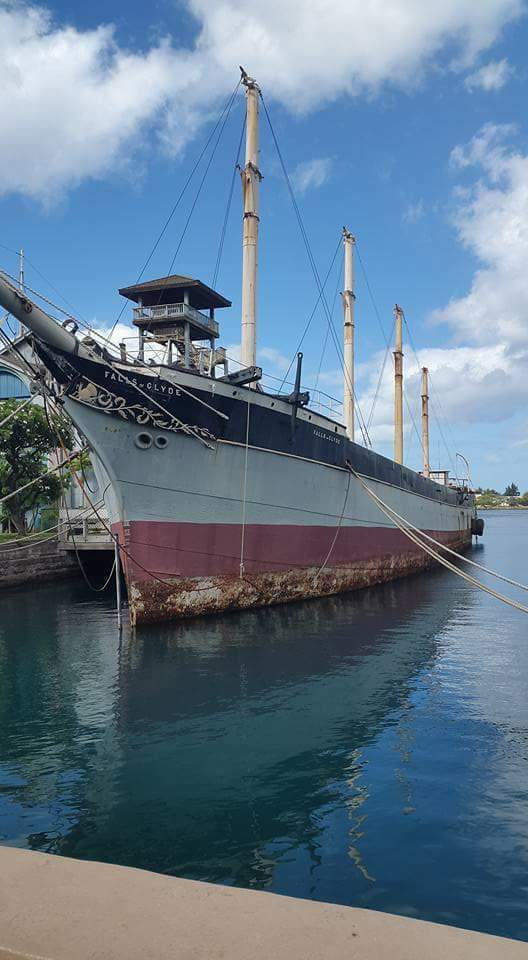 There have been discussions over using the Falls of Clyde as a fairtrade cargo vessel, a sail holiday cruise ship and also for cadet training.
An environmentally friendly ship, she may also be involved in eco missions to help clear up some of the oceans' plastic problems.
And education also plays a big role in any future projects.
Inspired by one of his friends' life changing experience working as a nurse alongside students on an educational sailing ship, David hopes the vessel can offer similar opportunities for young people.
"He came back three-stone lighter, with a grin from ear to ear, weather beaten and a huge big beard. He told me about the ship's operation and I thought, that's what we could do," he says.
"We want to turn profits into local communities. We want to give people who have maybe given up hope and opportunity a second chance and, if nothing else, the adventure of sailing on a tall ship. I've seen how inspirational it was.
"The project is huge and very, very ambitious – we know that. At the end of the day, if ultimately we don't succeed, we've tried and we've come up with some very original options to finance her and pay for her without going to the public purse."
'She has a strong mana, as we say here in Hawaii'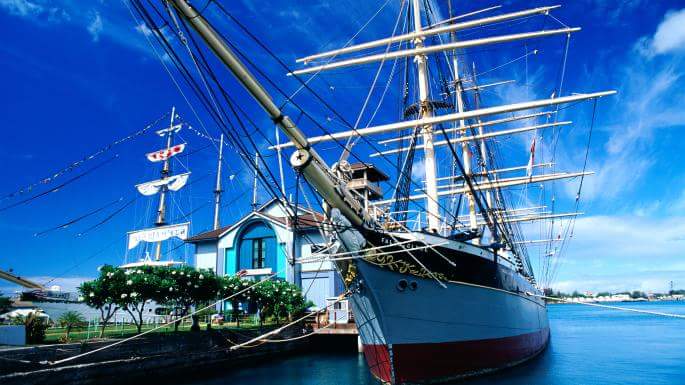 Bruce McEwan first got involved with efforts to save the ship back in 2008, forming the Friends of Falls of Clyde.
Being of Scottish heritage and the Chieftain of The Caledonian Society of Hawaii, he and the group stepped in as the ship's then owner was preparing to have her sunk.
Bruce's personal attachment to her goes back over 40 years, having met his wife at an event held on board the ship in 1976.
"Our sole mission, once we saved the ship, was to have it preserved and restored," he says.
"Unfortunately we discovered over the years that the monies needed for the work were not available locally."
Bruce and the group know that David O'Neill's plan to repatriate the Falls of Clyde to Scotland is the best way to ensure her future.
He says: "She will be missed by many people here because of her over 50 years as a resident in Honolulu Harbour.
"She will be 140 years old in a few weeks and we feel even in her current condition she upholds the dignity she deserves.
"As we say here in Hawaii, she has a strong mana, a sense of inner strength and energy you can feel when you are on board."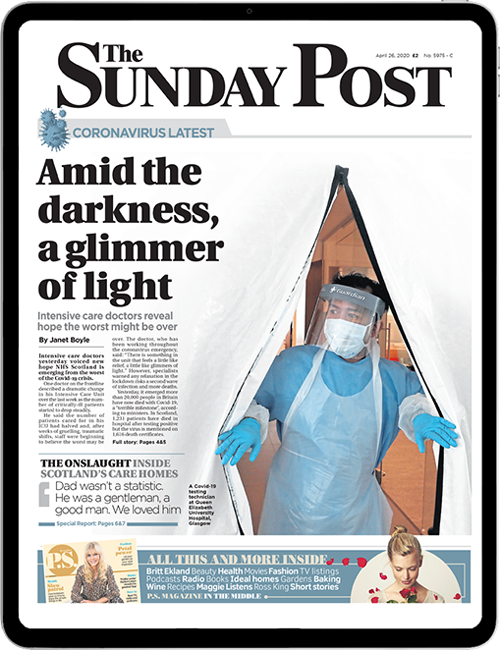 Enjoy the convenience of having The Sunday Post delivered as a digital ePaper straight to your smartphone, tablet or computer.
Subscribe for only £5.49 a month and enjoy all the benefits of the printed paper as a digital replica.
Subscribe