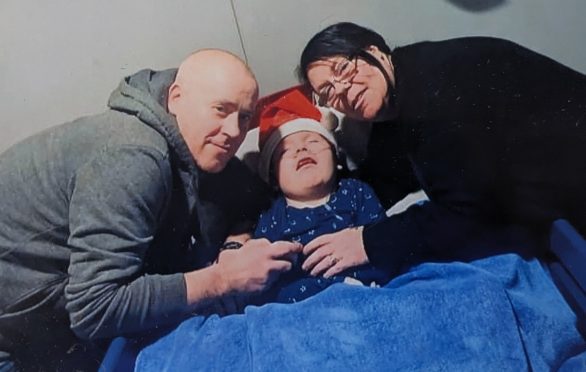 The UK's leading paediatricians and child cancer charities are calling for urgent action on an energy bill social tariff to be given to families of children with life-limiting illnesses.
The Royal College of Paediatrics and Child Health (RCPCH) is urging the UK and Scottish governments to offer a lifeline to our most vulnerable families.
Soaring numbers are falling into debt after being burdened by high gas and electricity bills.
They pay, on average, twice more than most families as they run up bills caring for their chronically sick children at home.
The RCPCH is joined by leading UK children's cancer charity Young Lives vs Cancer and the Carers Trust Scotland in calling for action.
Four major charities and two royal colleges of medicine are now backing our campaign to give families a social tariff and support with huge energy bills.
Families caring for sick children need a social tariff to deal with huge energy bills, say charity campaigners
RCPCH officer for Scotland Dr Mairi Stark said: "The RCPCH are happy to add our name to the call.
"Caring for a seriously ill child at home is often a profoundly challenging experience, both mentally and physically.
"We know that families with disabled children or long-term health conditions face significantly higher living costs.
"The very last thing these ­vulnerable children and their families need during these times are further financial worries during a cost-of-living crisis.
"The government has a duty of care to support these families to ensure they have the means to provide safe and sustainable care for children at home."
Costs immediately increase
Young Lives vs Cancer chief executive Rachel Kirby-Rider added: "When a child or young person is diagnosed with cancer, your daily costs immediately increase, including for the amount of energy you use.
"As well as running any medical equipment they need, families need to keep the heating on to keep warm during treatment, run the washing machine more to make sure everything is clean when they are immunocompromised, and be able to prepare the food they need to stay healthy.
"These activities are critical and unavoidable but come with huge additional costs at a time when the majority also experience a loss of income. So it's vital that children and young people with cancer and their families get better support to ­manage the costs of energy."
Almost 3,800 young people are diagnosed with cancer each year in the UK and a number of parents are nursing terminally ill children at home.
The Sunday Post recently revealed the plight of Borders mum Ashley Sim, who cares for her daughter, Natalya, at home.
The youngster has an ­inoperable brain stem tumour and Ashley says she owes an energy company a four-figure debt.
The Carer's Trust Scotland revealed the dilemma of parents and carers who are unfairly hit with high energy bills.
Becky Duff, director for Scotland, Carers Trust Scotland, said: "We welcome this campaign, which calls for the UK and Scottish governments to provide energy bill assistance to families of children with life-limiting illnesses.
"Parents of disabled children should never be in a position where they are having to make a decision to reduce usage of life-improving equipment because of financial restraints.
"Unpaid carers are ­disproportionately impacted by the rising costs of energy, and we must assist these families now."
Open letter
The charities and the RCPCH joined the Royal College of Physicians of Scotland, CHAS (Scotland's children's hospices) and the Poverty Alliance in an open letter to the UK and Scottish governments for support and an energy tariff to be given to our most vulnerable families.
Big UK energy companies made eye-watering profits this year, with the largest amounting to almost £1 billion in the first six months of 2023.
British Gas announced record profits of £970 million up until June of 2023, while ScottishPower made £576m in profit during the same period.
The takings soared after ­price-cap rises allowed energy companies to make more money from household bills. More than 140 organisations and individuals last week wrote to Prime Minister Rishi Sunak, calling on him to make good on a previous promise to help the poorest households with a social tariff for gas and electricity.
The letter was signed by fuel poverty campaigners Energy Action Scotland, Citizens Advice and ­disability charity Scope.
Experts fear high energy bills will continue for the rest of the decade. The average household bill is now 50% more than pre-Covid levels. The sector regulator, Ofgem, recently estimated that the total gas and electricity debt owed by UK consumers was about £2.3bn.
Nearly eight million people have had to borrow money to pay their energy bills in the first half of 2023 – and Citizens Advice says it expects that number to rise.
The charity revealed that this has been its busiest year, with a huge number of people burdened by debt.
Chief executive Clare Moriarty said: "The government should look seriously at stepping in with additional bill support to help people through the winter."
Scottish Government Energy Minister Gillian Martin said: "I am acutely aware that many thousands of households continue to face significant hardship.
"The Scottish Government is continuing to do everything we can within our limited powers to support as many people as possible."
A UK Government spokesperson said: "We understand the difficulties and challenges parents face when looking after vulnerable children.
"This winter, additional support is available to those most in need through our Warm Home discount, expected to support up to three million households, and millions of vulnerable households will also receive up to £900 in further Cost of Living payments this year."
We had to give son Marley end-of-life care, not knowing how we could pay our bill
Rosyth mum Lizzie McCartney says she is in debt of more than £5,000 to energy company OVO, after nursing her late son Marley at home in his final months.
The five-figure bill was run up while she was caring for Marley in his final months. He died last autumn aged just 12.
Marley had survived a near cot death as an infant, but his disabilities were considerable, his mum explains.
He was quadriplegic, had cerebral palsy, visual impairment and other major health problems.
"Our son was totally dependent on us to care for him for the rest of his young life and we could not turn off the heating or stop using vital medical equipment that was keeping him alive.
"I had to give up my job so when my husband Tam became the family's sole breadwinner with his factory job. Money was understandably tight.
"I contacted our energy supplier OVO but they did not respond, so we had to focus on caring for Marley while carrying the constant fear of how we could pay for our mounting energy bill.
"No one needs this when their child is on end-of-life care."
Lizzie says that she and her husband are living with the grief of losing their dearly loved son. The couple also have three older daughters.
"He was a beautiful boy who brought us all so much joy and we miss him dearly," Lizzie adds.
They have been supported for 10 years by CHAS, Scotland's children's hospices charity.
As she copes with her grief, Lizzie says that she is trying to get back to work.
"I have returned to a voluntary job at Marley's former school to ease me back into the workplace.
"But I do not know how many years it will take us to pay off the crippling energy bill.
OVO responded to The Sunday Post with a pledge to look into the family's bill.
"Our investigative team will be in touch with the McCartneys shortly," a spokesman confirmed.
---
Money adviser calls for change as survey reveals people in debt suffering mental health problems
By Emma Lawson
A money adviser is calling for changes to the law to give hard-up Scots more protection from cash being taken directly from their earnings to pay debts.
A new online survey, the first of its kind in Scotland, has been carried out by Advice Scotland adviser Alan McIntosh on the devastating impacts wage arrestments are having on families.
In Scotland, Earnings Arrestments are used to recover debts. There are currently seven types, but the most common is the Scottish Earnings Arrestment.
The arrestments allow creditors to recover money by forcing an employer to deduct it from wages. This method is often used by local authorities to recover council tax arrears. The first £655.83 for each person is protected. After that, the amount taken varies, based on the amount you earn.
McIntosh said: "I've been giving money advice for over 20 years and I get lots of people contacting me about debt problems. One of the things that I see quite a lot is people with earnings arrestments.
"That's why I did the survey, to try to find out more about how wage arrestments affect people, because there has never been an investigation carried out in Scotland to actually go and ask people what their lived experience of them is.
"What I've been calling for is two things. First, the protected amount should be increased to £1,000 to give people a bit more of a safeguard during this cost-of-living crisis.
"Secondly, the Scottish Parliament should change the law to allow creditors to be more flexible. People are struggling. They can't afford these bills and it's affecting their mental health.
"In this new Bankruptcy and Diligence Bill they should give creditors the power to help people when they're genuinely landing debtors in trouble."
The new study found 50% said arrestments were leaving them struggling, while 51% also stated they had mental health problems.
Meanwhile, 95% of those who took part in the study felt their situation could be helped if the arrestment could be made more affordable.
The bill does not contain measures that would alleviate the effects of wage arrestments, but does contain a measure that would freeze action by creditors when people are experiencing a mental health crisis, following the model in England and Wales.
Mike Dailly, of Govan Law Centre, says that, although the bill will help a small number of people, it is a missed opportunity that could help a lot more people. He said: "You have 52,000 cases a year involving earnings arrestment and it's mostly for council tax debt. When that happens, you can have several hundred pounds of your wages taken away from you every month.
"And all that with no real cognisance of the fact you've got to pay your ongoing council tax. Furthermore, you might then discover you get chased for a different year of council tax and the whole thing becomes incredibly complicated."
Dailly added that last year the Scottish Parliament increased the protected minimum balance from £566 to £1,000 for bank arrestments. He said: "If the Parliament was willing to recognise the need to upgrade the protective minimum balance for bank arrestments, why aren't they willing to do a similar increase for the protective minimum balance for earnings arrestments?
"It's a huge amount of work and effort when any piece of legislation moves through…and this just seems such a missed opportunity really."
The Scottish Government said: "Earnings arrestment tables were uprated in April 2022, and are normally uprated every three years. However, because of the current cost-of-living crisis, the Scottish Government further uprated the tables from April 2023 to provide some additional financial resilience to those subject to an earnings arrestment.
"This increased the monthly salary level that would need to be in place before any deduction can be taken from £566.51 to £655.83. Above that, a sliding scale applies. Rates are kept under regular review."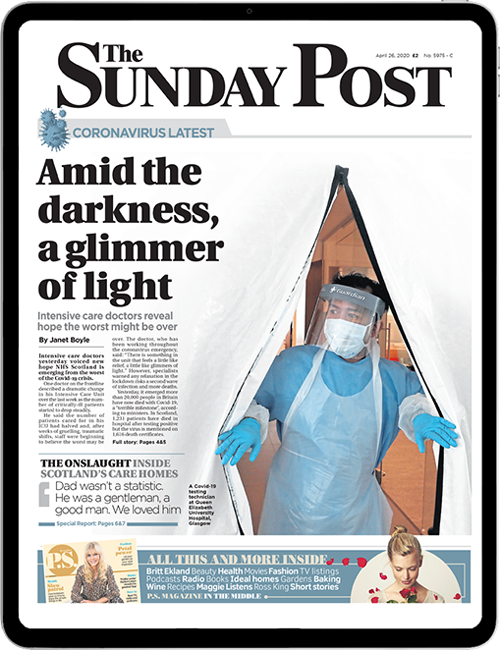 Enjoy the convenience of having The Sunday Post delivered as a digital ePaper straight to your smartphone, tablet or computer.
Subscribe for only £5.49 a month and enjoy all the benefits of the printed paper as a digital replica.
Subscribe