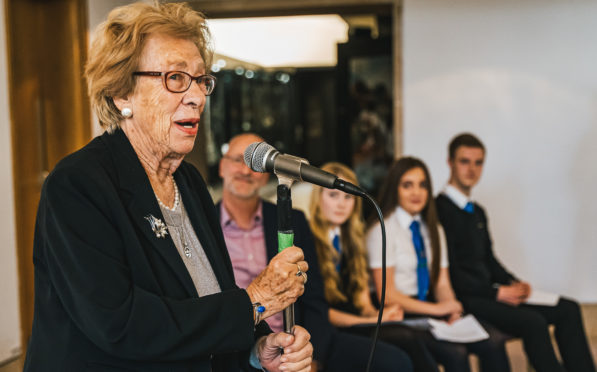 An exhibition exploring the life and legacy of Anne Frank has opened to visitors in Glasgow.
Anne Frank + You, on display at St Mungo Museum of Religious Life and Art, presents artefacts from Anne's life and the Holocaust, including a life-size replica of the young girl's bedroom in the 'secret annexe' where she and her family hid in Nazi-occupied Amsterdam.
The exhibition was launched yesterday by Anne's step-sister Eva Schloss as guest speaker, with a number of local school children also in attendance.
My stepsister Anne Frank was optimistic because she hadn't seen the horrors of the world. Now I fear hatred is on the rise again
Anne Frank + You, a partnership between anti-prejudice education charity Anne Frank Scotland and Glasgow Museums, features historical content juxtaposed with a contemporary section highlighting themes from Anne's diary, such as racial hatred and the value of freedom and education.
The opening of the exhibition also saw the launch of #IstandwithAnne – a social media campaign aimed at encouraging users to show solidarity with Anne's message of social justice and equality or all.
Anne Frank Scotland – part of the Anne Frank Trust UK – uses the life and diary of Anne Frank to educate and empower young people to challenge all forms of prejudice and discrimination.
The charity delivers its education programme in primary and secondary schools in Glasgow each year, training hundreds of exhibition peer guides and nurturing a generation of Anne Frank Ambassadors – young people who are trained to spread Anne's message of social justice and equality for all in their schools, local communities and online.
More than 50 Anne Frank Ambassadors – from 10 secondary schools across Glasgow – will act as exhibition guides at the launch event and give free interactive tours to primary school children and other visitors throughout June.
Tim Robertson, Chief Executive of the Anne Frank Trust, said: "I am thrilled that we are bringing this truly important exhibition to Glasgow – the city where we launched our education programmes in Scotland 11 years ago and where we have nurtured strong and very valued links including those with Glasgow and Strathclyde Universities; Police Scotland and a long-standing partnership with Glasgow City Council.
"Anne Frank would have been 90 next week – on 12 June. She was murdered in the Holocaust simply because she was Jewish. But her story lives on in her astonishing diary – which has sold 36 million copies, globally – and in the education initiatives she has inspired around the world.
"The Anne Frank + You exhibition offers a fascinating and moving insight into Anne's life and legacy. I know it will make people reflect, and I hope it will make every visitor commit to opposing all forms of hate."
Councillor David McDonald, Chair of Glasgow Life said: "We are pleased to host Anne Frank + You at St Mungo Museum in Glasgow. This exhibition enhances the city's successful partnership with the Anne Frank Trust, supporting initiatives that promote Anne's message of social justice, equality and challenging prejudice.
"St Mungo Museum is a fitting venue for the exhibition as its ethos is about promoting understanding and respect between people of different faiths and those of none. Life can be incredibly busy. St Mungos and this exhibition in particular offers an opportunity to simply stop and remember the importance of fighting all forms of prejudice in society."
Anne Frank + You is at St Mungo Museum of Religious Life and Art from 7-30 June.