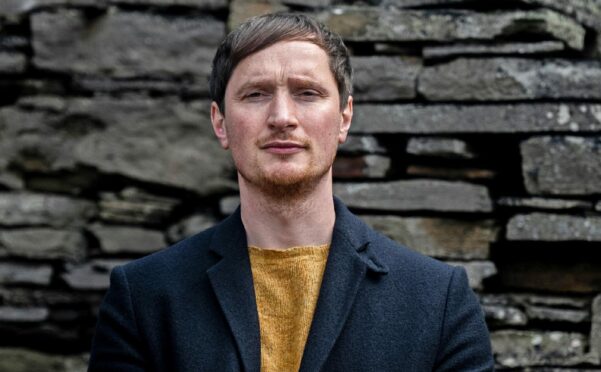 There is an inscription on the headstone of Orcadian poet George Mackay Brown which reads: "Carve the runes then be content with silence".
It is a quote from one of his verses, of course, but also the title for a new piece of music by Erland Cooper, a musician who, like Mackay Brown, his hero, comes from Stromness and is inspired by the landscape and community of the islands.
It's unlikely you will hear this piece of music for some time, however, as Cooper has interpreted his own meaning from the quote and, as a result, has buried the recording. Not hidden it away in a dusty vault. Literally buried it.
After being feted by music industry giants Decca and Sony, he has taken the only recording of his first classical composition, dug a hole somewhere on the Orkneys, and marked it with a carved stone.
He hopes it will be found, but should it remain underground three years from now – the analogue tape decomposing in the soil – he has promised he will dig it up, and release it and stage a live performance with every imperfection the ground has inflicted upon it incorporated into the score.
"I had been working every spring and autumn releasing a record, and I'd been on that cycle for three or four years and I wanted to break it, initially by writing a piece of work that slows the whole process down," explained Cooper. "I write about our relationship with the outside world – landscape, community, people, place – and this was a way to truly collaborate with the landscape.
"I was in London during lockdown and desperate to go home. I told myself the first thing I was going to do post-lockdown was take the ferry home, dig a hole and plant this record. I felt like I needed to learn the virtue of patience that George asked for. I'm really proud of the music and would love to share it now, but this is my manifesto and I have to stick to it.
"We live in a world of instant gratification where music goes on to streaming sites and where algorithms push music. I remember the feeling of going to buy an album – it felt precious and there was a sense of ownership, even if there were thousands more out there."
Record label Decca has signed Cooper to a contract without having heard a note of his composition – or even knowing for certain that it actually exists.
"I was contacted by Sony and Decca, each asking what I planned to do next and I thought, 'What better way to find a partner to work with than to present this idea and see how they would react'.
"I explained it was a celebration of Orkney, Scotland and Britain's greatest poet and writer, that it was recorded at the Royal Conservatoire of Glasgow with violinist Daniel Piero, mixed by Marta Salogni and put on analogue tape. And then I told them I'd deleted all the digital files, there was only one copy remaining, and I was going to drive home and place it in a hole in the ground for three years. You can imagine their faces at that point.
"Someone from Decca came over to my home studio and I told him I had a mocked-up version of the concerto on the computer, and I could let him hear a snippet to prove it's not Abba's Greatest Hits on the tape in the ground. But he said he didn't want to hear a thing, that he wanted to wait to hear it along with the public. That said a lot for them and their trust in me.
"So now I'm promoting a recording no one has heard a note of and I have a radio plugger with nothing to plug!"
'Working hard has never left me'
Carve The Runes Then Be Content With Silence is a three-movement composition for solo violin and string ensemble.
"I'm not classically trained. I grew up in Orkney and didn't have the opportunity to go to schools that would develop compositional tools and it means I forever have the feeling of being the underdog," Cooper said.
"We can be modest and feel like the underdog, but we should never let those things get in the way of ambition. If anything, it gives me a fire in my belly. I don't know where that comes from – maybe growing up in Stromness and feeling the opportunity is only there if you make it and do it yourself.
"So I study by myself every day, getting up really early and working from 6am. I don't know why I do that, but I do. We all work hard to make it look easy, and I've had that fire in my belly from quite early on. I used to work multiple jobs as a wee boy – doing a number of paper rounds, working in a bakery from 5am. It's never left me, working hard."
There have been reports of uneasiness among the archaeological community about visitors taking a shovel to Orkney's historic land and digging for Cooper's album. This issue, he says, has been overblown, citing just one archaeologist who expressed worries and, after a conversation, the issue has been resolved.
"The Orkney Archaeological Society has been very supportive," continued Cooper. "I've made it clear not to dig anywhere unless you find this precious carved stone. What I did was plant the tape, then sit a biscuit tin on top with a note from me, with the score and some trinkets, and then a violin, and on the top soil is the stone, which is embedded into the ground and very unlikely to move.
"I'm going to release a cryptic map and should someone find it, there are instructions enclosed as to how to get it back to me, and we'll listen to it together and they will keep the stone. The music will then be recomposed to incorporate any wobbles or silences imposed on the tape by the soil.
"Once I have the tape back, I'll rewrite the score with the changes the tape has inflicted on the composition. It's a process of compose, decompose and recompose. I hope it will be performed live in Orkney, Glasgow, Edinburgh and London."
---
The inspiration
George Mackay Brown is one of the greatest Scottish poets of the 20th Century. He lived almost the entirety of his 74 years in Stromness and his work took on a distinctive Orcadian character.
The youngest of six children, a bout of tuberculosis as a youth afflicted him so badly that he struggled to work and so had time to write, which led to him becoming a journalist. But it was through poetry where he truly made his name.
Erland Cooper said: "George would often write about time and this project of mine is a collaboration with time, landscape and earth, so I think he'd be rather tickled by it.
"He would write with the accuracy of a surgeon with a scalpel, never wasting words, and I think he'd be pleased by the precision of a manifesto that asks you to value things more, and to appreciate the things that are precious – the arts, time, his world.
"There are many greater and better artists in other fields who are celebrating his 100th year – I'm doing it in my own modest way."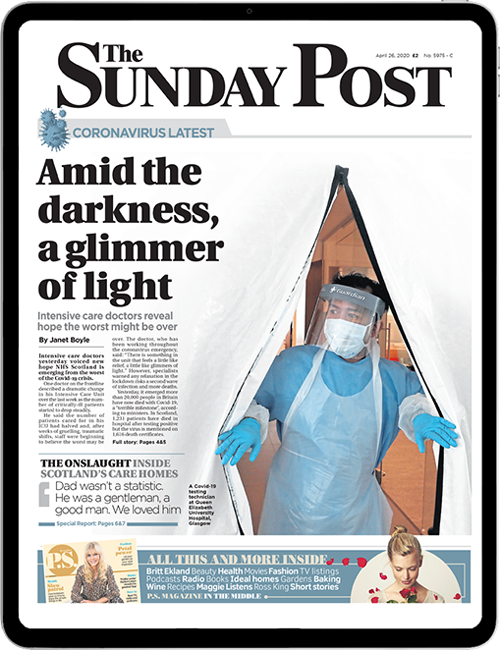 Enjoy the convenience of having The Sunday Post delivered as a digital ePaper straight to your smartphone, tablet or computer.
Subscribe for only £5.49 a month and enjoy all the benefits of the printed paper as a digital replica.
Subscribe