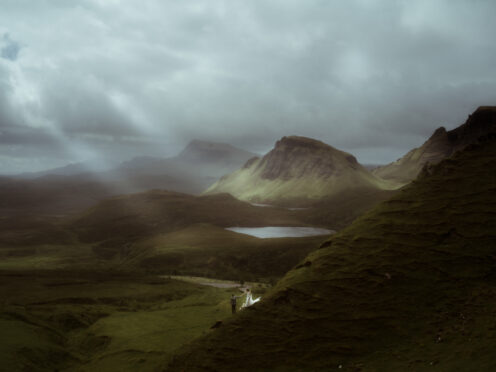 Acclaimed Brazilian photographer Sebastião Salgado once said it is as important for a photographer to have a good pair of shoes, as a good camera.
And for the growing faction of cinematic elopement photographers in Scotland – this might be the case.
Traversing glens, scaling mountains and creating movie-like depictions of love stories within them is a trend that shows no signs of slowing down, as the line between wedding films and photography and works of cinematic art becomes increasingly blurred.
Fuelled, say experts, by social media, changing attitudes to tying the knot and a growing appreciation for Scotland's wild and stunning landscapes, more and more couples are choosing to ditch the lined up and static images of wedding photography past, and embrace artful depictions more likely to be seen on the silver screen than granny's mantelpiece.
Aberdeenshire-based elopement planner and stylist, Ella Herbert of Ella Mai Elopements believes the popularity of atmospheric fine-art photographs and films is in reaction to a growing sense of weddings becoming more about the couple themselves, than about tradition and pleasing others.
"Eloping allows couples to freely choose how they spend their day and essentially how they start their married life together, without having to answer to anyone," she explained.
"They don't have to worry about paying for tens or hundreds of guests' dinners, they can focus on what brings them joy, and in turn, this means they can put more money into things that are important to them.
"The question I ask all couples when they enquire with me is, 'what is the most important aspect of your day?' And nearly every single couple answers with photography and/or videography.
"They want the epic depictions of their day that they are then able to share and wow friends and family with."
The cinematic wedding and elopement photography trend in Scotland has arguably been led by Edinburgh-based photographers and filmmakers The Kitcheners, who, alongside other fine art photographers like the Isle of Skye's Belle Art Photography, have become synonymous with artful, epic wedding imagery.
"Our first enquiry for an elopement came in 2013 from a Scottish couple that decided to run away and marry in total secrecy (not even telling their teenage children) at Loch Coruisk on the Isle of Skye," explained photographer Dylan Kitchener of The Kitcheners.
"After capturing this, we fell in love with documenting elopement stories and decided that was the direction we would like to move in.
"Spending 100% of the time with just the couple allows you to build a closer relationship and create a more tailored experience for them.
"Having flexibility of time and no strict schedule to adhere to – as you would with a more traditional wedding – allows more creative possibilities and space to experiment with storytelling."
He added: "Back in 2013 elopements in Scotland weren't really a thing yet but we already knew that this was going to be something special and different.
"Then over the last ten years or so, mass-consumption of social media has played a massive part in making couples aware of what is possible in wedding photography.
"Instagram in particular has introduced the cinematic style of wedding photography on a worldwide scale."
Social media expert Johnnie Blue of Glasgow digital marketing agency, Adeo Group, agrees that Instagram has played a huge part in changing attitudes to wedding photography and helped put Scotland on the map as a modern elopement destination.
"Nowadays, rather than looking at the classic case studies and example wedding albums, the first place most young couples look at is the photographer's Instagram," he said.
"And there, you'll very rarely see the static, staged family photos that once featured in the silk wedding album.
"Couples now look for more relaxed, intimate photography that will capture a memory as well as showing the striking location of the wedding.
"The standard, old-fashioned wedding shoots have been done many times on Instagram – modern imagery stands out and is emotive to followers."
He added: "In some ways, wedding photographers can be looked at as kind of 'wedding influencers.'
"The way travel influencers can encourage people to go to certain places in the world, so too do cinematic elopement and wedding photographers by sharing these images, encourage couples to get married in Scotland's epic locations."
Scotland's unique marriage laws which allow couples to get married almost anywhere are different to those of England's – where marriages can only take place in civil ceremonies on registered premises.
This is another reason many choose to get married in Scotland's spectacular landscapes says Kitchener, as well as the fact the country holds so much history and romance.
"There is a romantic element to the rugged landscape in Scotland and it's almost as if the mountains here were waiting for love stories to be told in them."
He added: "It's the dramatic landscape and dark, moody weather that attracts many couples to Scotland in the first place so it's natural that they will be looking for photography that captures this mood."
---
I tell my couples I want their wedding photos to be like art
Becy Stabler of Belle Art Photography has become synonymous with fine art, cinematic elopement photography on the Isle of Skye and across Scotland. Here, she explains why. 
The Scottish Highlands and Skye played a huge part in my photography journey.
Skye felt like freedom really.
When I shot my first elopement here back in 2018, I couldn't believe it was the UK and I felt so drawn to the mountains and so inspired.
I left thinking, wow, imagine living here. Three months later, we were carting all our belongings seven hours up north to Skye from Newcastle.
I always tell my couples that I want their wedding photos to be like art, art that they want to print and frame and pass down, but most importantly, art that really reflects them.
When you lose someone, this becomes all the more vital.  It's not the group photos of my mum stood in a line at a wedding or in her midwifery uniform that we cherish, it's the photos that capture her laugh or the detail in her hands.
Every artist would love to think that their work is at the forefront of a trend or that it is completely unique.
However, us creatives are like sponges for influence and inspiration and of course we follow trends and I have seen an increase in cinematic work.
And I do think the Instagram generation has helped fuel this as it makes us want 'more' of everything – more epicness, more abundance.
---
I just love the rawness and emotion captured with this style of photography
Sarah Brown chose Belle Art Photography to capture her wedding to husband Mike in the Scottish Highlands. Here, she explains why cinematic and artistic photography was so important to her.
As soon as I came across Belle Art Photography I knew that I wanted Becy to be our photographer. Her style is so unique and creative, it really is art.
Having photographs that captured our day authentically was so important as our family and friends weren't there and we wanted them to be able to experience our day through our wedding gallery, which we got so many compliments on.
I just love the rawness and emotion captured with this style of photography, and you can feel that when looking at the photos, they're so atmospheric and really tell the story of the day and the love between two people beautifully.
We wanted an intimate, hassle-free day and eloping just seemed a great way to have that.
We got to spend the day exactly how we wanted and really just enjoy the moments with our children without any stress or pressure – it was perfect.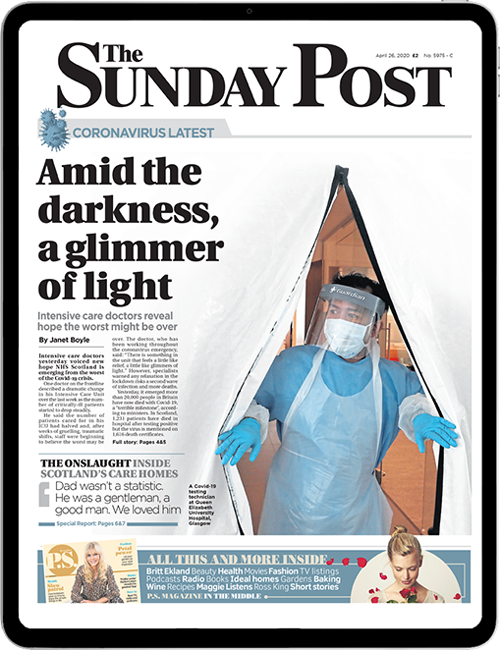 Enjoy the convenience of having The Sunday Post delivered as a digital ePaper straight to your smartphone, tablet or computer.
Subscribe for only £5.49 a month and enjoy all the benefits of the printed paper as a digital replica.
Subscribe