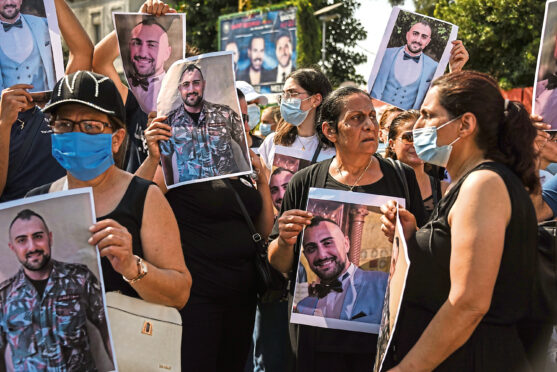 They call it the Paris of the Middle East. Well, they once did.
It has been almost 20 years since I was last in Beirut. My sister and I travelled there to meet the grandmother and aunts we had never known growing up.
It was a city on the move and, once we adjusted to the heat, we really did start to recognise the "Paris" my dad spoke of when bragging about his stylish, cultural home town.
It seemed a city full of hustlers: people selling anything and everything on street corners.
You could get food delivered at any hour of the day – well before Deliveroo became a thing in Scotland – and the driving was something else.
While people in Britain tend to use their mirrors, in Beirut you drive with one hand on the horn.
Mirrors are used for checking make-up, my auntie told me with a smile, but it's good to let people know that you're on the road.
Certainly, no Parisian is more stylish than the city's residents. I felt like a tramp when I visited.
Everyone looked like they were on their way to a big night out. Even the jeans and T-shirts were styled to within an inch of their lives.
The Lebanese are known for being chic, stylish party animals – the thinking is that, yes, the wider region may be in turmoil but that's no excuse not to get dolled up and hit the town.
My aunt took us to the Blue Note nightclub where, surrounded by effortlessly gorgeous people, we choked down potent cocktails. I'm not sure my dad would have sanctioned this excursion but it was eye-opening fun.
The Lebanese lust for life was on full display. Among dancing, seemingly random people were invited up on stage and joined the band before spiriting a trumpet or saxophone from a hidden pocket to jam the night away.
Driving past bullet-ridden walls, still scarred by the civil war, was a jolt, but my aunts brushed over this, displaying customary Lebanese resilience by taking us to the gleaming and freshly rebuilt downtown area, showing what Lebanon would be returned to sooner or later.
More of a shock, however, were the afternoons where they'd fill the bathtub with water, and cover the windows to keep the house cool, in advance of what they knew to be the regular power and water outages.
They lasted a couple of hours a day and were manageable but it struck me that, despite the party atmosphere and determination to live for today, Lebanon was still struggling to recover, even in 2003.
The country would know more difficulties. Attacks from Israel in 2006 would damage the airport and other civilian infrastructure, and the civil war in neighbouring Syria brought more than a million refugees, swelling the population by a quarter.
And still Lebanese resilience held strong.
Times were tough. You couldn't get the garbage collected, and power outages continued. But life went on and the city's positivity in the face of adversity held firm.
And yet today, one year after the most powerful non-nuclear blast in history, things have never looked so bleak.
But this time, it's not wars abroad or foreign bombs bringing the country to its knees. It's a threat from within.
The ongoing neglect, corruption and incompetence of the ruling political class has done what decades of foreign aggression failed to: extinguished hope of Lebanon ever getting back on its feet.
More than 200 died and thousands were injured in the blast last year but, of course, no one in a senior position has been held to account for the explosion at the port caused by a stockpile of ammonium nitrate stored dangerously for years.
Corruption and mismanagement have plunged the country into its deepest economic crisis.
The Lebanese pound has lost 90% of its value. For those unlucky enough to be paid in local currency, the effects are real. Half of the country has now fallen below the poverty line.
Even if you're fortunate enough to have an income in dollars, you can't escape the rot. For those one or two-hour power cuts twice a week are now up to 20 hours every day.
I interviewed the director of one of Beirut's largest public hospitals recently and, rather than talking about the Covid pandemic, I needed to know how on earth he runs a hospital on only two hours of electricity a day.
His main concern was not Covid, but keeping the lights on, and trying to hold on to staff.
"Nurses are leaving, to work abroad," he pleaded into the camera. Left unspoken at the end of that sentence was "and who could blame them".
Homes are lit by candlelight, many have stopped eating dairy because they can't store it. A fridge that only works for an hour a day won't keep anything fresh. That's why so many have been ill this summer, from food that spoils in homes they can't cool.
Lebanon's expats fly home for the holidays with suitcases packed full of tampons and paracetamol – things most of us take for granted, but which are in short supply now.
My colleagues are overjoyed to return to see family after months apart, but they're also realistic that if you're not flying in to Beirut to give your family dollars, basic medicines and sanitary supplies, there's very little reason to head to Lebanon this summer.
After all, children are dying in hospitals there because of a lack of basic medicines.
Even the army is offering helicopter joyrides to tourists at $150 a pop in a bid to raise funds to maintain equipment and feed the troops (unable to feed themselves after the currency crash).
What are the country's politicians doing to tackle all this? Nothing. The cabinet resigned after the Beirut blast but have refused to lift politicians' immunity from prosecution, so the investigation is stalled.
They refuse to carry out reforms, which would unlock international investment and donations, and refuse to do anything really that would alleviate the suffering of the population they purport to lead. Instead, they recycle old politicians to new positions and hope no one will notice.
When former prime minister Najib Mikati was announced as new caretaker PM – the latest in a long line of people unable to cobble a government together – few Lebanese were able to watch his address to the nation as there was no power to switch on their TVs.
Probably just as well, as he went on a popular talk show a few days later to complain about how he and his family couldn't go out to restaurants any more because they kept getting harassed by members of the public (presumably those middle-class families reduced to rummaging through bins in an attempt to put food on the table).
The tone-deaf response by the nation's "leaders" comes as no surprise to a long-suffering population.
There has never been real accountability after the civil war, so why should that change now?
While onlookers may be horrified at the foot-dragging after the Beirut blast and pray that Lebanon's famous resilience will come to the fore, many Lebanese have given up. As colleagues tell me, "our country is finished, but we Lebanese are still here. We'll still live our lives, we just don't know where".
After we met our cousins for the first time, they used to ask repeatedly when we'd come back to stay. Now, a reunion in Beirut seems further than it's ever been.
As for my father, he's been dead for eight years now, which is a blessing. If he'd been alive to see what has been done to his beloved homeland, it would have killed him all over again.
---
Halla Mohieddeen is a Scottish journalist with Al Jazeera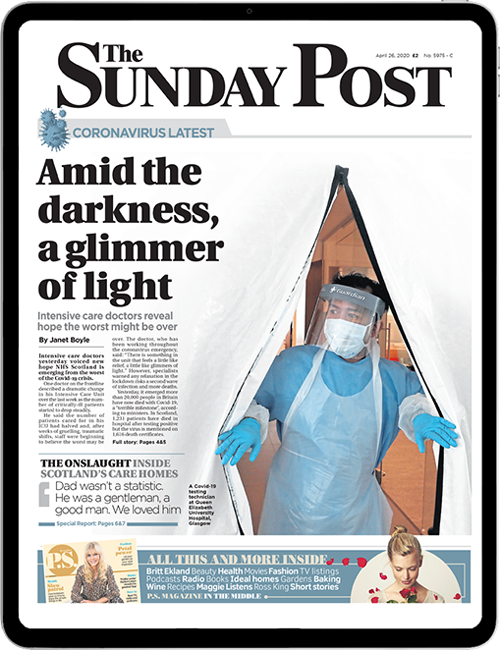 Enjoy the convenience of having The Sunday Post delivered as a digital ePaper straight to your smartphone, tablet or computer.
Subscribe for only £5.49 a month and enjoy all the benefits of the printed paper as a digital replica.
Subscribe