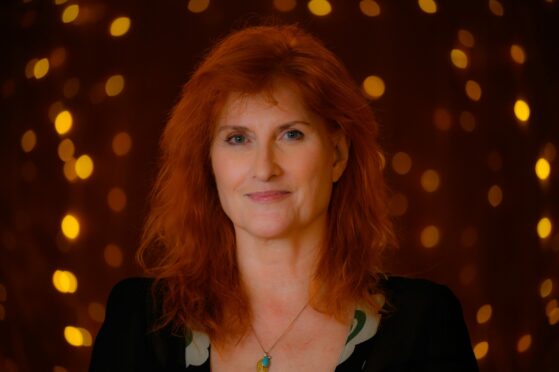 Eddi Reader wasn't quite despondent, but her mood was down and she was feeling fed up.
After a lifetime of making music (her forthcoming spring tour, delayed by two years, will celebrate 40 years as a live performer), she found herself stuck at home in Glasgow.
Unable to perform on the city's stages she's graced so many times over the decades. Unable to go into the studio to record new music with her band. Unable to travel the world and sing.
And then, Eddi believes, someone watching over her stepped in and provided some much-needed buoyancy.
During the worst of the pandemic, as she went through files during a tidy, a piece of sheet music fell from a folder. It was her interpretation of Irish poet Thomas Moore's Do Not Say That Life Is Waning, which she had adapted into an unreleased song called Light Is In The Horizon Yet.
"I was cleaning up the house, moaning about my age and feeling a bit old, when this sheet music fell out. I have quite a niche collection of ideas and this was a poem used as an Irish parlour tune in the 1910s.
"The words, 'Do not say that life is waning while you are here and love remaining, light is in the horizon yet', felt like it was my ancestors talking to me, saying, 'Don't worry about it, hope is always there glowing'."
Reader, 62, will perform the song during a live-stream concert from The Globe Inn, the Bard's favourite haunt in Dumfries, to celebrate Burns' Night on January 25, as part of the otherwise cancelled Big Burns Supper festival, another cultural victim of the pandemic.
The song will also feature on a new album to be released next month, featuring studio cuts that didn't make her previous releases.
"Not getting into the studio was depressing me more than anything. I'm still of the old-school method of recording it live with all of us in the room," said Reader, the eldest of seven from the Anderston area of Glasgow. "Then my musician pals called me and said, 'You know you've recorded loads that you haven't put on records?'
"I didn't know what they were talking about. I discovered there were about 15 but I wondered if there was a good reason I hadn't included them previously. I listened to them and there were 12 that just blew my mind and I don't know why I'd left them in the cupboard.
"Beneath The Lights Of Home, which I think was last sung by Deanna Durbin, is one of them. I fell in love with it because I heard an old auntie sing it on a cassette, and I loved the sentiment of it. It felt like it talked to me from before Covid.
"Then there's Auld House, which I wrote about 14 years ago, before I got married again and just as we were moving into our house in Glasgow. Everything I wrote about in the song, like the kids will grow up and leave too soon, happened. It was like I was listening to someone I didn't know talking to me from years before, and I realised there was a beauty in the words I maybe didn't see previously, because it was too close to me.
"I do Michael Marra's Here Comes The Weak and Gerry Rafferty's Mary Skeffington, which was written about his mother, and I sing it with my son, Charlie. It felt like a lovely little miracle that I did this with him.
"He doesn't like performing. He prefers to organise musicians – he works in administration with Celtic Connections – but he's a great singer. My other son, Sammy, is a DJ, and their stepdad John (Douglas, of The Trash Can Sinatras) plays ukulele in the band, so we're a house of music right enough."
Reader's music experiences read like the CVs of several singers, rather than just one. From the fruitful street busking years taking her from Glasgow to Europe; to making her mark in the folk clubs; being a sought-after session backing vocalist for the likes of Eurythmics and Alison Moyet; a No 1 single and award-winning pop stardom with Fairground Attraction; acting success in Your Cheatin' Heart; and then her solo work, which bagged her a Brit Award and eventually led to her career-defining interpretations of Robert Burns' works.
If it sounds like a fairytale, the reality is usually somewhat different, and so it was with Reader, who suffered for her art throughout the 1990s, feeling lost after Fairground Attraction split and only truly finding herself again when she decided to leave London behind and return to Glasgow.
"I longed for home," she recalled. "My brother and my husband – he was just a friend then – would come and stay with me with their band and when they went back home in the van, I would stand on the corner of my street, and you might as well have left me in a derelict castle, because I was left on my own and I didn't understand the humour, the money grabbing, the lack of empathy…
"In fact, there was lots I didn't quite get about London. The best thing I did was move home."
Long before that, though, she first had to leave Scotland to eventually realise what she was missing.
"During the first decade, I did all my learning. I had mentors like Hamish Imlach, who would teach me about stage craft and dealing with nerves and the best places to play. The folk stars of the 1970s really helped me," said Reader.
"I wanted to learn about the studio, too, and I learned how to do harmonies and I did radio adverts for the likes of Tesco ('Lower standards, higher prices' is what I would sing – I got it all wrong) and then hiring myself out to do backing vocals.
"I was incredibly proud of that and would have done it for no money – and, in fact, I discovered most people were charging way more than I was – but I loved it and it fed me into London after my European busking.
"I got a job at the Café de Piaf in Waterloo Station singing her songs every Friday, Saturday and Sunday afternoon. I was ace at it – people thought I was French – but I learned all the songs phonetically and didn't know exactly what I was singing about.
"With the backing vocal sessions, I ended up in a position where I could pick and choose, but I was getting bored and felt I wanted to express myself."
Fairground Attraction filled that void and the group enjoyed a No 1 single with Perfect, a No 2 album, and won a Brit Award for each. But problems emerged within the band's dynamics soon after and the group was no more.
"I would've been in that band until the end of my days because I loved it and I loved the music. When the '90s happened and the band was gone, it was emotionally hard and I felt a bit at sea.
"I had a new baby, a new mortgage, and I was in London. I felt everyone would be wanting another Fairground Attraction album from me but I had no way of providing that.
"I was lost and had no way of controlling what was coming next, so I had to get off and come home.
"It took me all of the '90s to get it together. That decade was me saying, 'Oh my God, what am I going to do?' I relied on the music to get me through. I remember recording the song Semi Precious with Sammy breastfeeding on my knee. Thank God I found the brilliant writing of Boo Hewerdine – he wrote Patience Of Angels, a song I used as a lifebelt to get off the Titanic and on to dry land."
The song led to an Ivor Novello Award nomination and she won the 1995 Brit for best British female. Hewerdine remains part of her band, a writing partner and producer to this day. Now, she hopes she is able to go back out on the road with Boo and the rest of her musicians, with an Irish tour scheduled for February, and solo dates and gigs with Jools Holland also in the diary.
"I have my bag packed and ready to go but we just need to take one day at a time, as Lena Martell sang, and hope we get through it," she added. "My mother is still here, so we need to make sure she and the vulnerable are protected – we need to look after the old ones. I'm chapping on the door of that myself."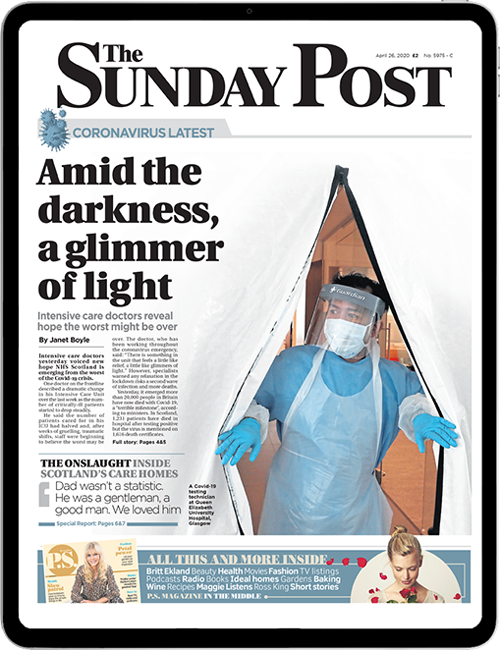 Enjoy the convenience of having The Sunday Post delivered as a digital ePaper straight to your smartphone, tablet or computer.
Subscribe for only £5.49 a month and enjoy all the benefits of the printed paper as a digital replica.
Subscribe