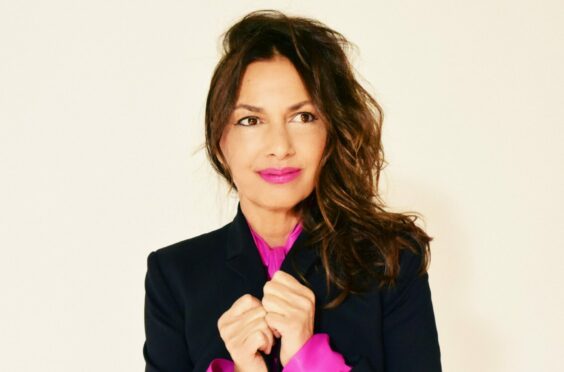 At 64 Susanna Hoffs, musician, songwriter, actress, singer with The Bangles (which obviously makes her a pop star, too) can now also call herself a novelist.
"I like hearing 'novelist' at the end of that list," Hoffs says, smiling. It is Friday evening in Scotland, Friday morning in Los Angeles and she is talking over Zoom from her handsome home in LA about, well, everything; her new book, The Bangles, The Beatles, some guy called Prince and anything else that crosses her mind in our time together.
Oh, but Hoffs is a ray of Californian sunshine, full of chat and sunny optimism. That person you see having fun and fooling about on TikTok is exactly who she is. This week sees the publication of her debut novel, This Bird Has Flown, "the smart, ferocious, rock-star redemption romance you didn't know you needed," according to the New York Times, which proves you're never too late to try something new. The little girl who always had her head in a book back in the 1960s and '70s has finally got around to writing her own.
Perhaps unsurprisingly, it's set in the music world. It's about Jane Start, a one-hit wonder who has been dumped by her boyfriend for a lingerie model at the start of the book, but who may be about to get a new chance in music and in love thanks to a trip to the UK. "Jane and I are not in any way the same person," Hoffs is quick to point out. "All the characters are creations from my imagination. She is 33, so she is significantly younger than me.
"What I will say is that I really enjoyed hanging out with her. I allowed her to do and say things that would make me smile and laugh. I liked her optimism even in the direst of circumstances emotionally for her.
"I liked the fierceness of her. She has a fierceness and a stick-to-itiveness."
One might say the same about Hoffs. As well as the novel she has a new album coming, The Deep End, which sees Hoffs cover songs by the likes of Ed Sheeran, Squeeze, Billie Eilish and The Rolling Stones.
"During the pandemic I got a lot of work done," she explains.
She has never stopped making music, of course. Since The Bangles first split up back in 1989 she has continued to make records with the likes of Matthew Sweet and, of course, Mike Myers in Ming Tea, the band you see in the Austin Powers movies (Hoffs is married to the Austin Powers director, Jay Roach).
"Music is the beginning, middle and end of every day," Hoffs tells me. "Music is like a drug, like an upper or a soother. It's for mental health."
It was ever thus for her. Growing up in Los Angeles one of her earliest memories is when The Beatles turned up on her block.
"In 1964 they went to a charity event and my older brother found the newsreel footage that is now on YouTube which shows all the kids in the neighbourhood. And I was one of them. I can't find myself in the crowd, but we hovered around the bottom of my actual block because they were across the street at this party.
"I was asked why the book was set in Britain and I went right to that moment of my five-year-old self hoping to catch a glimpse of the lads from England. And I didn't do it exactly intentionally because of the British invasion, but it's at the forefront of my mind. I've always had this love of Great Britain."
And while she's very much an Anglophile, she loves Scotland, too. "I can say that the shows that The Bangles did in Glasgow were some of my absolute favourites. They were just amazing shows. I loved performing there."
The story of The Bangles is itself a story of "stick-to-itiveness". The band started out, she says herself, as a "scrappy club band", formed after Hoffs put an ad in a newspaper for band members. That's how she met sisters Debbi and Vicki Peterson and original bass player Annette Zilinskas, who was later replaced by Michael Steele.
"There was a period when we were just a hardworking club in this 'Paisley Underground scene' of like-minded musicians in the very early '80s who were obsessed with the '60s and dragging those sounds into what we were doing," Hoffs recalls.
No music labels were interested back then. But when Bruce Springsteen saw them play live and gave them the thumbs up, they were signed by Columbia and were soon supporting Cyndi Lauper and having chart hits.
Life changed dramatically. "I had to be a – quote unquote – 'pop star'," Hoffs says. "It's almost like you're river-rafting. Everything gets very fast. Time starts moving at an almost impossible clip. Those were heady times. We were not very polished. There were no fashion designers saying, 'I'm going to dress you in the most gorgeous clothes'. We pretty much looked terrible. It was not exactly put together."
But it worked. Soon they had a following, including Prince, who even turned up at a couple of their shows and joined the band onstage.
"He just sauntered on to the stage, shredding magnificently, the way that he was capable of doing, as if channelling some higher spirit or something."
Even now, just telling the story, you can hear the surprise and joy in her voice. Afterwards, she remembers, talking to the man himself as his bodyguards looked on.
"We're sitting in a booth, just me and Prince. We're just chatting and I'm thinking, 'That's Prince.' And he was there to see me and my band and he wanted to play on a song I had co-written.
"I felt like Cinderella at the ball and he was Prince. He was the Prince. It was a cute little moment."
Instead of glass slippers, though, Prince gave her a song, Manic Monday, which became a huge hit. But the band had plenty of their own, including Walk Like An Egyptian and Eternal Flame.
"I never felt that fame made me a different person in any way," Hoffs suggests. "I actually feel like I've always been the same person. That's one thing – when you get to be 64 and you realise that you love all the same things.
"Every night I'm on the Criterion Channel watching an old movie. Every morning, while walking, I listen to an audiobook. At night I can't sleep unless I read a chapter or two of a novel. I'm the same person I've always been."
This Bird Has Flown is about new love and all the confusion, uncertainty and, yes, lust that comes with it. Hoffs herself has been married to Roach for 30 years now. Was it difficult to place herself back in that mindset?
Not at all, it seems. "Writing it felt like I was there. That was how visceral it was. You can't write it and not feel it a little bit. I must admit it's addictive. Writing about standing in the wings and being terrified also makes your heart pound a little bit faster.
"So it was fun to feel the feelings. I had to feel the feelings.
"I felt like I had a fictional boyfriend, too. I was really up front about that with Jay. He would walk in from a hard day's work and he'd say, 'Who giggles to themselves while writing? You're laughing.'
"'It's because my characters are in bed together. They're having fun right now and you should probably leave me to it.'"
Later this year she is coming to the UK to play the Kite Festival in Oxfordshire. After that Hoffs, her husband and their two sons, she tells me, are going to rent a car and drive to Scotland. She can't wait, she says. Life is for living, even in the midst of your seventh decade.
"I made a decision to absolutely embrace it and seek joy when you can, seek connection if you can, figure out ways to do the things you love as much as possible," she explains. "For me, listening to music, reading books, writing books, writing music, that's my thing. Taking walks, communing with others, being silly.
"You just have to do whatever it takes, whatever works for you. But do it, because if you sit around ruminating you're not getting anywhere. If you have a burning passion to do X, Y or Z, don't wait around for someone to give you permission. Just try it. It may be very hard but it might also be enjoyable."
Manic times in music biz
"The first time we heard Manic Monday on the radio, we were on tour in Washington DC," Susanna Hoffs recalls.
"A convertible pulled up and our song was pouring out of the radio speakers. And then we were doing that ridiculous jumping up and down screaming thing that you see in movies and you go, 'Oh that's so cheesy. We were that cheesy in that moment."
The song, written by Prince, was the one that helped break the band in the UK and the US, giving them a top 10 hit on both sides of the Atlantic.
They would hit the top 10 again with Walk Like an Egyptian and their biggest hit, Eternal Flame, which Hoffs co-wrote with songwriters Billy Steinberg and Tom Kelly.
She says she asked: "How can I make a song that makes me want to cry but also makes me feel connected with other human beings."
She succeeded as the single was No 1 in the US and the UK.
But when she talks about the band it's the early days she seems most excited to recall.
"We started in a van, opening for The Beat. Wow, that was a fun tour. And opening for Cyndi Lauper as she was screaming up the charts."
Success, she says, was a matter of determination and perseverance. And a love of music, of course.
---
This Bird Has Flown by Susanna Hoffs is published by Piatkus Books on Tuesday, priced £9.99. The Deep End album is out on Friday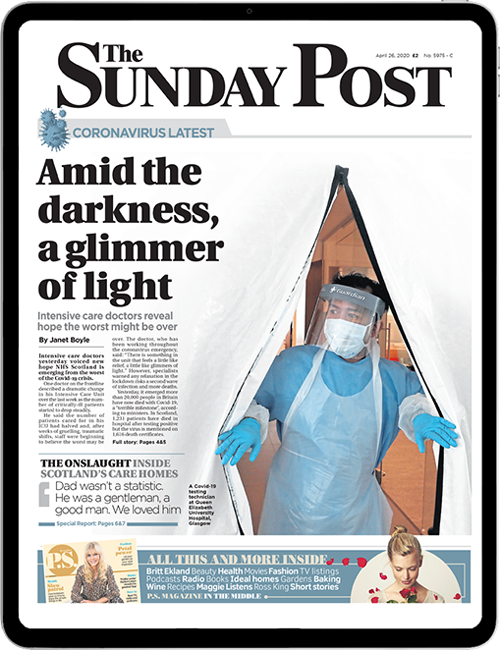 Enjoy the convenience of having The Sunday Post delivered as a digital ePaper straight to your smartphone, tablet or computer.
Subscribe for only £5.49 a month and enjoy all the benefits of the printed paper as a digital replica.
Subscribe