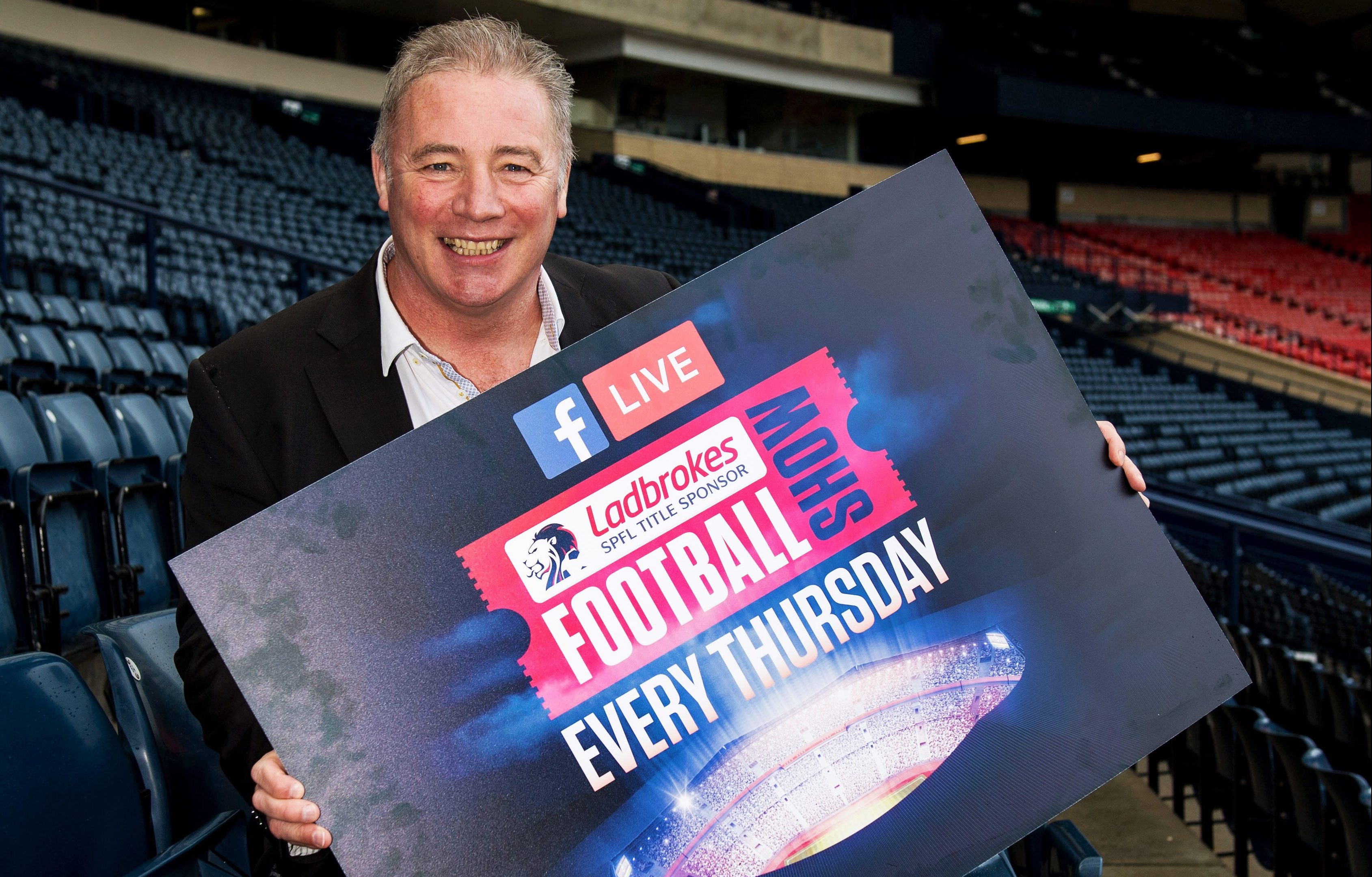 FORMER Rangers boss Ally McCoist insists it is "absolute garbage" for anyone to believe that a director of football will solve the problems at Ibrox.
A new management structure is being put in place at the club following the departure of ex-manager Mark Warburton and his staff.
It has been reported that director of scouting and recruitment at Southampton, Ross Wilson, has turned down the chance to become director of football with the Light Blues.
While under-20s boss Graeme Murty is currently in charge of the first team, Rangers are trying to finalise a deal to bring Portuguese coach Pedro Caixinha in as manager as the Gers trail rivals Celtic by 33 points ahead of their Ladbrokes Premiership meeting at Parkhead on Sunday.
McCoist, the former striker and assistant manager who was also Rangers boss between 2011 and 2014, believes "massive investment" is the key.
He said: "I am not against a director of football but it is absolute garbage if anyone thinks that a director of football is going to solve Rangers' problems right now.
"It is nonsense. I have never heard so much nonsense in all my life.
"Did Jock Stein have a director of football? Alex Ferguson, Walter Smith, Martin O'Neill? No.
"What they needed was a club run very well and financial backing and that is what is required at Rangers.
"The boy at Southampton, Ross Wilson. What is his budget at Southampton? I don't know but I would bet it is millions. Is he going to come to Rangers and solve the problem with no budget?
"The answer is no.
"Ross Wilson is clearly very good at what he does but my point is he is backed financially to do what he wants to do.
"Rangers need investment, that is exactly what is needed.
"Clearly you don't want to put the club in any financial trouble again. That goes without saying.
"But for Rangers to improve on the park, massive investment is needed.
"I couldn't tell you where it is going to come from, I can only tell you what I think is going to solve the problem.
"I know there has been a bit of money spent but I think we need serious investment."
Speaking at Hampden Park where he was helping to publicise Ladbrokes LiveFootball show, McCoist admitted knowing little about Caixinha, currently incharge of Qatar Stars League side Al Gharafa.
However, he revealed that, were it down to him, he would look to persuade two former Rangers managers, Smith and Graeme Souness, to return.
He said: "I don't know the gentleman (Caixinha), the same as 98 per cent of Rangers supporters.
"I would clearly wish him all the very best, but I would be very surprised if he turns up with a magic wand.
"He is going to need help, investment.
"We have maybe slightly improved, but we needed investment two or three years ago and we need investment now.
"In my last year we were miles away from challenging Celtic and that's where we are at the moment.
"What I would have done is get Graeme Souness and Walter Smith in a room and locked them in and not let them out until they agreed to come back to help us.
"I don't think they would have done it unless they were promised investment, but Rangers need leadership.
"They need direction and those two men I have mentioned would have given them that, but I don't think it is going to happen."
McCoist was keen to stress that he was not to blame for costing the Ibrox board the chance to offer new shares without first offering them to existing shareholders, including Sports Direct supremo Mike Ashley, an unpopular figureamong a section of the Gers support.
Rangers revealed that Resolution 11, voted on at the club's annual general meeting in November, was only 0.4 per cent short of the 75 per cent backing it required.
McCoist, who has a 1.25 per cent shareholding in the club, said: "I was one of the 25 per cent who never voted as I was out of the country and a lot more high-profile people at Rangers, people who are close to my heart, also never voted.
"Out of the 75 per cent who voted, 26 per cent voted against resolution 11.
"When Dave King (chairman) and the board were getting voted in (2015) I turned up at Ibrox to vote for that board, strongly against the advice of my lawyer who, believe it or not, wouldn't talk to me for 10 days.
"But I felt it was the right thing to do.
"What I do with my vote is private so clearly it was leaked by somebody and I have a fair idea who it is.
"It was an attempt to get the fans turned against me which certainly has not been the case as a lot of people saw through it.
"I support the board. Absolutely. I appreciate how difficult a job the board have got and I know the board will be doing their best for Rangers. All I would say is that I just hope they can find investment.
"I remain a supporter of the club and the board and I just hope the board can find the investment to help the next manager."