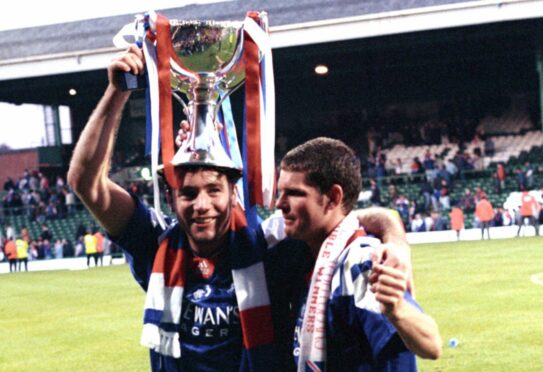 It barely needs repeating that no Scot has ever played in a World Cup Final.
The closest we have come was when Bobby Davidson was a linesman for the 1962 showdown between Brazil and Czechoslovakia in Santiago, Chile.
Then 40 years later, Hugh Dallas was the fourth official when Brazil beat Germany in Yokohama, Japan, to lift the trophy for the fifth time.
But Scotland will be represented at this afternoon's Final in the form of Ally McCoist.
The Rangers and Scotland legend will be on co-commentary duty for ITV at the meeting of Argentina and France.
McCoist's form on the television gantry is every bit as good as when he was banging in the goals for club and country 30 years ago.
Insightful and humorous, he has emerged as one of the UK's leading pundits, and the 60-year-old has beaten a host of big names to land the prestigious gig today.
Ian Durrant was his team-mate at Ibrox, Kilmarnock and Scotland before they coached together, and they remain close.
He's delighted to see McCoist doing so well and isn't in the slightest bit surprised.
Durrant told The Sunday Post: "I'm not saying this because he is my mate, but I think Coisty's analysis is brilliant.
"If he wasn't up to standard, I'd tell him – and he knows that. He'd want me to be honest with him.
"But I do think he gets it right. And, clearly, the television bosses feel the same, otherwise he wouldn't be getting to work at the World Cup Final.
"Coisty educates the viewer with his tactical insight, and he also entertains them with his carry-on.
"The important thing is knowing when to put the brakes on, and when to hit the accelerator. Coisty has that balance down to a fine art.
"We all know he has a great sense of humour, and his one-liners are legendary.
"I've had loads of laughs with him over the years as a team-mate, as a fellow coach, and as a friend.
"But he also taught me plenty about the game. Trust me, Coisty knows his stuff.
"We both picked up so much from working with Walter Smith, of course.
"And, with Coisty, I'm not just talking about his knowledge of strikers, or where to go inside the box to carve out a chance of a goal.
"No, he is also right up to speed on defending. Coisty's knowledge is all over the pitch.
"He was great on the commentary during Saudi Arabia's match with Argentina. He was also very fair when talking about England during their time in the tournament.
"Overall, Coisty has been a breath of fresh air, and he has a great rapport with Jon Champion. He is a brilliant commentator, and they work well together.
"So I'm looking forward to the Final – and listening to Coisty.
"It's a massive thing in a media role to have a World Cup Final on your CV. Credit to Ally. He has flown the flag for Scotland very well in Qatar.
"I know he will have spent Saturday night and Sunday morning preparing for the game. He'll have his notes at the ready.
"I've been out with him for lunch recently, and he has made a sharp exit to go home and get his preparations done for a game he's doing for TV.
"He'll look at the stats, from clean sheets, to scoring and/or conceding from set-pieces. And he'll be right on it when it comes to the pronunciation of players' names.
"So he'll be ready for the Final, and he'll be looking forward to it. I'm delighted for him."
Durrant was his great pal's right-hand man at Ibrox a decade ago during the financial trouble under first Craig Whyte, then Charles Green.
McCoist was manager and Durrant was his assistant. They ended up being demoted to the bottom tier of the SPFL.
After an emotionally-draining spell of 18 months, McCoist quit in December, 2014 after three-and-a-half years in charge.
Durrant said: "I don't want to go over old ground. But we all know what happened, and how difficult it was for Ally and everyone who cared for Rangers.
"I think he deserved a crack at the manager's job during more stable times. I know he would have been a great success.
"Maybe he wanted to get back into management a few years ago, and I'm sure offers would have been there had he pushed for a role.
"He might have felt there was unfinished business, and I get that.
"But having done Question Of Sport for years after he gave up playing, Coisty decided to go down the media route again.
"I know he loves his job on the radio every morning, and these stints as a co-commentator on television.
"Being happy at your work is so important – and he is very happy just now."
Durrant will be listening in to his pal this afternoon, and is looking forward to the Final.
He said: "It has the makings of a cracker.
"Most people are saying the outcome will come down to Lionel Messi v Kylian Mbappe.
"I get that, as they are the two outstanding talents.
"Both are capable of winning the game single-handedly. I can't wait to see it as I think both will turn it on.
"Right now, I think there is something in the air to suggest it's going to be Messi's day.
"Diego Maradona won it with Argentina, and Messi deserves the same.
"I'd like to see Argentina win it. But if France do it again, then credit to Didier Deschamps and his players for retaining it. That would be something else.
"Overall, I've enjoyed the tournament and it was great to see a country like Morocco bring so much to the Finals.
"I just hope that, four years from now, I'm watching Scotland being involved. That would be special.
"It would also give Coisty a wee bit of help.
"We can't rely on him to do it all over again on his own in 2026!"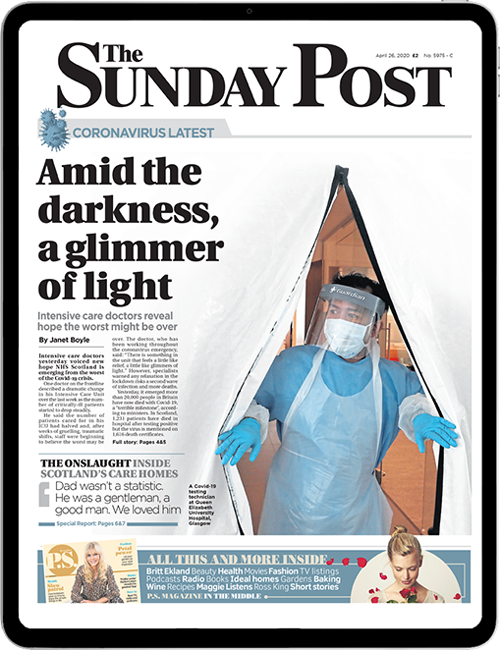 Enjoy the convenience of having The Sunday Post delivered as a digital ePaper straight to your smartphone, tablet or computer.
Subscribe for only £5.49 a month and enjoy all the benefits of the printed paper as a digital replica.
Subscribe