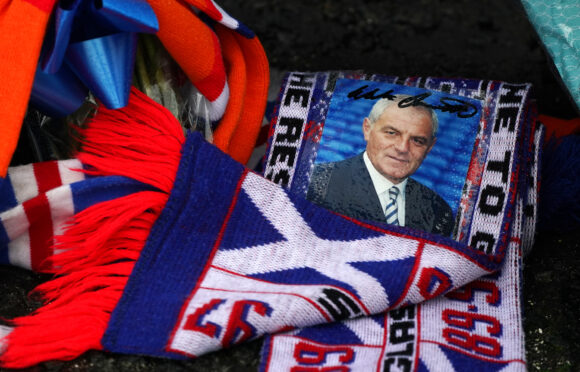 The world of football has united in mourning the loss of legendary Rangers manager Walter Smith.
Smith had been suffering from a long illness but still had a major influence on current Rangers manager Steven Gerrard, who fought back tears as he declared his mentor had "made me a better person".
He was one of many prominent names in the world of football who paid tribute to Smith, who was 73.
The former Dundee United and Dumbarton player made his name in coaching under Jim McLean at Tannadice, helping the previously unfancied club to the 1983 Scottish league title and the European Cup semi-finals the following year.
After assisting Sir Alex Ferguson during Scotland's 1986 World Cup campaign in Mexico, Smith accepted an invitation from Graeme Souness to perform the same role at Ibrox.
Smith succeeded Souness in April 1991 and went on to secure a record-equalling nine consecutive titles before leaving in 1998 and joining Everton.
After another spell as Ferguson's assistant with Manchester United, where he won the FA Cup, Smith served as Scotland manager during 2005 and 2006 before returning to Rangers, where he won another three successive titles.
Here are the words of tribute left by those who played for him, managed against him, or knew him as a legendary figure in the game.
Ally McCoist
"He was my boss, my coach, my second father. He became one of my best friends."

"It can't take away the pain and grief." 💔

Ally McCoist pays an emotional tribute to #RangersFC legend Walter Smith. 🙏 pic.twitter.com/kQRP6ZdXF5

— talkSPORT (@talkSPORT) October 26, 2021
Former Rangers and Scotland striker paid perhaps the most emotional tribute to his former manager, colleague and friend.
Broadcasting on talkSPORT not long after the news was announced, he said he was "devastated" at the loss of a man he thought of as a "second father".
"He means everything to a lot of folk. He was my boss, my coach, my second father and then turned into one of my best friends," McCoist said.
"The loss is absolutely incredible.
"The good thing is he's not in pain. I went to see Walter recently, I spoke to him at the weekend and we knew that it would be a matter of time. But it still does not take away the pain and the grief.
"I could sit here and tell you about Walter Smith until the cows come home, but what I will say he was the best husband, father, friend, everything you want from a man.
"I can't tell you how devastated I am."
He added: "At this moment in time, all I can think about is (wife) Ethel, (sons) Neil and Steven and his grandkids.
"All Walter would have wanted was another few years to watch those grandkids play football and spend a lot of time with Jessica and them all, and sadly that's the most painful thing for me right now."
Steven Gerrard and Rangers
Current Rangers manager Gerrard fought back tears in an interview with Rangers TV.
"It is still obviously very raw. It is a very sad day for everyone at the club," he said.
"Walter was an incredible leader, a very successful manager here at Rangers. He epitomised everything that this club stands for.
"His DNA is all over the club and it is very sad news.
"He has been right behind me since day one. I have had many lunches, dinners, coffees, chats and private times with him in my office.
"He is going to be a very big loss to a lot of people. He is decorated all over the club and he will be forever because he gave many many years to the football club.
"He loved the club, he was honest and genuine. He has made me a better person."
Steven Gerrard speaks on the loss of our former manager, chairman and club legend, Walter Smith. pic.twitter.com/zKY7wwTf6F

— Rangers Football Club (@RangersFC) October 26, 2021
Rangers chairman Douglas Park said on the club's website: "It is almost impossible to encapsulate what Walter meant to every one of us at Rangers.
"He embodied everything that a Ranger should be. His character and leadership was second to none, and will live long in the memory of everyone he worked with during his two terms as first-team manager.
"I spoke with Walter as recently as last weekend. Even when he was battling illness, he was still able to provide advice and support."
A minute's silence in memory of our former manager, chairman and club legend, Walter Smith. pic.twitter.com/wQvUZeV4wc

— Rangers Football Club (@RangersFC) October 26, 2021
The club held a minute's silence in training on Tuesday morning in tribute to Smith and there further tributes ahead of their league meeting with Aberdeen on Wednesday. Fans left personal tributes outside Ibrox Stadium.
Condolences came in from across football including Smith's other former clubs, such as Everton, who said: "The Scot was a tremendously popular figure at Everton, players and staff unanimously warming to Smith's genial and empathetic nature."
Walter Smith

1948-2021 pic.twitter.com/4nMGEaarBF

— Rangers Football Club (@RangersFC) October 26, 2021
Celtic also sent their "heartfelt condolences".
"Clearly, this is absolutely devastating news and our thoughts and prayers are very much with Walter's wife, children and wider family at this very sad time," Rangers' rivals said.
"Walter was a tremendous servant to Scottish football for so many years, and during his time as manager of the Scotland national side, he forged a close friendship with Celtic legend, Tommy Burns, who was part of the coaching set-up."
Sir Alex Ferguson
Sir Alex Ferguson, a long-time friend of Smith, said he would "miss him greatly."
"I am absolutely devastated," said Sir Alex. "Walter was a special person. He fought his illness with great courage. He was a great friend of mine for years and years, I had him as my assistant at United in 2004 and he was also my assistant when Scotland went to the World Cup in 1986.
"In all that time you were dealing with a man with great moral compass in how he lived his life and the friendship he offered so many people. His contribution to football with Dundee United, Rangers, Scotland, Everton and Man United was immense.
"He was only at United a short time, but he was fantastic. I lost Carlos Queiroz to Real Madrid and I knew I needed an assistant so I phoned Walter about it and he came for six months and helped us win the FA Cup against Millwall. He had a wonderful connection with people because he was a great listener, that was one of his greatest qualities.
"He listened and showed an interest in people and helped everyone he could. It's such a loss to the game and to everyone that knew him. I send my sincere condolences to his wife Ethel and his two sons Neil and Steven. I'll miss him greatly."
Graeme Souness & Sir David Murray
Smith was described as a "colossus" who will "never be forgotten" in a joint statement issued by former Rangers owner and chairman Sir David Murray and former player-manager Graeme Souness.
Smith stepped up from assistant at Ibrox in 1991 when Souness moved to take over at Liverpool and went on to complete nine successive title wins among other successes in a period of Light Blue domestic domination.
Smith left in 1998 to manage Everton and then Scotland before returning to Ibrox in 2007 to take over the hot seat for another four years.
Murray took over the Ibrox club in 1988 and left in 2011.
The statement released to PA news media read: "Scottish football has lost one of its finest.
"Even in the proud history of Glasgow Rangers, Walter Smith stands out as a colossus. He will never be forgotten.
"His 21 titles and trophies between 1991 and 2011 not only earned respect in the Scottish and British game but across the entire footballing world.
"The Rangers family has lost someone very special.
"Walter had a profound effect on both of our lives – certainly as a manager and a leader and a wise and trusted adviser but always as a close and treasured friend. He made time for so many people.
"Both of us had spoken to him privately over the past few weeks. The topic rarely strayed from football.
"Our thoughts are with Ethel, Steven, Neil and their families."
Pep Guardiola
All at the League Managers Association are so deeply saddened by the death of our very close friend, LMA member Walter Smith OBE, who has passed away at the age of 73.

➡️https://t.co/cblUSzN6wL pic.twitter.com/sMVqXqUzGB

— LMA (@LMA_Managers) October 26, 2021
Manchester City manager Pep Guardiola said in a statement via the League Managers Association (LMA): "I am so very sad to hear the news of Walter Smith's passing.
"I was of course very aware of Walter's impressive management career before I came to the Premier League. Through his role as Technical Consultant for the LMA, I have had the opportunity over the past five years to get to know him and see what a humble, insightful and very genuine man he was.
"I always enjoyed spending time with Walter and we had been planning to have dinner together again.
"I feel very fortunate to have had the chance to get to know him and I send my deepest condolences to Walter's wife Ethel, his sons Neil and Steven, his grandchildren and all of his family who have lost a very special man."
David Moyes
LMA Executive Committee member David Moyes added: "I looked up to Walter with so much respect. He was such a great Scottish manager but, to me, he was an even better man. He was honourable, he showed great dignity, and always demonstrated such class. He was a true friend and mentor, and a man I feel privileged to have known. He will always be remembered fondly.
"My thoughts are with all of Walter's family."
Sir Kenny Dalglish
Sunday Post columnist Sir Kenny wrote on social media: "Marina and my heartfelt sympathies are with Walter's wife Ethel and his boys.
"Though we were on opposing sides on the pitch, he was a real footballing friend off of it. He was respected by all and one of the few able to transcend rivalries. Today we have lost a truly great man. RIP"
Scott Brown
"He was a huge presence… everyone had huge respect for him."

Our captain Scott Brown pays tribute to former Scotland manager Walter Smith who handed him his first cap for the national side. pic.twitter.com/EgPCOs2rw1

— Aberdeen FC (@AberdeenFC) October 26, 2021
Former Scotland and Celtic captain Scott Brown paid tribute to Smith ahead of Aberdeen's match at Ibrox tomorrow.
"It's so sad," the Dons midfielder said. "Walter was a fantastic man and he was the one who gave me my first Scotland cap many years ago.
"I worked with him very closely with Scotland and I've got huge respect for him, especially what he did with Tommy Burns as well, carrying his coffin.
"He tried to bridge the gap between the two clubs which was fantastic at the time.
"Every time I met Walter he had so much time for every single person."
Steve Clarke
"Scottish football has lost an all-time great today. Walter's stature in the game cannot be overstated and he is a rare example of someone who truly deserves the legendary status that has been bestowed upon him."https://t.co/Ga554oB667

— Scottish FA (@ScottishFA) October 26, 2021
Scotland manager Steve Clarke said he was "shocked and saddened" by the news.
"He was a formidable manager and a formidable man," Clarke added on the SFA website. "He always had a strength and presence that marked him out and no doubt contributed to the great success he had throughout his career.
"I had my first experience at the World Youth Championship when he was Andy Roxburgh's assistant in 1983 and, even back then, he was impressive in his coaching and how he carried himself.
"He was always very supportive and terrific company when our paths crossed over the years.
"His loss will be felt profoundly across Scottish football."
Graham Alexander
The manager pays tribute to Walter Smith. pic.twitter.com/k9r3d3E7xu

— Motherwell FC (@MotherwellFC) October 26, 2021
Motherwell manager Graham Alexander said he owes Smith the "resurgence" of his Scotland career.
"It's terrible news. Everyone knew he'd been ill this year," Alexander said. "I didn't realise to what extent.
"There are just fantastic memories of the man for me.
"He sent me a great message when I came to work at Motherwell. Fantastic man to think of me at that time.
"I owe the resurgence of my Scotland career to him."
The Motherwell manager continued: "He called me up after a while out of the squad and I had, without doubt, my best spell as a Scotland player playing for Walter.
"(He was a) brilliant man first and foremost from my experience of him, how he was on the human side of it, how he treated everybody.
"To play under him was an absolute privilege.
"He was just a genius of a man."
Andy Robertson
Thoughts, prayers and condolences with Walter Smith's family and loved ones today. Heartbreaking to lose another great of Scottish football. A man of wisdom, dignity and integrity whose legacy will live on. May he rest in peace 💙 pic.twitter.com/41alZ1TYsw

— Andy Robertson (@andrewrobertso5) October 26, 2021
Scotland captain and Liverpool left-back Andy Robertson sent his condolences.
Robertson tweeted: "Thoughts, prayers and condolences with Walter Smith's family and loved ones today.
"Heartbreaking to lose another great of Scottish football.
"A man of wisdom, dignity and integrity who's legacy will live on. May he rest in peace."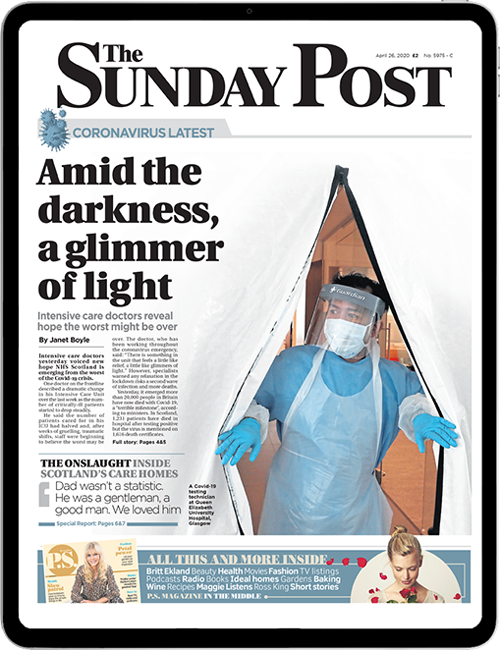 Enjoy the convenience of having The Sunday Post delivered as a digital ePaper straight to your smartphone, tablet or computer.
Subscribe for only £5.49 a month and enjoy all the benefits of the printed paper as a digital replica.
Subscribe