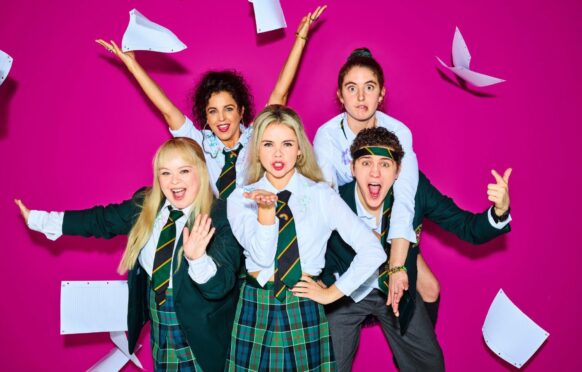 It is such a simple gesture, a hand on a shoulder, a comforting, unifying human touch, but it stopped me in my tracks.
It was the final scene of the first series of Derry Girls. The grown-ups are gathered around the TV watching news of another terrible bombing while the Girls are having a ball on stage at their school talent show and then, in dismay, comfort and unity, grumpy Granda Joe, who hates his son-in-law Gerry, puts a hand on his shoulder.
Grief was brought to the surface. It was a powerful, award-winning moment of television perfectly capturing the essence of this ground-breaking comedy classic. It was also one of the scenes I found most difficult to discuss in the Talking Derry Girls podcast, which I co-host with fellow real-life Derry girls Marie-Louise Muir and Jeanie Messenger.
For us, a carefully guarded gate had been cracked open.
Show creator Lisa McGee admitted that she had been terrified at including scenes like this but her brilliant script bravely captured the dark and light that can sit side by side when your home is in a conflict zone. The girls living life to the full while close by an unsteady peace is ripped apart.
On one level Derry Girls – starring Saoirse-Monica Jackson, Louisa Harland, Nicola Coughlan, Jamie-Lee O'Donnell and Dylan Llewellyn as five teenagers living in mid-1990s Derry – is a straightforward TV comedy about a group of Catholic school girls (and a wee English fella) who have big plans but constantly mess up.
But throw in a household with three generations, a sharp-witted nun who runs their convent school and the backdrop of a city shaped by a history of sieges, emigration, shirt factories and The Troubles, and you have a multi-layered, global hit on your hands.
"Some people think I'm an actual nun, which is quite hilarious": Life according to Derry Girls star, Siobhan McSweeney
The third and final series is now under way on Channel 4 and McGee, who was inspired by growing up in the latter years of The Troubles, has stirred a worldwide curiosity about her home city. The mural of the Derry Girls characters – Erin, Orla, Clare, Michelle and James – on the side of Badgers Bar, nestled beside the city walls, has become a tourist attraction.
Derry has been put firmly on the global map and for once it's for positive and entertaining reasons, which doesn't take away from the tragic events which have drawn attention over the past 50-odd years, events that I have personally lived through.
I was born and spent my primary school years in the mainly Protestant Waterside area of the city. We moved away when I was 11. But I came back in the early '90s to work at BBC Radio Foyle.
I grew up with the inconvenience, the gunfire and hearing the bombs echo over the River Foyle. I was caught in the crossfire once along with some friends.
We were at a school summer scheme and missed the order to stay inside due to an ongoing gun battle close by. Crossing a bit of parkland on our way home, shots were ringing out around and above us. It stopped and there were yells from those firing for us to run. I thought I would get into bother so I didn't mention it at home. But I got rumbled when the incident made the news.
This year marks the 50th anniversary of Bloody Sunday when 13 people were shot dead by British soldiers at a civil rights march. The same year my school friend, along with eight others, was killed in a bomb attack in the village of Claudy, just outside Derry.
It was the summer, we were eight years old. We didn't attend the funeral, there was no counselling. We returned to school and Kathryn just wasn't there. I know it has shaped the person I am today. Three years later I suffered chronic insomnia and was diagnosed with having "culture shock". I suppose that now would be classed as PTSD.
This experience is not unique to Ireland's sectarian war. When we started the Talking Derry Girls Podcast, we received comments from all over the world from listeners who'd also grown up with conflict – mainly in Eastern Europe. They all said that while they didn't get everything that was going on, Derry Girls was something they could relate to.
McGee is determined that this final series will end with the signing, in 1998, of the Good Friday Agreement. It was a period of hope and political awakening for a younger generation. A good place to end, she says.
If the opening episode was anything to go by, McGee has lost none of her glorious comedy form while an A-list cameo provides a gasp-out- loud moment. A stroke of pure genius. Quickfire questioning turned on its head by Erin (Jackson) who interrogates the inspector about the number of Catholics in the RUC.
It's hilarious, but also a subtle nod to topics around the Good Friday Agreement – policing being a central issue in the peace process. A Hollywood superstar, a memorable comic scene, and The Troubles all wrapped up in a multi-layered six-minute scene. This is why Derry Girls is already a comedy classic.
---
Talking Derry Girls is co-hosted by Pauline Moore, Marie-Louise Muir and Jeanie Messenger for The Big Light thebiglight.com/talkingderrygirls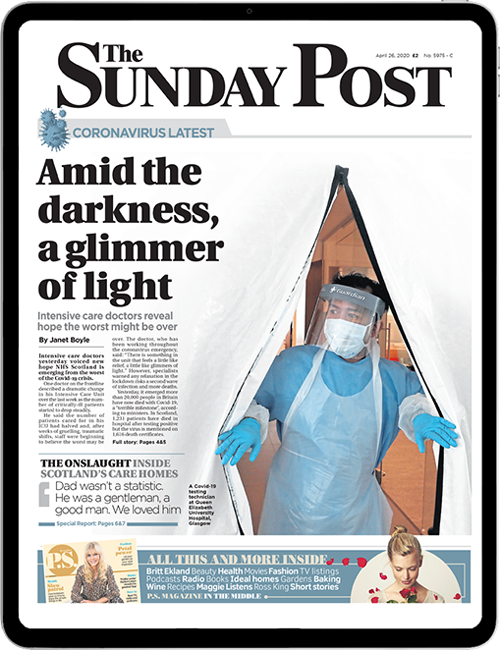 Enjoy the convenience of having The Sunday Post delivered as a digital ePaper straight to your smartphone, tablet or computer.
Subscribe for only £5.49 a month and enjoy all the benefits of the printed paper as a digital replica.
Subscribe