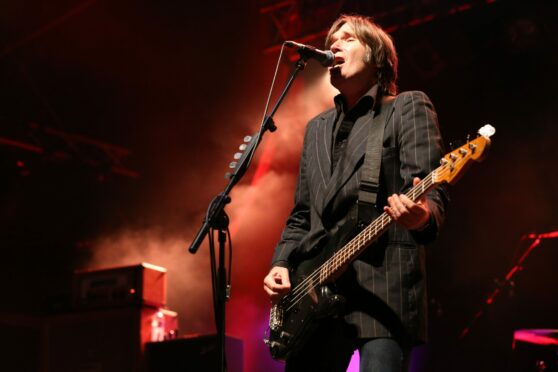 They lived the rock'n'roll lifestyle, touring the world on tour buses and indulging in the excess that came with being in one of the country's most successful bands.
But now Del Amitri frontman Justin Currie only wants one thing after a gig – to be tucked up in bed within the hour.
"When we toured America earlier this year, I was in bed an hour after we came off-stage, straight into my bunk on the bus," said the 57-year-old behind the Glasgow band's string of hits including Roll To Me, Always The Last To Know and Kiss This Thing Goodbye.
He said: "Our guitarist Chris was the same. We were the grandpas of the tour, but it has its benefits. I lost my voice on tour in the 90s, because I sat up drinking beer and smoking. It happened again when I went to see Scotland play Morocco in the World Cup in 1998, drank too much beer and shouted the whole match. So I've nipped all that in the bud."
Del Amitri returned last year with their first album in two decades, Fatal Mistakes, which landed them a top-five place on the UK album charts. They brilliantly lampooned their status as elder statesmen of rock'n'roll with the single You Can't Go Back, and a hilarious video featuring the band done up as pensioners gone rogue.
But time waits for no man, even in a world where the Rolling Stones are still playing football stadiums as they approach 80.
Currie has 20 years on Jagger, Richards and co, but knows he needs to play it differently now.
"I find playing bass and singing takes much more effort than it used to," said the singer, from Glasgow. "Iain (Harvey, the band's co-founder and guitarist) still throws himself around, trying to make up for my lack of animation. But for the last 10 years I've really felt a big difference. I've done solo acoustic gigs in the interim and they're less of a challenge. I'm reasonably strict about not drinking on tour now, until the last night."
The Dels have maintained their loyal fanbase on both sides of the Atlantic. They toured coast to coast in America in the spring, where they were one of the few Scottish bands to have a bona-fide hit with 1995 single Roll to Me. Currie was surprised to find the audience still turned out for them, having released only one record since 2001 and not having played in the States since 1997.
He said: "They were there in larger numbers than expected. The American audience has mellowed a bit, they used to be crazy, but they're terribly polite now. Maybe just less drunk, or maybe it's just age. We haven't toured America since 1997. In your late 50s you age really quickly, but the crowd all looked younger than us. They actually weren't as old as I thought they might be."
Chroniclers of heartbreak Del Amitri share their Brexit blues on long-awaited seventh LP after Britain kissed the EU goodbye
The US tour also afforded him insight into the different attitudes towards public health across The Pond.
He said: "There was a lot of mask-wearing on the coasts, but once you came in from the coast people looked at you like you were some sort of socialist revolutionary because you were wearing a mask."
The band almost completed their extensive UK tour last December and were due for three highly-anticipated festive nights at the Barrowland in Glasgow, considered by many fans to be the band's spiritual home. But they were one of a raft of acts forced to postpone after the rise of the omicron Covid variant.
Currie said: "I was thanking people who wore masks at the end of the night on that tour, because they were protecting others and us, but also not judging those who weren't. Maybe 20% of the audience were wearing masks. But if you go to a gig and nobody is wearing a mask, it's hard to keep yours on."
Among those intended Barras dates was a free gig for NHS staff – first announced weeks into the pandemic in spring 2020, when nobody could have imagined how long restrictions would last. It's been rearranged three times, and will, finally, take place on Thursday.
Currie said: "We decided to offer free tickets to NHS staff then see what happens. And the fact that the tickets went so quickly gave us something to work towards.
"The original idea was to raise money for NHS charities, but I wasn't into that because I don't think any part of the NHS should rely on charity. The idea morphed into giving tickets to staff," said the singer who lost his father, John – known as Scotland's choirmaster general – during the pandemic.
He added: "I'm not into gestures like standing outside our front doors and clapping. I don't see what good it did other than allowing people to smile at their neighbours for 10 minutes, which I suppose is a good thing.
"But if I'd been working in a Covid ward when that stuff was going on I'd have hated it. There's a slightly nationalistic tinge to that sort of thing, which makes me cringe. Why not just train more people and pay them more? That would be the natural response for people who are going beyond the call of duty during a national emergency."
It's a gig that should have been a distant memory by now, but a recent brush with the NHS himself left Currie reassured that the sentiment behind the band's gesture has not been forgotten.
He said: "I was visiting a hospital a few weeks ago, the woman who took me in said she recognised me, and said she was coming to the gig. I asked if she thought anyone would still come, because it was so long ago.
"She said they definitely will. It was encouraging to hear that after it had been rescheduled three times. We just felt we had to do something."
Currie joked that some of his biggest hits aren't exactly party tunes, but is determined to give the workers a chance to leave their cares on the wards.
He said: "It's not going to be all Del Amitri fans, it's people who have been offered a free ticket as a gesture towards supporting the idea of the NHS in an emergency. It might feel different.
"We'll rejig the set list to try to keep it as positive as possible, which isn't always easy with our repertoire."
---
Del Amitri play Albert Halls, Stirling, on Wednesday, Barrowland, Glasgow, on Thursday, Friday and Saturday; Making Waves Festival in North Ayrshire on 23 July and Party in the Palace, Linlithgow on August 13.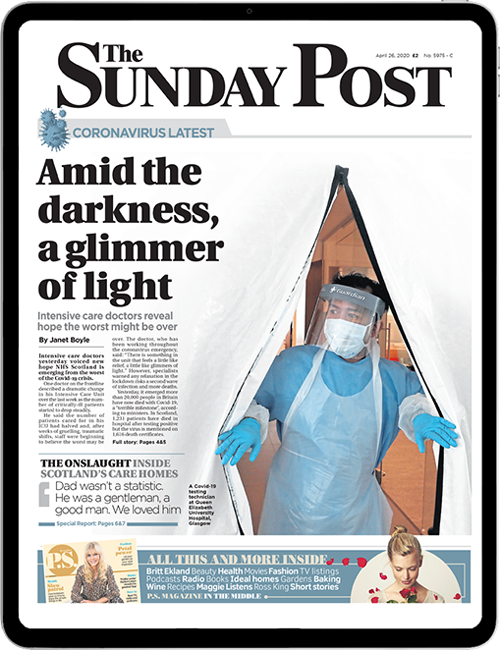 Enjoy the convenience of having The Sunday Post delivered as a digital ePaper straight to your smartphone, tablet or computer.
Subscribe for only £5.49 a month and enjoy all the benefits of the printed paper as a digital replica.
Subscribe