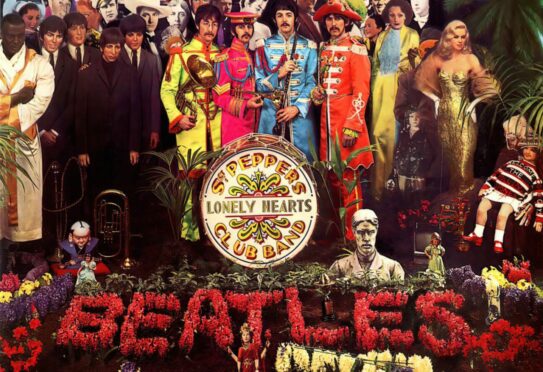 With its collaged line-up of The Beatles in the midst of a marching band of famous and not-so famous faces, the Sgt Pepper's Lonely Hearts Club Band album cover is one the most recognisable images of the 20th Century.
The memorable design of the album, first released 55 years ago last week, was a joint affair by artists Jann Haworth and Peter Blake. The couple were paid £100 each by their art dealer Robert Fraser, a friend of The Beatles, to create the image.
Search around online, however, and you find Blake, like his ex-wife a leading figure in the 1960s British Pop Art Movement, described as the artist who designed the cover. When I talked to her last week, Los Angeles-born Haworth, daughter of Oscar-winning Hollywood art director Ted Haworth and artist Miriam Haworth, is sanguine about this perceived slight.
She tells the story of how, a few years ago, friends told her a question in the Trivial Pursuit board game asked: Who designed the Sgt Pepper album?
"When you turned the card over, it said Peter Blake," Haworth says. "I got in touch with the makers. They changed it to Janna Haworth! I mean, honestly, you really can't take yourself too seriously."
As far as Haworth is concerned, Sgt Pepper is history. She prefers to concentrate on making her art in the here and now. She is as busy as ever working on an ongoing series of giant community murals celebrating incredible women.
Haworth has lived in Utah since 1995, having moved there from the UK with her second husband, writer Richard Johnstone, who died a few years ago.
I talked to Haworth via Zoom at her home in Salt Lake City last week. The reason for the call was the recent acquisition by the National Galleries of Scotland (NGS) of one of Haworth's famous life-sized "soft sculptures", Old Lady II. This old lady is the "identical twin" of Old Lady I, who appears on the Sgt Pepper album.
Old Lady I happened to be around, Haworth says, when she was working on Sgt Pepper.
Following a mini-makeover – some moths got to her – Old Lady II went on display last week as part of the Scottish National Galleries of Modern Art's New Arrivals exhibition in Edinburgh; almost exactly 55 years to the day after the release of Sgt Pepper.
Even at 80 and on the two-dimensional medium of a video call, Haworth bristles with energy and is such fun we end up gassing for two hours.
She is "thrilled" to see Old Lady II join NGS' permanent collection. "It's important to me as an artist that my work is in a collection like this. I have fond memories of visiting this gallery. I love Scotland and have close family who live in Edinburgh.
"I spent a lot of time in Scotland in the years I spent living in the UK," she adds. "When I came to Britain originally, I must have expected to go to art school there as I had all my stuff – my guitars and skis – shipped to Edinburgh in 1961.
"My stepdaughter, Zoe Johnstone, lives in Edinburgh and together with her artist daughter, Elvey, has helped to do some work on Old Lady II before she went on show. I found a pair of my mother's old glasses and posted them to Zoe and she has placed them on her head."
By 1967, Haworth and Blake had been married four years. Haworth originally come to London to study at the Slade School of Art. The couple divorced in 1979.
Having grown up around film sets, and with an expertise in needlework, Haworth started making "soft sculptures" using textiles at art school. She recalls defiantly telling her tutor, the Scottish artist Eduardo Paolozzi, that she was going to "cast in cloth and not bronze".
Having been invited by Fraser, to take on the Sgt Pepper commission after earlier designs were ruled out, Haworth and Blake began work on their cover early in 1967.
Blake and Haworth then lived and worked in a one-bedroom flat in Chiswick. It was there the couple, together with Paul McCartney and Fraser, firmed up ideas for the now iconic cover, with Blake sketching out a rough plan. It was decided The Beatles would choose "heroes" to make up the crowd. Haworth homed in on a drum as a focal point for the image. "My mother taught me the Bauhaus rules of design as a seven-year-old," Haworth explains. "The drum of Sgt Pepper acts like a bull's-eye-type circle. It's easy to fix the eye to."
Having seen a flowerbed clock on a roundabout near Hammersmith en route to Chiswick, Haworth was keen to do a take on civic planting, with "Beatles" spelled out in flowers in the foreground.
Haworth asked a fairground painter friend, Joe Ephgrave, to design the drum, for which he was paid £25. It sold at auction for £540,000 in 2008.
Haworth's old ladies, made around 1963 while Haworth was still at art school, are based on a photo of her seamstress great-grandmother, Alice Mae Fifield, given to her by her mother.
She explains: "I had a range figures by the time we were doing Sgt Pepper. We used 3D figures in the front row – an old movie trick learned from my father. I wanted it to be like a set people could walk onto."
Haworth's old lady is on the far right of the fairground-style drum emblazoned with the words "Sgt Peppers Lonely Hearts Club Band".
Made from wool, cloth and stitching, and covered in patchwork, Old Lady I has a doll on her lap in a striped T-shirt emblazoned with the words "Welcome The Rolling Stones" on the shirt.
The doll depicts child Hollywood star Shirley Temple and is one of three versions to appear on the Sgt Pepper cover.
"I found a shoe recently belonging to Shirley in my basement," says Haworth with a giggle. "I'm hoping I'll find the rest of her at some point!"
Today, Haworth lives close to her three children, Liberty and Daisy Blake and Alex Johnstone, in Salt Lake City. The family collaborates on various creative projects instigated by Haworth.
Haworth's ongoing series of murals – which has been running for nearly 20 years – is directly influenced by an "audit" she did after reading Sgt Pepper had been named number one in Rolling Stone's list of the 500 Greatest Albums of All Time.
She explains: "When I read this I thought, 'maybe it's time to do a review'. Sgt Pepper was very celebrity-heavy. There was very little ethnic diversity. Out of 58 characters, only 12 women, six of whom were fictitious."
The end result was SLC Pepper, a giant collage-style community mural in Salt Lake City orchestrated in 2004 by Haworth, celebrating scientific advance rather than fame, with a 60:40 split of women to men.
In 2016, she devised a mural with daughter Liberty that carried on these themes. Work In Progress celebrates great female leaders who were catalysts for change in the arts, sciences and social activism.
Work In Progress was commissioned to coincide with Hillary Clinton's presidential candidacy. When Clinton lost, Haworth translated sections into banners for the Women's March the day after President Trump's inauguration in January 2017.
Her mural has now been shown at 24 venues, including at Pallant House in Chichester in 2019. There is a big exhibition brewing in the UK which Haworth can't talk about at the moment. Watch this space.
Haworth's latest collage-style artwork, Utah Women 2020, celebrates the centenary of votes for women in the USA. Partially created in lockdown, she was sent contributions from all over the world, including one from Patrick Elliot, chief curator of modern and contemporary art with National Gallery of Scotland.
It was Elliot who first spotted Old Lady II for sale at Maastricht Art Fair in March 2020, just before the world went into lockdown.
He said: "I had been in touch with Jann a few years ago when I worked on a big collage exhibition we did in 2019. We showed two of the original background photos for the Sgt Pepper cover, so knew all about her and this work.
"Jann really is a giant of Pop Art – and a force of nature. I was absolutely thrilled to be able to acquire it for the collection with financial assistance from the Henry and Sula Walton Fund.
"After emailing to and fro with Jann in lockdown, my daughter and I ended up contributing to Jann's Utah Women 2020 mural. That's the kind of person Jann is. She has amazing energy."
As for Sgt Pepper and its role in her long and creative artistic life? Ever the activist, Haworth laughs: "Sgt Pepper is the weed at the bottom of the pile. A weed that grew into to all sorts of more important projects."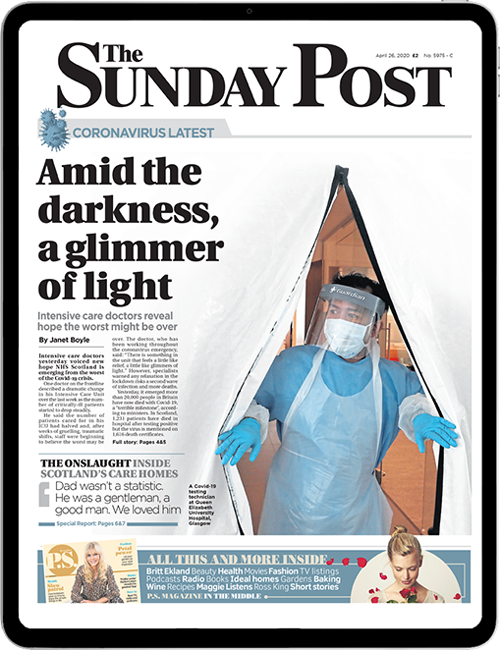 Enjoy the convenience of having The Sunday Post delivered as a digital ePaper straight to your smartphone, tablet or computer.
Subscribe for only £5.49 a month and enjoy all the benefits of the printed paper as a digital replica.
Subscribe