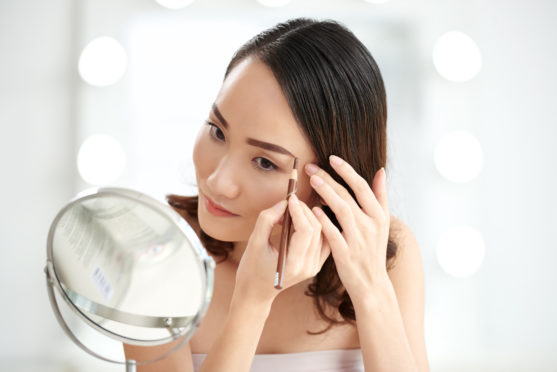 With so many products on the market from powders to pomades, it's hard to know what's best when it comes to mastering the art of beautiful brows.
Benefit brow expert Lauren Hogsden offers sound advice on how to accentuate those arches and get a polished look.
"Full natural brows are here to stay," Lauren said. "This autumn/winter there is more focus on texture and softly structured brows. One of my personal favourites is to add volume and texture is Benefit's Gimme Brow+. This tinted eyebrow gel contains tiny microfibres that adhere to skin and hairs, creating soft natural-looking fullness in an instant."
When it comes to plucking, distance is key.
"Often people tend to have their mirror very close to their face but this can lead to over plucking as the brow will look fuller closer up," Lauren explained. "It is best to step back from the mirror and look at the face in its entirety, to ensure your brows look balanced and maintain shape."
Trying out the various products is the best way to find the ones that suit your brow dilemma. Lauren says doing your brows at home can be daunting, but its perfectly achievable if you don't have time to visit the professionals.
"Firstly, determine where your brow should start, arch and end. Mapping your brows will give you the perfect guideline to understand where you need growth, where excess hair can be removed and where you need to fake it until you make it with products."
Here's Lauren's four-step beginner's guide…
Step one
Starting with a makeup-free brow, use a brow brush and brush your brows through, so that all hairs are sitting in the correct place. Hold a pencil parallel to the side of your nose, meet the top of the pencil to the inner corner of the eye – the inner edge of your brows should start here. Using a brow pencil, mark this point.
Step two
To determine the highest peak of your arch, place the pencil at an angle from the outside corner of your nose through the centre of your pupil. Using a brow pencil, mark this point.
Step three
Hold the pencil diagonally from the outside corner of the nose to the outside corner of your eye, this will then tell you where your brow should end.
Step four
You can now use this as a guide when tweezing. It is also a great way to understand your personal brow shape. Lauren said: "The brows accentuate the face and frame the eyes and shading and shaping them can really change your make up look. Make the most of them."