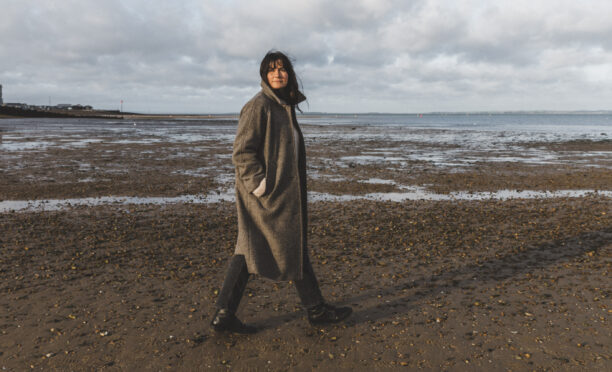 Dawn Steele has played a GP, a surgeon, a vet and now a high-ranking police officer but there is one role that is more important to her than any other – being a mum.
The former River City and Wild At Heart star moved to the picturesque Kent coastal town of Whitstable with her actor husband Paul Blair 12 years ago, escaping the rat race of London in favour of a place where they could bring up their daughter, Coco, who recently turned 11.
"It's an easy-going life," she smiled. "We live right by the beach and it's beautiful. My daughter has grown up here. I could live anywhere because I always need to travel with my job, so I might as well live in a nice place."
Having previously spent six months of the year in South Africa filming Wild At Heart, as well as touring the country in stage plays, the 46-year-old Kilsyth actress says the types of parts she looks for have changed over the course of a 25-year career.
"Absolutely it has – anyone who says it doesn't affect it when you have children is lying. At the moment, being away doing big tours of plays isn't something I would do because it's my daughter's last year at primary school and I don't want to be away. I'd rather have no money and stay at home. Just for this moment. Soon, she'll be grown up and have moved out.
"Because of where we live, it's either Paul or myself who works and the other one doesn't, because we don't have family nearby to help with childcare or to pick our daughter up from school. But you never know what's ahead and when you are given an offer you have to weigh up everything. If an amazing job with Marvel came along and it required six months filming in LA, then it might be a case of saying yes and taking the whole family!"
Steele's proximity to the sea has seen her become an avid swimmer, forgoing a wetsuit even at this time of year.
"It's been nearly three years I've been doing it all year round," she explained. "Everyone is in during the summer but I like to use it all the time. I started it in February, the coldest point, and I'm still doing it without a wetsuit. It is freezing at times. I'm not going in for an hour during the winter, though – I would definitely need a wetsuit for that – but even spending four minutes in the water gives me such clarity of mind.
"I have a clearer mind and I can see the benefits in my skin and in my mental health. I get a lot from it and I'm truly addicted to it now. It's been life-changing."
Steele misses her sea swims when she is away filming, although she did manage to fit in a wild swim at Luss with her friend and fellow actress Julie Wilson Nimmo while she was back in Scotland filming a new police drama, Granite Harbour, which starts this week.
Set in Aberdeen, the three-parter centres on the story of Lance Corporal Davis Lindo (Romario Simpson) who dreams of being a detective at Scotland Yard following the completion of his service with the Royal Military Police. Instead of London, he is sent to Aberdeen to train as a detective constable, with the north-east being a world away from anything he has known before.
Teaming with local cop Tara Bartlett (Hannah Donaldson), the unlikely duo soon find themselves caught up in the murder of one of the city's most recognisable faces from the oil industry. Also starring Gary Lewis and Fiona Bell, Steele plays DCI Cora, the commanding officer who has to keep the new recruit in line.
"I was sent the scripts and loved them," said Steele. "I'd never played a police officer before so I thought I would get to wear the hat and the full outfit but then I was told DCIs wear plain clothes, so I was a bit jealous that I didn't get to wear the uniform. I've never played a policewoman before although I do tend to get these services roles, like a vet and a GP and a consultant surgeon. I just need to play a firefighter to have the full set! I wonder if it's to do with my Scottish accent, which maybe brings a certain gravitas.
"I have to admit, I find it difficult to follow police dramas. I'm that annoying person who pauses the programme and has to ask what's going on and who is this person or that person.
"I have a lot of exposition, similar to when I played a surgeon. There's quite a lot of police chat and story for my character, which is always quite difficult to learn. It wasn't like Line Of Duty, with all those acronyms they had to learn – I would have had them written all over the place!"
Interior scenes for Granite Harbour were shot in a Glasgow studio, which left Steele disappointed that she didn't get the chance to film in Aberdeen.
"I was quite jealous when everyone else went up, because I love Aberdeen. I rehearsed for a tour of Tutti Frutti at His Majesty's Theatre and then we opened the show there, so I spent eight weeks in the city. I also filmed a film, Marionette, there, so I got to know it well. It can be so beautiful and it's nice to see it on the screen again."
Steele knew from a young age that acting was where her future lay. "I started off with dancing and I was in drama clubs from when I was young. I was part of Kirkintilloch Players from when I was 10 or 11.
"My parents drove me to Dorothy Paul's house every Saturday, where she ran a drama club in her living room. It's what I always wanted to do and it's why I can't do anything else!
"I went straight from school to the Royal Scottish Academy of Music and Drama (now Royal Conservatoire of Scotland), where I did four years and I was incredibly lucky to go straight into work and I haven't really looked back since. Monarch Of The Glen was my first job, the first series I'd done."
Steele played Lexi in six series of the Highlands-set show, and followed it up with regular roles in Sea Of Souls, Tinsel Town and Wild At Heart. She was also Dr Annie Jandhu in River City and joined the cast of Holby City in 2019 as Ange Godard, a role she continued until the series ended earlier this year.
"I loved Holby," she said. "It felt very much like a normal job, more than any other job I've done. Those continuing dramas are really good – just the basic stuff of a regular wage and a yearly contract, which is appealing to an actor because it's not what we're used to having.
"In terms of acting, I loved the challenge of playing a surgeon. It was full-on and I loved all the operations scenes. Continuing dramas are also a licence to be quite dramatic, I also enjoyed the discipline of it. With films you might be shooting two pages of the script a day but we would be shooting 15 pages.
"I'm not sure how much longer I would have done it as the commute was a bit of a killer. I would have to leave at 5am and I wouldn't get home until 9pm but then there were some weeks we would only shoot a couple of days, so it meant I could be home for the school pick-up.
"It was a surprise, though, when it was announced that it was ending. It was extremely sad for everyone and a lot of jobs were lost but no job lasts forever.
"They gave us plenty of notice and we still had another six months of shooting to film after the announcement, so in the end it was a natural ending.
"I had just finished shooting Holby at Christmas and I was asked to read for Granite Harbour in February, which began shooting a couple of months later.
"It was nice to finish Holby and move on to Granite Harbour because it was completely different and there were no Covid restrictions, which was a joy, as we had been doing two-metre restrictions on Holby for 18 months. It was nice to be able to stand beside another actor and look into another actor's eyes again."
Granite Harbour, BBC Scotland, Thursday, 10pm, Friday, BBC1, 7pm
A school movie with a twist
Being part of the critically acclaimed documentary My Old School was one of the highlights of Dawn Steele's year.
The film makes use of archive footage, new interviews and cartoon recreations to tell the story of Brandon Lee, the supposed 16-year-old student who enrolled at Bearsden Academy in 1994. He was, in fact, Brian McKinnon, 30 years old and a former student at the school, a fact only discovered after a year of him attending classes.
The film starred Alan Cumming and was directed by Jono McLeod, a former pupil at the school who was there at the same time as Lee. "He'd been making this film for a long time and he got a lot of his friends in to do the voices. He's one of my oldest friends," said Steele. "I only have a very small part in it but it was so clever the way he made it.
"He interviewed a lot of his friends from school and what was really interesting for me when I watched it was how everyone's memory could be swayed. When you hear the individual stories and everyone has a different take on it, it really makes you think.
"It's already up for lots of awards since premiering at Sundance and it was lovely when we all came up for the premiere at the Glasgow Film Festival, seeing all of his classmates together again and celebrating the film."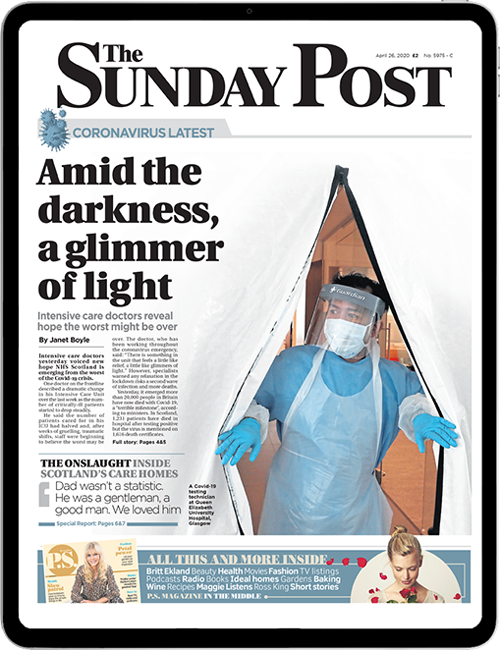 Enjoy the convenience of having The Sunday Post delivered as a digital ePaper straight to your smartphone, tablet or computer.
Subscribe for only £5.49 a month and enjoy all the benefits of the printed paper as a digital replica.
Subscribe