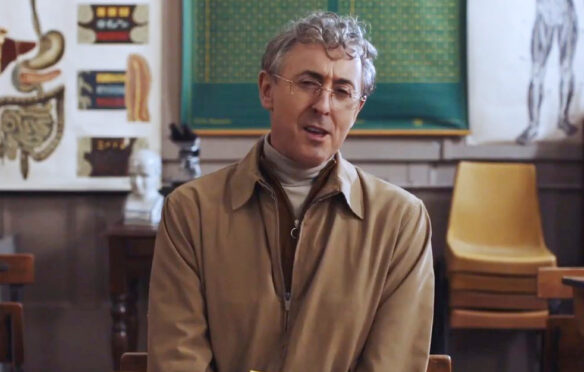 He simply wanted to resit his exams to follow his dream of becoming a doctor. So far, so what?
However, Brian MacKinnon was 30, posing as a Canadian teenager, Brandon Lee, and had enrolled in the same secondary school he attended as a teenager 15 years before.
The extraordinary story of how he fooled classmates and teachers for two years is about to be told on the big screen for the first time in a documentary. To premiere at the prestigious Sundance festival this month, My Old School features animation, an audio interview with MacKinnon, mimed by A-list actor Alan Cumming, and interviews with old classmates and teachers at Glasgow's Bearsden Academy.
MacKinnon had first left the school in 1980 to begin a medical course at Glasgow University but he was forced to leave in 1983 when he twice failed his exams. After failing to get into a series of other medical schools, MacKinnon hatched a plan to go back to Bearsden and restart his studies in 1993.
MacKinnon, now 58, was accepted by pupils and staff, some of whom had taught him 15 years before, was able to gain five Highers, and was only unmasked after beginning a medical course at Dundee University. His story began to unravel after a neighbour took delivery of a parcel from university addressed to Brandon Lee.
The documentary, directed by Jono McLeod, a former classmate of MacKinnon, will be first screened at Robert Redford's prestigious Sundance festival in Utah later this month.
In a promotional video, McLeod said: "My Old School is all about my old school – that's Bearsden Academy – the high school in a fairly well-to-do suburb of Glasgow, Scotland. The film combines live action interviews with my former classmates and two teachers alongside animated re-enactments.
"In 1993 when we were 16 years old, my classmates and I welcomed a new kid. His name was Brandon, he came from Canada. And when he arrived he was a bit of a geek. But over the course of two years, he managed to climb the social ladder of high school life and become pretty popular. That was until the secret to his success was revealed. When he was unmasked."
McLeod explained that MacKinnon, who, on his return, starred in school musicals, agreed to an interview, but would not be filmed. So the filmmakers came up with a novel solution. He said: "My old classmate Brandon wanted to tell his story, and granted me an interview. But for his own reasons, just didn't want to be seen on camera."
Instead, Cumming is seen as MacKinnon saying: "The thing you have to do if you really want to prevail is do the unimaginable."
The 1990s scenes are retold using animation, and former teachers and classmates also tell their sides of the story.
The title track – a cover of Steely Dan's My Old School – is sung by singing star Lulu, who also appears in the film. McLeod said: "My Old School is a film about ambition, deceit, friendship and the many barriers that make up the British class system. It's a story that I think is as unique as it is universal."
MacKinnon wrote an autobiography, Rhesus Negative, in 2017 but none of the previous attempts to film his story made it to the screen. In 2015, living alone in a flat in Glasgow, MacKinnon, who is said to have a genius-level IQ, gave a rare interview suggesting he struggled not to despair at times but would never give up on his dream of becoming a doctor.
He said: "I always intended to come clean once I graduated. I am sure somewhere would have hired me once I had proved myself. There are no regrets."
---
After all these years, the great fascination is that, daring or daft, he almost did it
By Jackie Bird
Of all the stories I've covered in my journalistic career, the tale of Brian MacKinnon, the 30-year-old who pretended to be a teenager to go back to his old school, is by far the weirdest. And because his daring deception continues to captivate the public's imagination down the decades, it's also a story that keeps re-emerging in various forms, even though it all happened 27 years ago.
Back in 1995 I was just about to go on air with Reporting Scotland when our education correspondent told the news-desk he'd had a tip off. He went on to reveal the few sketchy, but impeccably sourced details he had, which had been confirmed by an embarrassed local government press officer, and we went on air with it.
The story went global and Brian, aka Brandon Lee, became the media's most wanted man. A bidding war erupted for his input, but money was never part of his aim as MacKinnon's single, obsessive focus was to get back into medical school. Incredibly that dream sustained, even with his face splashed across the world's press and TV. Weeks of negotiations ensued and eventually Brian, who was by this time lying low, agreed to be interviewed by me for a BBC documentary. He'd turned down big-money deals and wanted to tell his side of the story. We needed time and space to film the programme, The Lives of Brian, but our subject was being hunted down by packs of journalists from home and abroad. At that time I was a frequent visitor to a hotel in the Argyll village of Tighnabruaich, not a likely destination for media fugitives. And so MacKinnon, my small TV crew and I found ourselves quietly checking in to this hideaway hotel on the banks of Loch Fyne.
The hotel owners knew what was happening but the receptionist's jaw hit the floor when MacKinnon and I arrived for our tryst. Over the next few days I spent time with this quietly-spoken, highly-intelligent man and tried to discover the motivation behind his bizarre scheme. His explanation was simple: he believed he'd unfairly lost his place in medical school through illness, having achieved it legitimately first-time round. His plan to do it all again by assuming a new identity as a schoolboy, going back to his former school as someone else and sitting his exams all over again seemed to him a plausible one.
Daring or daft, the thing is, he nearly got away with it. It was nearly two years before someone started asking questions and the game was up. But why wasn't he found out earlier? Weren't his classmates suspicious? What about long-serving teachers? And he didn't exactly hide away during his time at Bearsden Academy; part of his high-wire audaciousness included starring in the end-of-term school musical.
Surprisingly one of my most memorable moments making the documentary was interviewing the Bearsden Academy headmaster. We both watched a video of his speech at the end of the school show where the headmaster praised Brandon's skills, and remarked on how the newcomer had fitted into Bearsden Academy, adding innocently: "It's like he's been here before." The headmaster had his head in his hands, but with immense generosity of spirit, allowed us to use the clip.
Before the documentary was broadcast, friends quizzed me on what I thought of MacKinnon and his exploits. I truly believe there was no malice in what he tried to do and that he was attempting to right a wrong albeit in a bizarre way. And although in later years MacKinnon has been less than complimentary about me and my part in his story, at the time I found his company fascinating and his thoughts quite profound. He really left his mark.
I hope the new documentary is a success. Over the years there have been countless big-money attempts to take this incredible episode to the big screen with an all-star cast, but I understand from some of those who've tried that if the story isn't told MacKinnon's way, it's not being told at all.
So why does his story still resonate? Why does it still fascinate us? What would you do if you could live your life over is a familiar question we've all been asked and maybe attempted to answer. Brian MacKinnon's story is compelling because he actually almost achieved it.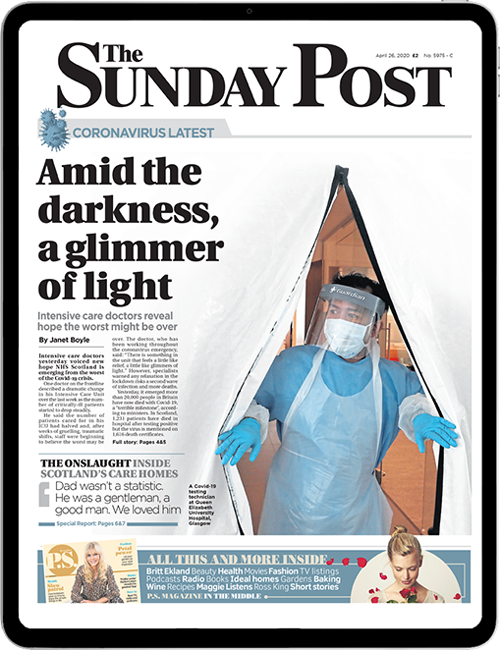 Enjoy the convenience of having The Sunday Post delivered as a digital ePaper straight to your smartphone, tablet or computer.
Subscribe for only £5.49 a month and enjoy all the benefits of the printed paper as a digital replica.
Subscribe