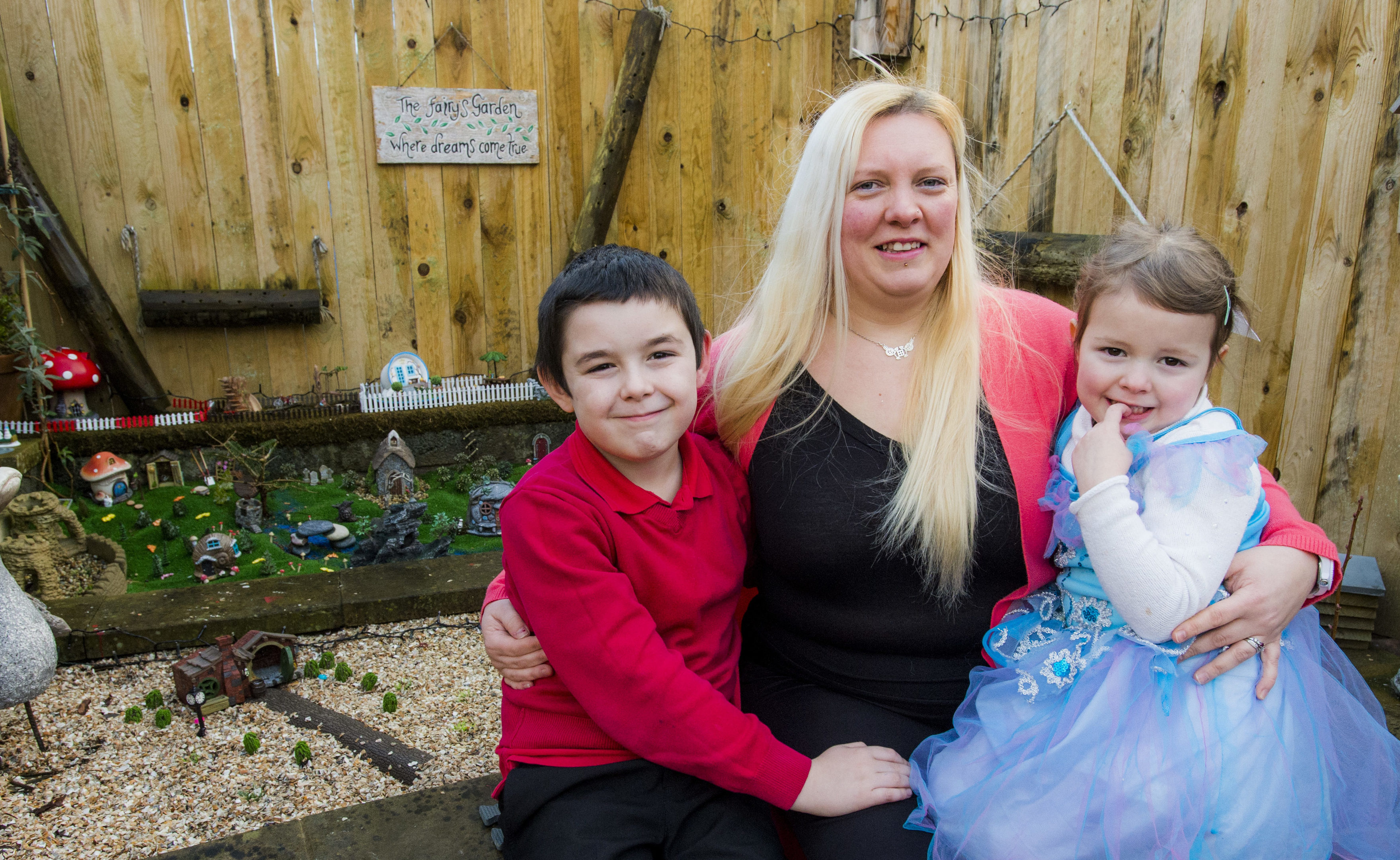 CREATING a garden that was friendly for magical miniature folk once consisted of building a pond so that a concrete gnome would have somewhere to fish.
But now mythical woodland creatures of a different kind have cast a spell over Scotland with fairy trails, woods and gardens springing up everywhere from large estates to private back gardens.
A craze for around a decade in the States, the trend is now taking off here among all ages.
Mother-of-two Moray Hamilton, of Linlithgow, created a fairy garden with her son, Andrew, nine, out of a broken terracotta pot.
"I was trying to get Andrew interested in gardening," said Moray. "I had seen one at a garden centre and it looked so cute. And it was a good use of an old pot."
She bought a fairy gate, a fairy door and a wishing well along with some dwarf plants.
"We put some Lego characters in it as well so it wasn't so girl-orientated."
A stone's throw from her house, there's a fairy garden of a slightly different kind.
It was created by 33-year-old mother-of-two Lori Grant – but her children, Mark, seven, and Lily, three, aren't normally allowed near it.
Lori explained: "We're outdoorsy folk. We kept horses and had a field but since we've had kids we've had no time for that. So I wanted something that was just for me, no one else."
She began with a gypsy caravan given to her by her husband, Mark, and now has an array of houses, as well as a miniature beach, washing line and even tiny milk bottles.
"It's somewhere I can let my imagination run wild," she says.
Artist Robin Wood, of Wild Child Designs, who creates fairy doors and windows for trees in public woods, believes the craze gives grandparents and parents a common base with children in a world of fast-paced gadgets and technology.
Inspired by pictures from books he read as a youngster, he created a trail of doors and windows in trees for "glingbobs and tootflits" at Pressmennan Wood in East Lothian around six years ago. Now his miniature homes have been installed at locations around Scotland.
One of his latest projects is at the Archerfield Walled Garden in East Lothian.
Ross McGregor, director of operations, said the free trail, with its 15 fairy houses, had been a "game-changer".
He added: "Since it was opened, we have doubled our sales in the gift shop and café."
Over at New Hopetoun Gardens in West Lothian, a conservatory once filled with upmarket bird feeders, suet balls and nesting boxes is now half given over to accessories for winged creatures of a different kind with miniature houses, bicycles, bridges, wishing wells, stepping stones – even packets of mini gravestones – on sale to enhance the living space of the fairy in your life, or garden.
"We're making £35,000 a year now from a department which didn't exist three years ago," explained Dougal Philip, owner of the West Lothian garden centre, which now markets itself as the Scottish home of miniature gardening.
"Adults see it as a collectors' thing like dolls' houses although the most important market is grandparents who use it as a way of getting children interested in gardening," says Dougal.
His best-seller is a stripy fairy house gourd, priced £19.95, with detailed windows and doors which open.
Made by Fiddlehead, one of the leading American brands, it is imported by wholesalers Fairyglass Ltd.
Director Ben Biscoe says fairy garden accessories have "transformed" his company, with turnover doubling to more than £600,000.
He believes tales of magical woodland folk are deeply embedded in our culture. He said: "We sell well across northern Europe where there is a tradition of fairies. In places like Spain, they just don't really get it."