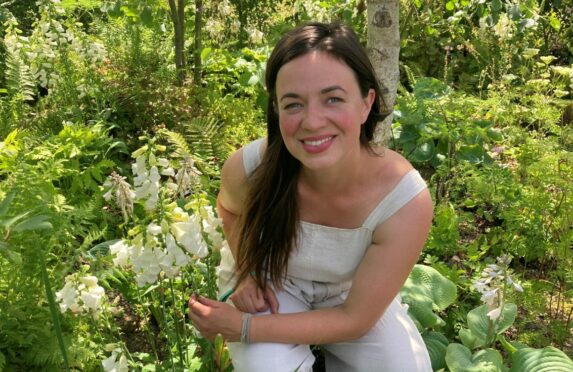 Led by the deeply reassuring BFG of gardening Monty Don and his band of passionate horticultural experts, Gardeners' World is a balm for frenzied souls.
Following the growing season from March through to late October, the BBC series, a fixture of viewing schedules since 1968, dug itself even deeper into the hearts of the nation during lockdown when it pulled in an audience of 2.7 million – the highest for decades.
Its popularity continues to grow as more of us discover the meditative qualities of nature, bringing a new, younger audience with it. Alongside Don, Carol Klein and Adam Frost, Frances Tophill, 33, is flying the flag for a new generation of gardeners but she says there is still a perception that young women don't know their stuff.
She says: "I find it frustrating that because of my femaleness or – when I first started – my youth, there was an assumption from the public that you don't know what you're talking about.
"My education and my degree helped me to know my subject but whether it has helped people to know that I know my subject is another matter. The first thing people ask is, 'do you have a qualification', and I don't know if men get that. If they do, it's maybe not as much. It is interesting, this perception of women – especially young women – in the media."
When P.S. catches up with Tophill, who has since 2016 been part of the show's line-up following her big break in TV while still a student in Edinburgh, she is on a lunch break from her day job at Devon's Sharpham Trust Gardens.
She is juggling filming with a move to the first home of her own and a full-time job away from the cameras, which she loves.
The Kent-born presenter – who also fronts ITV's Love Your Garden with Alan Titchmarsh – was until recently living between her friend's spare bedroom and the trusty van she drives to assignments with beloved rescue dog Rua.
She said: "I got into TV presenting at the age of 23 while I was studying for my degree at Edinburgh Botanics. I had no idea what I was doing or where I was living. I moved back home to Deal in Kent for a bit, then I moved to Bristol, then back home again.
"I now have my own place in Devon. It's my first home. It's very small but I love it. I haven't got all my books and my piano there yet. I'm still in the process of moving in."
Tophill, who has a firm friendship with gardening guru Titchmarsh, reveals: "I called him the other day to tell him about my new home because he was very concerned about me. I'd been trying to buy a house for years, then it was the pandemic, and it was all very competitive."
As she waited to learn if her offer on the property had been accepted, she told Titchmarsh not to worry about her. "I said if I didn't get it, I could just buy myself a little field and live in my van," she recalls.
He was horrified. "He said, 'you can't do that!' So, I called him to say I got my keys," she grins.
"I will keep my van, though. I need to have a home on wheels. It's really important for me to have a space that feels like home when I'm so far away from actual home when I'm filming. Katie Rushworth, my co-presenter on Love Your Garden, often joins me to sit in my van for a tea. And I have Rua, who comes to work with me. He's a great gardener's dog."
Tophill hasn't had a day off in 2023, working five days a week for the Sharpham Trust – which offers retreats and mindful gardening – and working on Gardeners' World at weekends and during holidays. She is relieved to have filmed the current series of Love Your Garden last summer but wouldn't have it any other way.
"I have always struggled with just being a TV presenter," she confesses. "I don't feel it's authentic and I don't get to do the thing I love which is working outside and being with people on my own terms without there being a camera in my face.
"I am always keen to make sure I am working for real as well. I have to book holidays when I want to go away for filming. But Gardeners' World has been very accommodating."
The presenter – who, despite her dyslexia, completed her BSc in horticulture with plantsmanship at the Royal Botanic Garden Edinburgh in 2013, going on to publish four books – had her introduction to the natural world early and landed her first gardening job working for former Gogglebox stars Steph and Dom Parker at the Grade 1-listed, St Edwin Lutyens-designed manor house Salutation and its award-winning gardens in Kent.
The middle of three daughters born to Chris and Christine Tophill, she remembers: "My dad was an enthusiastic rock climber. We would go camping as a family and nature was always a part of my upbringing. My grandmother knew all the mushrooms and would take us mushrooming in the woods. Education in the natural world was a huge part of what we had as children.
"My mum was very much into gardening, but it was her domain, so we were not invited to share that with her because we'd wreck it!"
Instead of letting her girls loose in her precious garden, she gave them each a large, glazed pot as a project.
"I went to the garden centre with no clue at all and bought a load of pot plants and created terracing with palms," says Tophill. "They died and all the wood rotted. But it was a very ambitious design, so that was maybe telling me something.
"But I didn't go back to gardening until I was 19. I'd left school without an idea of what to do, got a job in Marks & Spencer. But there was a gardening job going nearer to home – the Salutation Gardens. So, I wandered down to the garden and just asked about it. It was Dom and Steph's garden before they were on Gogglebox. They lived in the house and we gardeners kept to ourselves. The apprentice – my job – did the clearing of the drains, the turning of the compost and made the tea in the mornings for the head gardener.
"It was a classic education in Victorian-style horticulture, which was a good foundation for everything that has come since. I have now rejected that wholeheartedly, since moving to Edinburgh and seeing community gardens where everyone works together. It was a real eye-opener."
She moved to Scotland's capital after two and a half years with Salutation, where she went on to manage new apprentices. She says: "From initially thinking I would do design, I ended up falling in love with plants and wanted to know as much about them as I could, so I went to Edinburgh Botanics and learned from the amazing botanists and conservationists there. That has become my life now.
"Scotland has always been in the back of my mind as the place to end up in. My best friends are still up there."
It was the Edinburgh course that led to her big break in TV with Love Your Garden. She remembers fondly: "The programme makers emailed all the horticulture colleges to see if students were interested in taking part. Me and some friends thought it sounded fun, so we all went on a train to London and did a screen test. A few weeks later I was offered the job. Katie, who was in Leeds at college at the time, was also chosen out of around 80 people.
"My degree course was supportive of me doing the TV work, but they never imagined I would ever have a career in TV and it would never have occurred to me. I was really shy as a child. When I was a teenager I used to be in bands with my sisters and found it so nerve-wracking I had to give it up. If you had told me then I was going to be a TV presenter I would have said, 'no, no, no!'
"I was terrified when I first did it. I am still very shy. I have to channel something to do it; I have to find something internal that says it isn't really me. I would never have imagined my life as it is now. It's weird, strange and unexpected but it's good."
Her best advice on branching into TV came from Titchmarsh, who said: "Just be yourself, you can't be anything but yourself and if you try to be they (the viewers) will find you out."
What do her family think of her TV and publication success? Tophill, who has two nephews aged 10 and six who visit her allotment, grins: "My dad is proud of my career but my mum and sisters find it weird when we are out and about that people know who I am."
Frances Tophill's dream project
Frances Tophill harbours a dream that could see her return to Scotland.
She hopes in the coming years to open a training garden north of the border to help women overcome challenge and trauma and make new lives for themselves.
Tophill, who studied in Edinburgh, tells P.S: "I would love to set up a facility for women who have been through trauma or need a bit of a confidence. The aim would be for them to gain a formal qualification in horticulture and get a job out of it.
"I'm speaking with councils to see if there is land available and I hope that in 10 years it will be up and going and it might even be in Scotland."
Tophill, who works with the Sharpham Trust, already has some experience in the field. She explains: "Sharpham is a mental health charity that runs mindfulness retreats, which involves gardening every day. "We garden but gardens look after us as well.
"Until the pandemic and lockdowns, many people hadn't realised that quite to the extent that they did when they were stuck at home, feeling anxiety, worrying about loved ones or experiencing grief. Our gardens brought communities together and have given us a little bit of mental health relief."
---
The Modern Gardener by Frances Tophill is published by Kyle Books; Gardeners' World is on BBC2, Friday, 8pm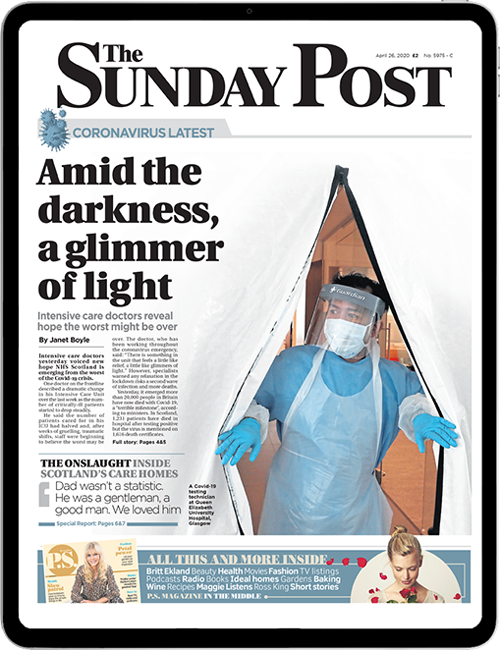 Enjoy the convenience of having The Sunday Post delivered as a digital ePaper straight to your smartphone, tablet or computer.
Subscribe for only £5.49 a month and enjoy all the benefits of the printed paper as a digital replica.
Subscribe