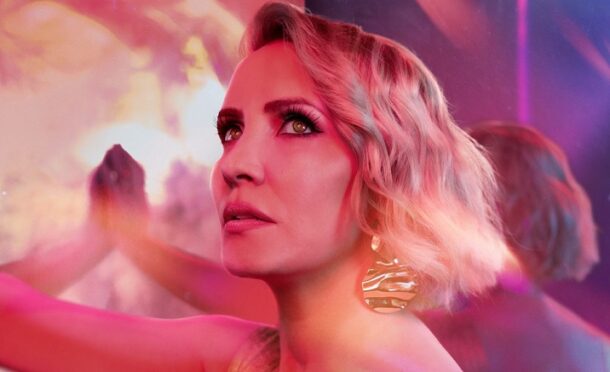 Claire Richards feels her journey as a singer has come full circle with her new album, Euphoria.
Throughout, she applies her powerhouse vocals to songs by her favourite female artists, including Whitney Houston, Celine Dion and American singer Karen Carpenter, whose contralto vocals Claire desperately sought to emulate in her youth.
"Goodbye to Love by The Carpenters was the first song I performed live when I was at school," said Claire. "I learned how to sing by listening to Karen Carpenter's voice and trying to copy all the little intricacies of how she delivered a song.
"From age 11 to 20, I'd listen to different vocalists and try to figure out what my voice was as a pop singer. This album explores and reflects on that journey."
Stepping away
Euphoria is Claire's second solo album, following My Wildest Dreams in 2019. She says it was touring with Steps that inspired her to put an upbeat pop spin on classic songs like I Surrender, by Celine Dion and Song for the Lonely by Cher.
"When I decided that I wanted to do a solo album, I imagined singing lovely ballads, the complete opposite to Steps," said Claire. "I've performed with Steps a lot in the past years and seeing how the audiences react to our songs was a really good feeling that I didn't want to go away. I wanted this album to be joyful."
Claire became one-fifth of Steps in 1997 alongside Faye Tozer, Lee Latchford-Evans, Lisa Scott-Lee and Ian "H" Watkins. Together, they achieved 14 consecutive UK top-5 singles including two No1s and two No1 UK albums.
Steps' fun, catchy and breezy pop tracks such as Tragedy, Deeper Shade of Blue, Chain Reaction and One for Sorrow, saw them sell 15 million records, perform in sell-out stadiums and even support Britney Spears on tour in America. Claire's faultless vocals led many of their greatest hits.
Yet the whirlwind of performing nightly to thousands, TV appearances, media interviews and touring worldwide finally took its toll. Just hours before Steps' final gig of their 2001 Gold: Greatest Hits tour, Claire and H dropped the bombshell that they were leaving the group, devastating millions of fans and their bandmates.
The duo formed their own group, H & Claire, but disbanded after two years, one album and three top-10 singles. Claire then took an eight-year break from singing to concentrate on raising her children, Charlie, now 16, and Daisy, now 13, in Hertfordshire with her husband, Reece Hill.
"I feel like we were at the end of a magical era of pop music just before streaming started to change the industry but I'd reached the point where I was unhappy and completely burned out," said Claire.
"We always used to complain about being tired, there were times we didn't even know what country we were in, although I'd tell my younger self you don't know the meaning of tired until you've got a newborn baby!"
She added: "When I left Steps, I didn't know how to be an adult. I think the age you are when you become famous is the age you stay at for a while. Your early 20s are a massive development time in figuring out who you are as an adult. We were so much in the public eye that we didn't get the chance to do that. I did it in my late 20s instead.
"I'm grateful for not being on the rollercoaster the entire time. That time away allowed me to figure out who I am as a person."
Given their time again, Claire doesn't think the five-piece would've done things differently.
"When you're at the start of your career and trying to kind of find your place in the music industry, you have to work that hard," Claire reflected.
"I can't imagine us doing it any other way back then. If we said, 'we're just going to take six months off' they'd say, 'right, we'll find five other people to do it instead'.
"You have to get that groundwork. If we hadn't done that then we wouldn't have the luxury that we've got now 26 years later."
Falling in love with singing again
Testing her impressive vocal range on the reality TV series, Popstar to Operastar, and filming Steps: The Reunion in 2011, rekindled her love for singing and drew Claire back to the music industry when Steps reformed that same year.
She's found returning to the music industry later in life and performing in Steps 26 years on to be a very different, and in some ways more positive, experience.
"Everything we do now is our choice. No-one tells us to do anything. Even though I still get nervous before performing, there's an unspoken confidence with Steps. We know each other so well, and we know that our core audience is there to see us," added Claire.
"We need to do a good job to keep our fans but don't feel the pressure of having to win an audience over. When I'm on stage with Steps, I feel empowered."
Claire has spoken of music execs telling her to go on a heavily restricted diet while in her first pop group, TSD, and the pressure to lose weight when she joined Steps in 1997. The expectations to maintain a certain weight and body image had a lasting impact, with Claire's weight yo-yoing as she battled food and weight insecurities for decades.
"Growing up, I was never overweight and I wasn't at the Steps audition but because my body shape was small waist, small boobs and a bum that people would pay money for now, back then they wanted us to look skinny like Kate Moss," said Claire.
"Speak to any women from that era and you'll probably hear a very similar story. If somebody tried to tell me what to wear or how to look now, I would tell them where to go. I hope most young women in the industry now would do the same but when you're young and you want something in this industry, it's very difficult to say no for fear of losing out."
She added: "I don't put as much pressure on myself now but once you're in that cycle, it's very difficult to ever let it go completely. I don't think I'll ever be completely free of it but I've managed to maintain a certain weight for the past 10 years and that's enough for me. I don't ever want to be on either extreme end of the scale ever again."
Now in her 40s, Claire admits to facing new concerns about her appearance. "As women, we've got this in-built fear of losing what we've got at any moment, because we expire at some point, whereas men don't ever really have that," she added.
"I do spend a lot of time now thinking about what creams to put on my face to stop time. It's sad really. Maybe it's a fear of not knowing how I'll look if I just let it all happen naturally. I would love to get to a point in my life where I decide to stop having facials and all these different treatments."
One thing that hasn't aged is the appeal of Steps' brand of fun, feel-good happy pop. Since reforming in 2011, the group has racked up No1 albums and sell-out tours. Claire believes it's not just purely down to nostalgia that they remain popular with fans, especially today.
"I wanted this album to have songs that make people feel the same as when they go to a Steps show because I think people need this kind of music, especially now," said Claire. "Everybody takes things so seriously these days. What's wrong with having a little bit of carefree abandonment?"
Reflecting on still making music with Steps 26 years on, Claire added: "I certainly don't take it for granted. Now, I think it is important for us to go away, pursue our own projects, have some time apart and come back fresh. It's like having a safe space.
"I like that my career is so diverse now. The way the industry has changed allows you to do things other than music. You're not put in one box anymore. I'm grateful for everything."
---
HRT was a cure for brain fog
While Claire Richards has embraced her revived pop career in her 40s, she's faced obstacles she never dreamed of while performing in Steps in her 20s.
Experiencing early menopause symptoms nearly floored her during the latest series of The Masked Singer.
"I'd never experienced anxiety like I did when I was performing in The Masked Singer. I was getting heart palpitations, blurry vision and brain fog," said Claire.
"It amazes me that half the population go through perimenopause and menopause and yet we hardly know anything about the impact a lack of oestrogen can have on our bodies."
Claire found support in other women when talking openly about her struggles with perimenopause.
"When I started sharing on social media all the stupid things that happened to me due to brain fog, I got so many messages from women going through the same thing and offering support and advice.
"I've had friends say, 'I'll just ride it out'. For 10 years? It doesn't need to be like that. There's so many treatment options now.
"Women should not feel guilty or like they've copped out by going on HRT. It took me a long time to seek help but I'm so glad I did. There's no way I'm giving up my HRT!"
---
Euphoria by Claire Richards is out now.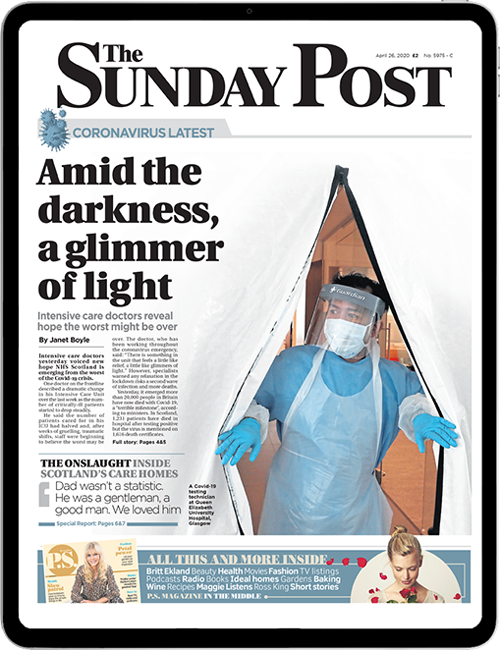 Enjoy the convenience of having The Sunday Post delivered as a digital ePaper straight to your smartphone, tablet or computer.
Subscribe for only £5.49 a month and enjoy all the benefits of the printed paper as a digital replica.
Subscribe