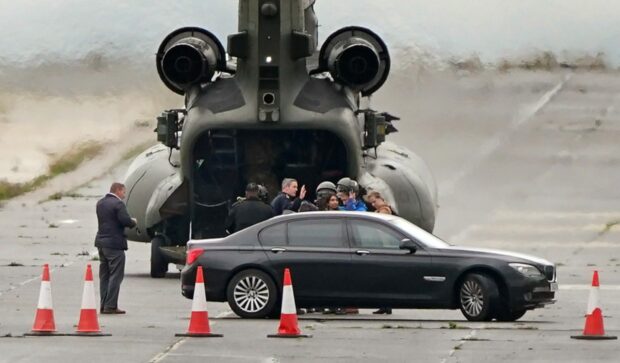 The Home Secretary's hard-line rhetoric warning of a "migrant invasion" is scapegoating some  of the world's most vulnerable people and risks inflaming far-right extremism, the Church of Scotland warns today.
Reverend Karen Hendry, convener of the Kirk's Faith Impact Forum, which speaks on social issues, spoke out to strongly criticise Suella Braverman for suggesting the UK is under threat from migrants crossing the Channel in small boats.
Hendry said: "I was horrified and deeply concerned about the inflammatory and degrading language used by the home secretary.
"We are called to continuously work towards a society that welcomes and is ready to learn from, and be transformed by, those we encounter. Churches across Scotland have been enriched by the contributions of those displaced from their homes and will continue to work towards building a welcoming and hospitable environment."
Hendry, the minister at Yoker Church, in Glasgow, said: "We have a duty to show particular care for people in the greatest need in our world. Language like this stokes further division and promotes a hostile environment for people longing for stability and the chance to rebuild their lives after leaving everything behind in search of safety.
"The language we use matters, especially by those who hold influence and power. We must speak words that heal, restore and build each other up."
The Church's outspoken criticism of the home secretary's stance on migrants came as police revealed inquiries into a firebomb attack on an immigration processing centre in Dover last week suggest it was an act of far-right terrorism.
Andrew Leak, 66, from High Wycombe in Buckinghamshire, is believed to have killed himself after throwing up to three incendiary devices at the Western Jet Foil site in Kent on Sunday.
Counter Terrorism Policing South East said yesterday that evidence had been recovered which indicated the attack "was motivated by terrorist ideology".
Downing Street defends Home Secretary's use of helicopter during Kent visit
Braverman, whose reappointment as home secretary just six days after she resigned for breaking ministerial rules around confidentiality has been heavily criticised, last week flew to an overcrowded migration centre in a military helicopter. Her trip to the Manston detention facility in the £3,500-an-hour Chinook was also accused of being a cynical attempt to bolster her military rhetoric.
The Home Office said steps were being taken to improve conditions at the Manston site, where 4,000 migrants were being held, some sleeping in marquees, in a facility meant for 24-hour stays by 1,600. Officials are said to be enhancing medical facilities, and providing better catering and more bedding.
A number of asylum seekers shipped out of the centre in recent days have been found lost in London shortly afterwards.
One said he was among a group of migrants left abandoned in central London on Tuesday night. He said they were not told where they were going by officials. The man – who gave his name as Hasibullah, from Afghanistan – said he was among a group of 45 migrants who were removed from Manston and taken to Victoria coach station.
'For the first time, my wife asked if we were safe here in the UK. It was a tough week'
Stuart McDonald, an SNP MP who sits on the House of Commons' Home Affairs committee, said: "The ongoing reports about the situation at Manston continue to shock – as indeed does the totally dehumanising rhetoric of the Home Secretary and some of her colleagues. The Home Office's own figures show 75% of those crossing the Channel – including over 50% of Albanians – are people in need of refugee status or other forms of international protection, and that is what should drive our response.
"These are fellow human beings in desperate need of support – instead, vilification and Home Office negligence await them.
"Our European neighbours receive many more asylum applications – a competent government would not have allowed this situation to unfold.
"On Friday we heard that two groups from Manston were left stranded at Victoria bus station in London, and this comes on the back of reports that the Home Secretary failed to act on legal advice to avoid unlawful detention and serious overcrowding and ill-health.
"All of this is a staggering dereliction of duty by a home secretary more concerned with self-promotion than doing her job properly. Refugees and others make an invaluable contribution to the UK and to Scotland if given the chance.
"But successive governments have seemed hell-bent on denying them any opportunity.
"Rishi Sunak must sack the home secretary immediately and take personal responsibility for fixing this appalling crisis at Manston – all of which has happened on the Tory government's watch. She should never have been reappointed after being sacked for breaching the ministerial code." Professor Alberto Testa, professor in criminology at the University of West London and a leading expert on far-right extremism, said anti-immigrant rhetoric was potentially incendiary and could lead to further terror attacks.
He said: "Studies have demonstrated that incendiary narratives promote negative sentiments towards those who are the object of it especially when this is done by politicians.
"The terms used by Braverman can create fertile terrain for potential imitation and emulation of the attack in Dover.
"These types of comments do not go away, they work as magnifiers encouraging individuals to express and act on pre-existing viewpoints they had once hidden. "This kind of action is a great help for those who try to radicalise youths."
In parliament on Monday, Braverman said the southern coast of Britain was enduring an "invasion" by migrants crossing the Channel.
She added: "Some 40,000 people have arrived on the south coast this year alone. Many of them facilitated by criminal gangs, some of them actual members of criminal gangs. So, let's stop pretending that they are all refugees in distress.
"The whole country knows that is not true. It's only the honourable members opposite who pretend otherwise. We need to be straight with the public. The system is broken.
"Illegal migration is out of control and too many people are interested in playing political parlour games, covering up the truth than solving the problem."
The Scottish Greens were among those pointing out the Tories have been in power for 12 years and if the system is broken, they broke it, and called for Sunak to sack Braverman. Ross Greer MSP, said: "Suella Braverman's far-right rhetoric about 'invasions' was a shameful and transparent attempt to legitimise the horrific treatment of refugees and to shift the attention away from her leaks and scandals.
"Words like that are totally irresponsible, particularly in the immediate aftermath of a terrorist attack against a centre for asylum seekers in Dover.
"It will only further fan the flames of prejudice. It was so toxic that even the immigration minister has distanced himself from Braverman.
"But this isn't just about her cruel words. They have shown a total disregard for the rights of often very vulnerable people, especially pregnant women and children."
The Home Office said: "The number of people arriving in the UK who seek asylum and require accommodation has reached record levels and continues to put our asylum system under incredible pressure.
"Manston remains resourced and equipped to process migrants securely and we will provide alternative accommodation as soon as possible.
"We urge anyone who is thinking about leaving a safe country and risk their lives at the hands of vile people-smugglers to seriously reconsider. Despite what they have been told, they will not be allowed to start a new life here."
---
MP: Britain's failure to urgently give sanctuary to Afghan allies abandoned to the Taliban is shameful
by Mark Aitken
The failure to quickly offer asylum to Afghans fleeing their homes after the western allies suddenly pulled out of the country last year shames Britain, according to an MP.
Anne McLaughlin has revealed how she is assisting over 100 Afghans who were abandoned after the fall of Kabul to the Taliban and have been waiting months to find out if they will be resettled in the UK.
British troops left Afghanistan last August in a hurried evacuation that brought to an end the UK's 20-year military involvement in the country. Then-prime minister Boris Johnson said at the time the UK owed an immense debt to those who worked with the armed forces and that they would be able to move to the UK permanently.
But McLaughlin, the SNP's spokesperson on immigration, asylum and border control, said there are thousands still living there or in hiding in nearby countries.
The Glasgow North East MP said: "The UK government have failed the people of Afghanistan who supported the UK Government's work there. These are people who were told that they would be looked after but they have been abandoned."
McLaughlin said her office is supporting 101 people who are in Afghanistan or in surrounding countries, ranging from civil servants to climate activists.
She said: "One man worked in a project supporting women's rights funded by the British government whose close family have been disappeared, tortured and murdered by the Taliban.
"He escaped to Iran but broke his leg. He only survived because of the work of an amazing charity who help in the area. We managed to persuade him not to sell his kidney to get money. He's now living a hidden life in Iran but he actually has skills and qualifications which are on the shortage occupation list for the UK.
"There's the woman who worked for the Afghan civil service and should be a priority, with attempts on her life and having to flee her bullet-ridden home. She was being threatened by the Taliban even before they took over.
"I made several representations to both UK government ministers and departments about her but they refused to treat her as vulnerable.
"Every case we have is exactly the type of people the UK government has said that they care about. Yet these are people who could end up on Channel boats if they can ever escape because they still have a belief that the UK government were telling them the truth when they said they want to help."
Three days after the Afghan capital Kabul fell to the Taliban, former foreign secretary Jeremy Hunt said the government should cut through bureaucracy to "ensure that we look after every single Afghani who took risks for themselves and their families because they believed in a better future and trusted us to deliver it".
In January, the Home Office announced plans to help 20,000 Afghans who worked alongside British forces to come to the UK through the Afghan Citizens Resettlement Scheme.
But only 10,000 have found safety in the UK and thousands more are waiting to be relocated. In June, it was revealed there was a backlog of 23,000 applications with only one in four processed.
McLaughlin said: "Two weeks ago the Tory government were saying that the reason why more people were not over from Afghanistan and Ukraine was because they were housing people coming across on Channel boats.
"What rubbish, it's because the UK government will not properly fund asylum accommodation that they find themselves in this situation. We can't allow the UK government to brush aside their obligations to Afghan people."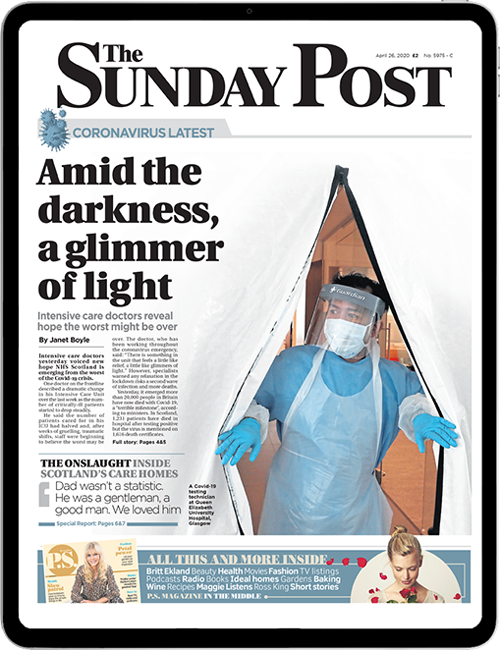 Enjoy the convenience of having The Sunday Post delivered as a digital ePaper straight to your smartphone, tablet or computer.
Subscribe for only £5.49 a month and enjoy all the benefits of the printed paper as a digital replica.
Subscribe