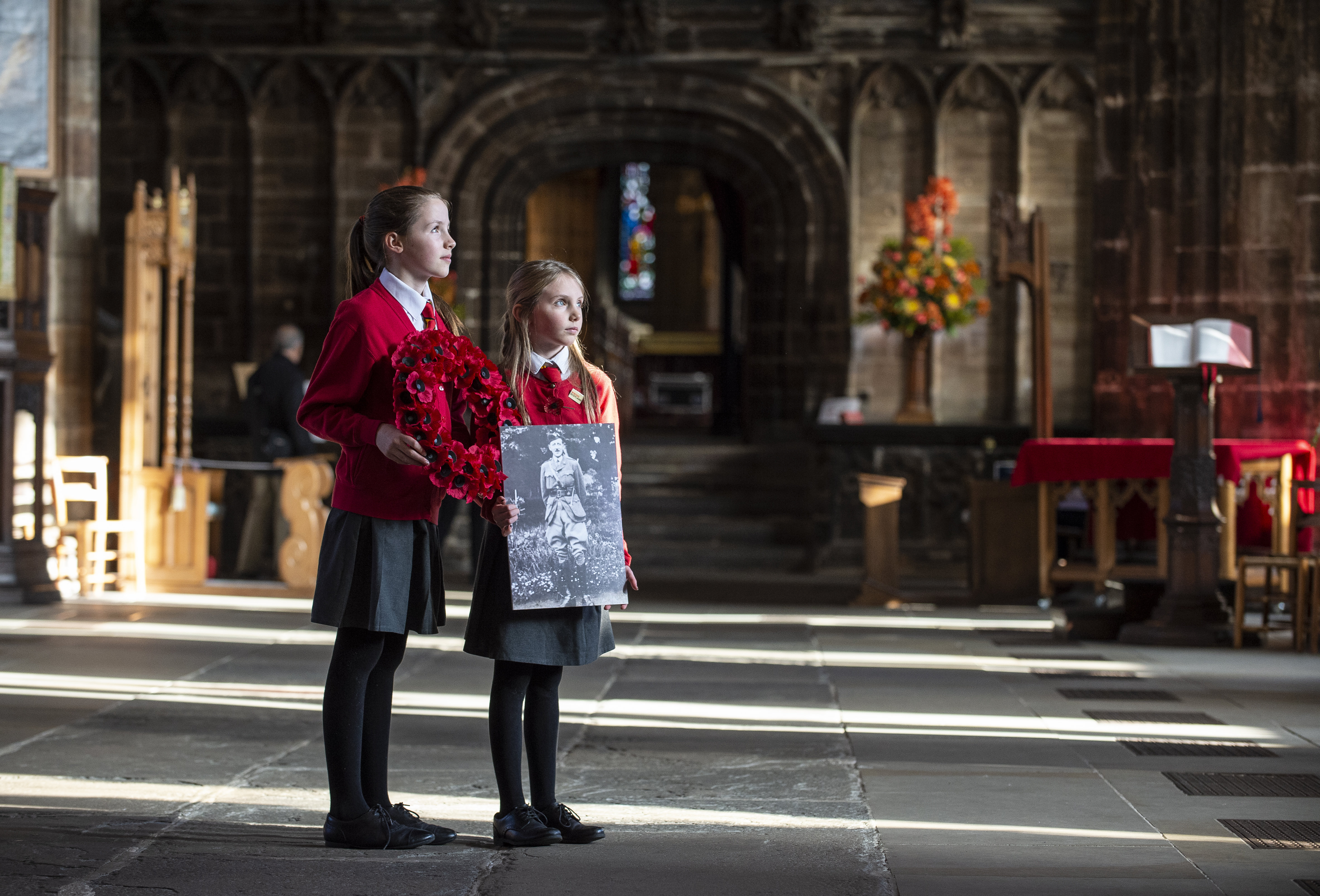 THEY were four young brothers, inseparable in life and, tragically, inseparable in death.
Within two months of the outbreak of the First World War, the Anderson brothers, Bertie, Ronnie, Charlie and Teddie, had enlisted. Not one would survive.
"So glad we are all in this war," Charlie wrote in a letter home soon after they'd signed up.
It was a commonly-held sentiment of the time as families, work colleagues and neighbours from across the country set forth to do their bit.
But parents William and Nora, who fundraised and collected medical supplies from their home in the West End of Glasgow, were to pay the ultimate sacrifice.
They had suffered heartbreak when their third child Harry died a week after he was born in 1887…but none of their four remaining sons would return from the First World War.
The brave band of brothers all laid down their lives, with Bertie doing so with such selfless bravery that he was posthumously awarded the Victoria Cross.
Earlier this year, exactly 100 years after his death, a memorial paving stone was laid in honour of Bertie at the People's Palace. And there is a memorial to all four brothers in Glasgow Cathedral.

Today, their story will be remembered at a service at the cathedral attended by 1,200 people including the First Minister and Bertie's great-grandson Robin Scott-Elliot and his daughters Iona and Torrin.
Robin, who has written a novel, The Way Home – which includes a collection of letters between the brothers and their mother – is determined the heartbreaking story of his great-grandfather and brothers is not forgotten.
"Growing up, I'd heard this story of my great-granddad winning the VC and his brothers also dying, but there wasn't a lot of detail," said Robin, from Helensburgh.
"My dad was in the Army and as a teenager my brother and I were taken to see the cemeteries at the Somme. There were thousands upon thousands of headstones, all identical, and then you see one that says WH Anderson.
"I started tracking down whatever I could, papers and albums, and from those, I started to get a picture of the man and his brothers."
The boys grew up between family homes in Fife and Glasgow and they went to school at Fettes College in Edinburgh and Glasgow Academy.
The outbreak of war saw Charlie already a career soldier, as he'd joined the Highland Light Infantry (HLI) in India in 1908.
Bertie, who had already been a military man before joining his dad's accountancy firm, was recommissioned within weeks.
Ronnie and Teddie, then just 18, soon followed.
It was only a matter of months before the first tragic loss of Charlie, who died only a week after he'd arrived at Givenchy in northern France, where there was fierce fighting.
"I think of the mother Nora sitting at home, dreading the knock on the door," said Robin.
Charlie was recommended by his colonel for his gallantry. It was said that his men would follow him everywhere.
He is the only brother to have no grave, with his name listed at the Le Touret Military Cemetery.
The more Robin dug into the mists of time, the more real and human the brothers became.
"I found myself calling them 'the boys' and they did become 'alive' to me.
"The first time I read about Ronnie, who was the second one to be killed in October 1915, I was in the Public Records Office in Kew. The diary entry just says, 'Quiet day, Second Lieutenant Anderson killed.'
"You couldn't help but think that in that one line, his life gone."
Ronnie had written home to his mother saying: "If I get killed, don't say: 'So like Ron's careless way.'"
He had been caught in a sniper's sights as he passed through a trench close by where Charlie had died. He is buried at the Cabaret-Rouge British Ceremony at Souchez.
Teddie transferred from the HLI to the Royal Flying Corps flying reconnaissance missions during the Battle of the Somme before becoming an instructor. He died, aged 21, after his plane crashed near Winchester in 1918.
William and Nora at least had the solace of letters about his finals hours in hospital.
The matron who nursed him wrote: "His was a beautiful face, and I am sure he was good and true and knightly."
Jean Hamilton, a cousin of the boys' mother Nora, wrote a journal recording their deaths, writing: "And now Teddie has gone too, Teddie the sunshine, 'Little Ben', as his brothers called him, and his mother's 'Honey Bee'."
A friend wrote that when B [Bertie] saw his brother's death announced in the papers he shut himself into his room for two hours, but never said a word to anyone.
This last surviving Armstrong was to live just days longer than his baby brother.
After three days of heavy fighting, the Germans had reached a point on the River Somme that left the weary British forces exposed and at great risk.
Colonel Anderson personally led a counter-attack across deadly open ground.
He drove the Germans back, capturing 12 machine guns and taking 70 prisoners.
When the Germans attacked later that day, Bertie, 36, once again rallied his troops.
His VC citation stated that he "led he attack in person and throughout showed the utmost disregard for his own safety".
Advancing in front of his men, he had his revolver in one hand and his swagger stick in the other when he fell to the ground, mortally wounded.
His body was found where it had fallen and his effects were sent home to widow Gertrude and their two sons. He was buried at the Peronne Road Cemetery.
Jean Hamilton wrote: 'All four [brothers] are together again now, as in the old childish days – no gap between this band of glorious brothers."
Nora had an album put together in 1918.
"It felt like that was the outlet for her to deal with the death of her sons," said Robin. "It included a calendar for March 1918 when the last two were killed. There is a black X marked on the 16th, when Teddie was killed, and one on the 21st, the date of his funeral.
"And there's another one on the 25th marking Bertie's death. That starkness is striking to see."
Robin's daughters unveiled the paving stone at the People's Palace on the anniversary of Bertie's death.
And this afternoon they will present the Princess Royal with a bouquet of flowers as she leaves Glasgow Cathedral after the special service.
"The sacrifice still hits home to me," adds Robin. "I feel I want to keep their story alive as they didn't get to live their lives.
"I want my daughters to remember them, but I think everyone should remember the First World War as it was suffering on such a massive scale."
Lord Ashcroft KCMG PC, who has built up the world's largest collection of Victoria Crosses (VCs), including owning the Anderson VC, said: "My admiration for the courage of the Anderson brothers is immense and the sacrifice that a single Scottish family made to the war effort is heartbreaking."