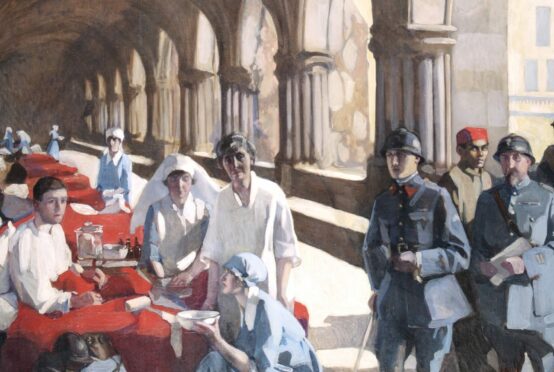 They were a formidable, courageous band of sisters but their contribution during the world wars is only now being fully appreciated.
Laurence Binyon's poem For the Fallen will resonate today as an anthem of remembrance for all the fighting men who did not return but he also wrote of his time as a volunteer ambulance driver in 1917 when he visited Royaumont Abbey, the Scottish Women's Hospital (SWH).
"If there had been diffidence at first, it was amply made up for by the warmth of recognition when it was seen how admirably these women could administrate, organise, operate and nurse," he wrote in appreciation of the nurses treating French soldiers at the hospital north of Paris.
There were no British medals for the women of Royaumont, although a grateful France festooned them with 30 Croix de Guerre and its highest award, the Légion d'honneur for their leader, surgeon Frances Ivens.
The SWH had been set up by Dr Elsie Inglis after the British War Office rejected her offer for an all-female hospital with the words "go home and sit still". Over the course of the war, she set up and ran 12 SWH units in Serbia and around Europe.
Two doctors, Flora Murray and Louisa Garrett Anderson also went to France, first operating on French casualties at the new Claridge Hotel on the Champs-Élysées. In 1915 they accepted a War Office invitation to establish a hospital at Endell Street in London's Covent Garden.
It was overtly more suffragist in its approach, a message probably not lost on all the wounded Tommies they treated, who were old enough to sacrifice life and limb for king and country but not to vote. The 1918 Act which enfranchised women over 30, also did the same for the four out of 10 British men, who until then had no vote.
Women's historian Dr Valerie Wright of the University of Glasgow said while many women always had to work, the Great War – and later the Second World War – saw more opportunities open up for women, broadening horizons and boosting their confidence and agency.
She told The Sunday Post: "The Great War opened up the workplace for women. Women were in places and spaces that they wouldn't have been in before, like driving trams and trains, working in factories. In the First World War you had women working in munitions factories for the first time. Thousands relocated to work in factories in Glasgow, which led to overcrowding and landlords putting the rents up; the rent strikes in 1915 were led by women.
"But it was also a double burden, if you were working in the munitions factory you were also having to do everything in the home while your man was away fighting.
"The Great War showed that women could do the work of men. That they were capable of doing it. Women were also driving trams and trains but at the end of the war, there was a backlash to women's involvement in public life and dilution in workplace."
However, she added: "Some people would argue that women's service in the First World War led to women gaining the vote in 1918.
"The Second World War was pretty seismic for women in terms of personal relationships, confidence and physical mobility."
Peace saw a return to old ways, however. She said: "In the 1950s there was a return to prizing domesticity and housewives and there was an aspiration to be at home. There has always been feminism but it's really when we get into the 1970s that we have popular feminism."
She said: "War changed women's views in terms of work and the way they saw themselves."
As the First World War continued, it was Navy and Army nurses who bore the largest burden helping mend broken bodies and minds. Then, as now, nurses provided the bulk of care for the sick. And there was no let-up with the Armistice as the influenza epidemic took hold.
By 1917 women were also wearing the standard army uniform. Mona Chalmers Watson, the first woman to graduate in medicine at Edinburgh University, established the Women's Auxiliary Army Corps to undertake non-combatant duties in France.
Highly trained Queen's Nurses also played active roles. Annie Mackinnon, from Skye, was awarded the Croix de Guerre for conspicuous bravery in the retreat from Aisne in 1918. The other Croix de Guerre awarded that day went to an entire British regiment.
Louisa Jordan, Queen's Nurse at Buckhaven in Fife, joined the SWH and served at Kragujevac, Serbia where she volunteered to nurse a medical colleague Elizabeth Ross, who was poorly with typhus. Both died from the disease along with nurse Madge Neil Fraser, who was one of the brightest stars in women's golf.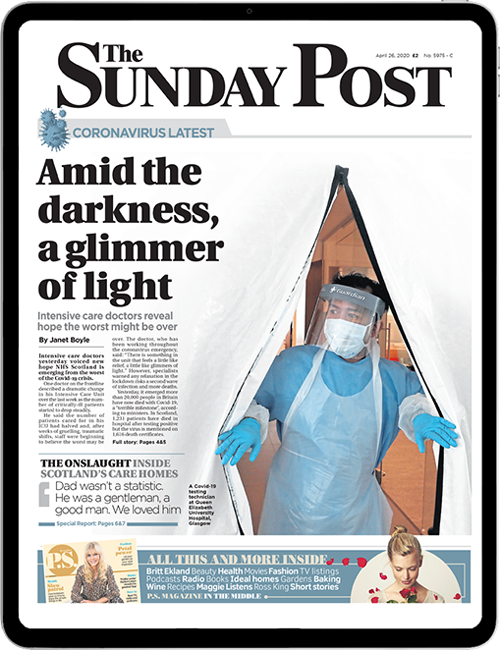 Enjoy the convenience of having The Sunday Post delivered as a digital ePaper straight to your smartphone, tablet or computer.
Subscribe for only £5.49 a month and enjoy all the benefits of the printed paper as a digital replica.
Subscribe