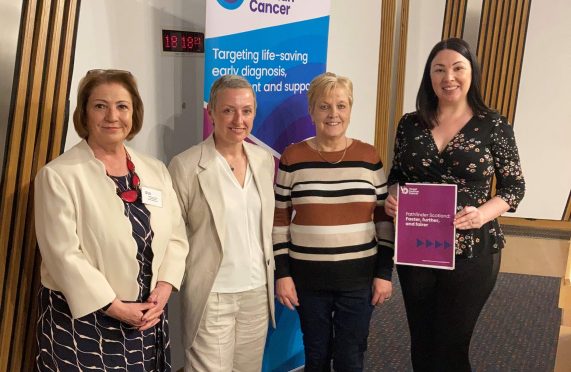 Patients are challenging government claims that they are making ovarian cancer a priority following last week's revelations in the Sunday Post.
We exposed shocking failings which have resulted in many Scottish women having to pay for life-saving treatment south of the border.
As new patients come forward to tell of their shocking experiences, we can now reveal Scotland's much-trumpeted Women's Health Plan does not even mention ovarian cancer, despite it being responsible for the deaths of hundreds of women every year.
The Sunday Post has twice asked Scotland's Women's Health Champion Professor Anna Glasier to comment on the scandal but the Scottish Government has blocked access, leaving patients to ask why their "champion" has been silenced.
Professor Glasier, an expert in reproductive health, described her appointment in January and the government's Women's Health Plan as "courageous and ambitious".
She spoke of her determination to tackle what she described as "health inequalities".
But the plan has no mention anywhere of ovarian cancer, despite it being described as the "silent killer", a cancer usually only detected in late stages.
Cancer patients forced to 'play Russian roulette' with treatment by waiting to get a date on NHS or spend £30k from life savings
Outraged politicians have joined campaigners in slamming the health boards which have refused to reimburse out-of-pocket sufferers.
Officials at NHS Greater Glasgow & Clyde insisted it was "their choice" to pay.
Scottish Labour's Monica Lennon, convenor of the Cross Party Group on Women's Health, said: "Let's be absolutely clear here, these women did not have a choice.
"The choice on the table was life or death.
"If they did not pay for their treatment, they feared they would die before the NHS gave them a date for the surgery they needed to save their lives.
"If ever there was a case for reimbursement, then this is it."
The women attended the very same London-based private surgeon that NHS Greater Glasgow and Clyde paid to treat ovarian cancer patients during lockdown, making the health board's stance "perverse", according to campaigners.
Retired teacher Irene Hartshorn, 68, from Ayrshire, said: "The health board failed to provide the treatment we needed to save our lives, so we do not believe we had a choice if we wanted to live.
"The health board's refusal to reimburse patients is not only unacceptable, but also perverse given that women were treated by the very same private surgeon the NHS used during lockdown."
'We are fighting for our lives'
Campaigner Mags McCaul, 51, from North Lanarkshire, added: "None of us were trotting off for private cosmetic surgery. We were fighting for our lives. The staffing problem was caused by poor NHS management. I don't see why patients should have to pay for their inadequacies."
Mary Hudson, 68, from Springboig in Glasgow, faced the same issue when she discovered she had the rare gene, RAD51-d, that made her susceptible to ovarian cancer.
She said: "I was diagnosed with ovarian cancer at the beginning of 2021, and because I had previously beaten breast cancer after chemotherapy, radiotherapy and surgery, my consultants felt my only chance was further surgery.
"I was stunned when NHS Glasgow said they did not have the expertise needed.
"My family refused to accept my death sentence and we fought with the health board. Eventually, officials agreed that they would pay for my surgery.
"I had to pay for other costs, such as travelling to London, but the biggest cost was the surgery.
"Afterwards, NHS Glasgow officials assured me that they would use what happened to me as a learning curve so they could support other women in the same situation, when in fact the opposite is now happening.
"I'm disgusted that others are now being asked to cash in life savings instead of the health board doing the right and moral thing as they promised."
Mary has now launched a social media support group to help others.
She said: "As I began to recover, I decided I could not sit silently and watch other women struggle.
"Ovarian cancer is the fifth most deadly cancer to women, and yet it does not even earn a mention in the Scottish Women's Health Plan.
"That is a disgraceful oversight. No woman in Scotland should be forced to pay for their own cancer treatment."
The Scottish government said: "The Women's Health Plan focuses on a specific set of priorities where there is evidence of inequalities, such as heart health, and where women have told us improvements are needed, for example menopause and menstrual health including endometriosis."
---
---
FM told to 'cut the excuses' on death rates
First Minister Humza Yousaf was forced to apologise to ovarian cancer patients left to pay £30,000 for private treatment to save their lives.
The Sunday Post's revelations dominated First Minister's Questions in parliament last week, as Tory and Labour leaders lambasted the government over the scandal.
Under questions from Scottish Conservative leader Douglas Ross, Yousaf admitted: "Nobody should have to feel that their only option is to pay privately."
Ross said: "Cancer kills if left untreated, and the Scottish Government is allowing this to happen.
"We shouldn't have to go to London or elsewhere."
First question at #FMQs today on ovarian cancer and my constituent Mags McCaul, who along with Catherine Rae from my region and other courageous women shared their experiences with @ladymcbeth2 and @Sunday_Post. The situation is desperate. @TargetOvarian https://t.co/x5SVA8OSOo

— Monica Lennon MSP (@MonicaLennon7) September 28, 2023
Agreeing that the situation is "unacceptable", Yousaf said: "Nobody should have to feel that their only option is to pay privately and to go outside Scotland for treatment."
Rubbishing the FM's claims that Scotland is recovering from the pandemic, Labour leader Anas Sarwar said one in four Scots waiting for cancer treatment were facing delays.
He said: "This government has not met the 62-day standard for 11 years – so cut the complacency and cut the excuses.
"We know that every delay risks lives, and we know that the number of cancer deaths is higher than it should be."
The FM insisted the government will spend £10 million helping health boards improve services. He said: "The Scottish cancer network will establish a new ovarian cancer clinical network, which will ensure equity of access to treatment for all women with ovarian cancer."
Douglas Ross later added: "The Sunday Post's campaign to sensitively and seriously highlight the fight these patients have had – through no fault of their own – to travel and subsidise their own treatment has been crucial to getting this issue the attention it deserves.
"The SNP government has shamefully missed cancer waiting time targets for over a decade now…and have failed suffering patients."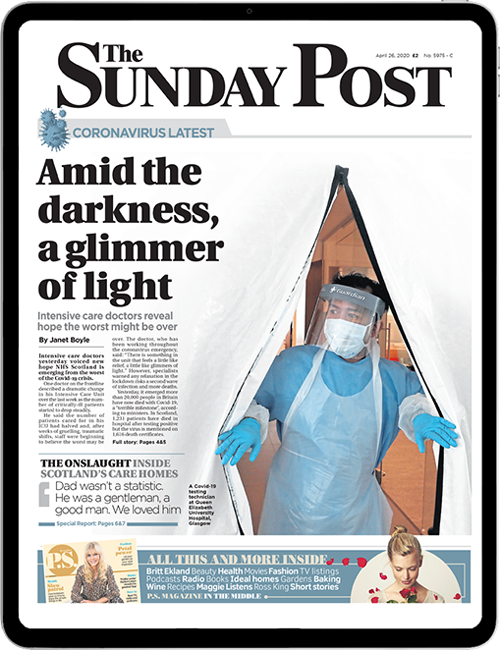 Enjoy the convenience of having The Sunday Post delivered as a digital ePaper straight to your smartphone, tablet or computer.
Subscribe for only £5.49 a month and enjoy all the benefits of the printed paper as a digital replica.
Subscribe