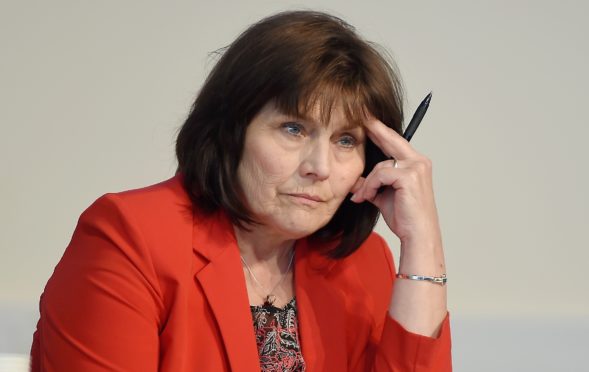 Victims of mesh urged Jeane Freeman to apologise and resign yesterday after they accused the Health Secretary of ­misleading parliament.
They claimed the minister was playing with words and treating them with contempt when she insisted the Scottish Government had not been planning to reintroduce mesh after use of the controversial implants was halted last year.
At the Scottish Parliament on Wednesday, Freeman flatly denied a report in The Sunday Post last week suggesting a group set up to help mesh ­victims in March had previously met to plan the reintroduction of mesh.
She claimed the story was "false and without foundation", insisting the groups were completely different and later demanded we apologise to mesh victims for causing them distress.
However, as we reveal today, the groups share the same members and the same chairman. And the embattled Health Secretary was under pressure to resign last night.
Olive McIlroy, of Scottish Mesh Survivors, said: "Does she think we are stupid? If a group has the same members and the same chairman, it is the same group.
"It might be discussing ­different things, it might have a different remit, but it is effectively the same group. To suggest otherwise insults our intelligence.
"The people talking about how they can improve support for women whose lives have been broken by mesh were the same people who were sitting around another table a few weeks earlier talking about how and when mesh could be brought back. Jeane Freeman should retract her comments, apologise and then consider her position."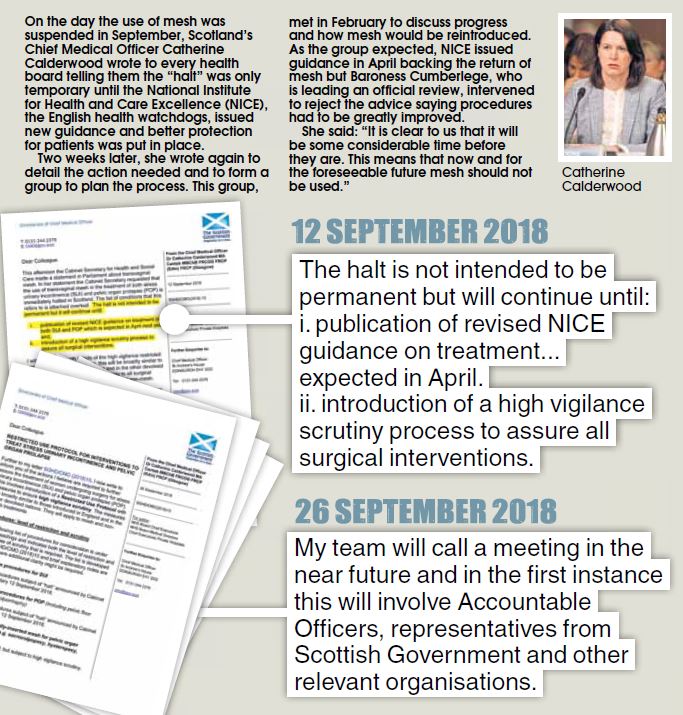 The Health Secretary went on the attack last week after we revealed officials from Scottish health boards had met to discuss the reintroduction of mesh before she announced a group would be launched to examine how to help victims.
Apart from two additional members to represent patients, the so-called short-life working group is identical to the group that had been considering how mesh would be reintroduced.
Made up of designated "accountable officers" or their deputies from each of Scotland's health boards and government officials, both groups are chaired by Terry O'Kelly, a surgeon in Aberdeen and senior government medical officer. On February 22, just 12 days before Freeman announced the formation of the group, the group met to discuss how and when mesh could be reintroduced.
Letters written by chief medical officer Catherine Calderwood to health boards after the ban was imposed in September confirm the suspension would only be temporary.
She said mesh would be reintroduced after new guidance was published in England in April and when Scotland had put in place better monitoring systems and protection for patients.
She asked each board to appoint an accountable officer and said a meeting would be held to discuss the changes needed to allow mesh to be brought back.
Then, in March, after an emotional meeting with mesh victims, Freeman announced a new group. Two of the women who met her at Holyrood voiced dismay yesterday after discovering the same people had, only days before, been discussing bringing mesh back.
Karen Neil, from Clydebank, said: "We shared deeply personal things with Jeane Freeman and Catherine Calderwood and thought we had received a genuine response.
"We were wrong. It just seems to have been more words. We have heard enough words from this government."
Susan Doyle, 53, from Glasgow, said: "They sat and listened to stories of women in agony, being so destroyed by mesh they're suicidal after losing their health, jobs, marriages, and homes. Jeane Freeman should go now and take Catherine Calderwood with her."
The Health Minister insists there is no plan to reintroduce the mesh implants, used to treat prolapse and incontinence, that have been blamed for inflicting life-changing injuries to hundreds of Scots and thousands of women around the world.
However, politicians who have fought for the victims called yesterday for publication of the minutes of the February meeting.
MSP Neil Findlay said: "There may have been no date in the diary for the reintroduction of mesh in Scotland but it seems clear the Scottish Government was planning it.
"If, as the Health Secretary insists, this very senior group of doctors and officials did not meet in February to discuss how and when mesh could be reintroduced then she should publish the minutes.
"If that was indeed the purpose of this meeting, despite her denials, then the questions will get very serious indeed."
The Scottish Government said: "There are no plans to reintroduce mesh operations and any suggestion to the contrary is untrue, irresponsible and will cause unnecessary distress to patients. The Health Secretary set out this week that she did not believe there was a prospect of the halt being lifted.
"The Short Life Working Group she announced in March, which includes accountable officers and other representatives such as patient representatives, was convened with the explicit purpose of improving services for women who have suffered complications from mesh procedures.
"For absolute clarity, the Short Life Working Group established by the Health Secretary has not met to discuss the reintroduction of mesh operations, and any suggestion the purpose of the group was to plan the re-introduction of mesh operations is utterly incorrect."
Former health secretary Alex Neil called for a halt to mesh immediately after meeting injured women in 2014 but despite the "ban" surgeons continued to implant almost 800 more women before it was formally suspended.
He said: "I do not see how there would be any support in parliament for lifting the current ban on mesh.
"One of the reasons we are where we are now with mesh has been the lack of transparency."
---
Under pressure: Embattled minister dubbed Queen of the Quangos before becoming MSP
Jeane Freeman was billed as a safe pair of hands when she took over as Health Secretary after her predecessor, Shona Robison, was dogged by crisis.
But she has also come under pressure after a series of NHS Scotland controversies including infection deaths at a flagship hospital in Glasgow, to financial chaos on Tayside, and bullying of NHS staff.
But her wide experience in the public sector before becoming an MSP would, supporters said, equip her to cope with her new role. Indeed, she was once nicknamed Queen of the Quangos because of her many well-paid roles on boards of public bodies.
And, on one occasion, her workload apparently saw her being paid for more days than there are in the year. In the financial year 2013/14, she was paid £57,000 as a member of the Scottish Police Authority, receiving £300 a day for 190 days' work.
During the same period, she worked three days per week on the NHS National Waiting Time Centre board in Clydebank, receiving up to £25,000.
She also served between 20 to 30 days with the Judicial Appointments Board for Scotland at a rate of £295 per day.
If records are correct, she worked 376 days on public payroll that year.
A spokesman for Ms Freeman said: "A contracted day does not mean sitting in an office indeed, many boards meet during the evening."
---
Victim: I wish the minster had written me a letter
Mesh victim Claire Daisley has not heard a word from the Health Secretary despite her appeal for help.
She will lose her bladder and bowel in five weeks and had urged Jeane Freeman to accept the offer of a world-leading surgeon to come to Scotland to ease the agony of mesh-damaged women.
But three weeks after asking the minister for help, she heard nothing and received an automated reply to an email she sent the minister last week.
Last week, after claiming our reports were "without foundation" in parliament, Freeman wrote to The Sunday Post demanding we apologise for causing distress to mesh victims.
Yesterday Claire said: "I have not heard a word from anyone. I wish she had written to me."
She is now offering to be a test case for Scots doctors when they travel to the US to learn from pioneering surgeon Dionysios Veronikis.
Claire said: "If they want to see Dr Veronikis in action, they might as well see him operating on a Scottish patient. He's the only surgeon in the world I trust to remove my mesh safely and completely."
Dr Veronikis believes he may be able to save at least one of Claire's organs by removing the mesh implant that has left her crippled for almost 10 years.
Left suicidal by constant pain and incontinent, the mum of three faces NHS surgery to remove her organs.
An emotional video recorded by Claire for the Sunday Post website has been widely shared on social media.
MSP Neil Findlay has branded the government's lack of response to mesh victims a "national disgrace".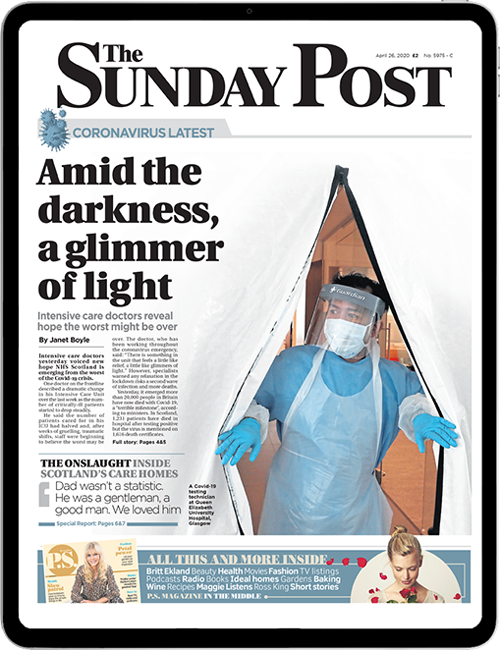 Enjoy the convenience of having The Sunday Post delivered as a digital ePaper straight to your smartphone, tablet or computer.
Subscribe for only £5.49 a month and enjoy all the benefits of the printed paper as a digital replica.
Subscribe