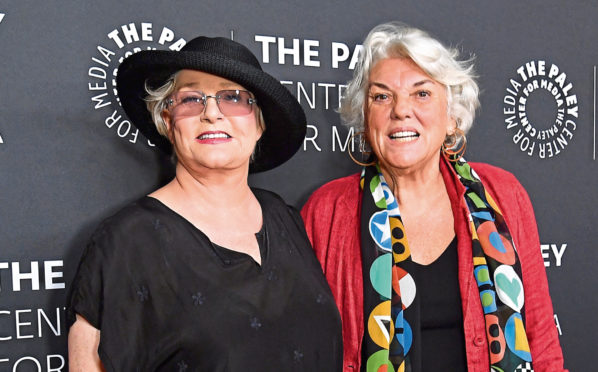 Two of the most fondly remembered TV cops in New York in the 1980s were Cagney & Lacey, two ladies who were role models for many other characters that have since followed.
They won't be making a comeback, though – they never went away.
"The series ended after just over six years but it is still being shown," said Sharon "Cagney" Gless.
It ran over 125 episodes from 1982 to 1988 and there were four TV movies in the mid 90s.
"I still get people asking me to sign photos of Christine Cagney and I know that Tyne (Daly, her co-star) is often asked to sign pictures of herself as Mary Beth Lacey.
"We have been very good friends ever since the series and we are both amazed that Cagney & Lacey is still being shown all over the world, decades later."
Tyne Daly added: "It nearly didn't survive after the first series.It was nearly cancelled but when viewers got to hear about it they sent letters and messages to (programme makers) CBS and they changed their minds – not once but at least twice.
"We were thrilled of course and still owe thanks to all those people who supported us. They obviously knew what they wanted much better than the TV management at the time."
Sharon and Tyne came together from different backgrounds but their lives have run parallel ever since the first days on the set of Cagney & Lacey.
"We both went into other TV shows and movies and theatre afterwards," said Sharon. "We both wanted to work together again but that's never really happened in a big way."
Sharon has appeared in Britain a number of times, including a special guest appearance on Casualty.
"I played Zsa Zsa, who was an American brain surgeon flown in for some special operation at the request of one of the characters – Dylan – who had been trained by her.
"It was an unusual name and she was meant to be a bit, well, flighty I guess. She was fun to play and I was deeply honoured to be asked and flown in to play the role. I loved Casualty and I would certainly do it again though, hopefully, not as a patient.
"I have been on stage in London a number of times too and I do like British audiences. They really get into what they are watching, they don't fidget and keep opening candy packets or reading the newspaper.
"I think that Cagney & Lacey opened many doors for both of us, especially in the UK where it was even more popular than in the States.
"It was weird that I used to meet people like Helen Mirren and Jennifer Saunders and they pretended to bow in homage. I wondered how they knew who I was! That was when I started to realise how big the show was in Britain.
"Some of my ambitions could come true in Britain. I would love to work alongside Judi Dench or Maggie Smith. Talking of Dame Maggie, I wonder if there might be a place for me in a future Downton? I don't think there are any American actors and actresses that don't want to be in Downton."
Finding the time could be a problem for Sharon, who's 76. She is very busy most of the time and in demand for more TV series, films and stage.
"I keep as busy as I want to but the offers keep coming in and I will go on as long as possible," she said.
"I would always find time for Downton and if they did decide to bring Cagney & Lacey back I think we would both find it hard to resist – just so that we could get it right this time.
"We both agreed that we were not at our best when we made the series, we learned much more later.
"It was just that Cagney & Lacey was different, women cops that people liked. Now, of course, we would be two gun-totin' grannies but that might be fun."
Tyne Daly has the same sense of humour.
"Of course, I would do it all again so long as the bad guys didn't run," she laughed. "If they did they would probably get away now. We did a lot of running in those days. I gave that up."
Tyne, 73, never gave up acting though and has also had a very successful career in the decades since Cagney & Lacey.
"My parents were both actors so when I started it was like going into the family business. I've no idea what else I would have done," she said.
"Cagney & Lacey was great for us but we knew it was not going to go on forever and when it ended we both just got on with our careers.
"I have been fortunate enough to get other TV work, some movies and I like stage acting too so life has been good.
"These days I get to play the older woman and that's fine. I have been doing that since before I was an older woman so I have grown into it quite deliberately.
"When you are no longer looking like the younger woman, don't fight it, don't try to pretend you are the younger woman still. You can make yourself look ridiculous. Play the older woman as soon as possible and you will have a long career ahead of you."
It has certainly worked for Tyne who has always also tried to keep her professional life and her private life apart.
"I love my family and I like to give myself to them as much as possible," she said.
"I also like to be myself when I am not working. As an actress you have to make yourself available for photo shoots, interviews and that kind of thing.
"I often wish it wasn't like that but it is the career I chose so I have learned to live with it.
"I don't mind talking to people in the supermarket or whatever but I do like to have some life of my own.
"I like to have a mix of roles. When I was younger I also seemed to be the victim of something and that became really boring.
"When you get older you are usually the wise old aunt or something lke that, occasionally the villain of course.
"The best was playing Lacey because I became a hero. She was a family lady so she not only went around putting cuffs on bad guys but then went home and cooked a meal for her husband and kids.
"I really liked that, I could relate to her and so did many other women. I used to get some lovely letters from Cagney & Lacey fans."
Modestly neither Sharon nor Tyne talk about the many awards they each received for their work in Cagney & Lacey but they both took the annual Emmy Award for Best Lead Actress In A Drama during a remarkable run of success.
In fact for the six years the show was on screen, they dominated the award, Tyne winning it four times and Sharon twice.
"Best of all though we won millions of viewers who loved the show and, in a sense, became our friends," said Tyne.
"We still get letters from fans as the re-runs attract new viewers as well as previous fans watching the series all over again. It's a great feeling to be involved with something like that."
"Cagney & Lacey wasn't just a job to us, we loved it," said Sharon. "I don't think we will get the chance to work together on a series like that again so it has especially fond memories for us."
"Perhaps we could both be in Downton?" Tyne added. "That would be good. We wouldn't bring our guns of course."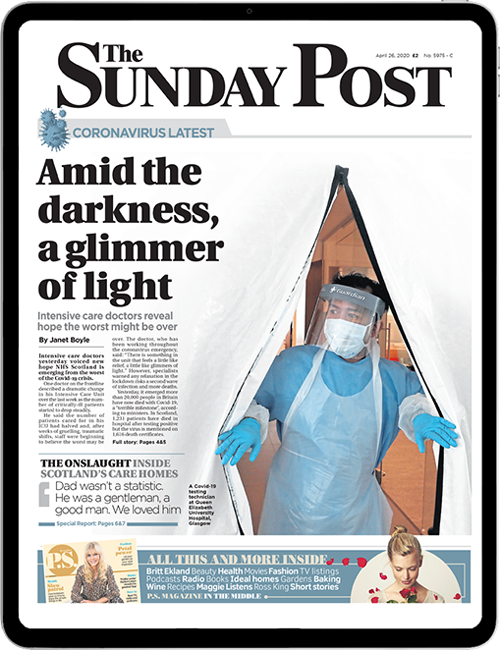 Enjoy the convenience of having The Sunday Post delivered as a digital ePaper straight to your smartphone, tablet or computer.
Subscribe for only £5.49 a month and enjoy all the benefits of the printed paper as a digital replica.
Subscribe