They came, they saw – and crivvens they conquered it.
Ben Nevis has seen everything from a 1911 Model T Ford to a church organ transported to the summit. But yesterday a hardy crew topped the lot by somehow carrying up a 5ft statue of Oor Wullie.
And, after an epic five-hour ascent, one Scottish icon looked out from the pinnacle of another – willed all the way by cheering, if bemused, climbers.
The mountain marathon with the beautifully-painted Oor Nevis Wullie statue was the brainchild of Douglas Roulston, a teacher and landscape ­artist. He was inspired to do his bit for Oor Wullie's BIG Bucket Trail and the ARCHIE Foundation.
Speaking during the descent from the snow-topped summit yesterday, Douglas, 35, who was helped by 12 superfit volunteers, said: "It was unbelievable. So many people were asking us what it was about.
"It was really treacherous and I can't believe what we managed to do. It's just adrenaline that gets you to the top."
Before setting off up Nevis's tourist trail, Douglas, who has two children, Finn, nine, and Niamh, six, with wife Jenny, feared he had bitten off more than he could chew.
"I haven't been up a Munro since I was a boy," admitted Douglas, who lives in Broughty Ferry, near Dundee.
"I'm a keen mountain biker who goes to the Alps every year and I'd much rather be on two wheels, not my dodgy knees."
Glasgow-born Douglas, who teaches art and design at Forfar Academy, has also taken a giant penguin up the Sidlaws in Dundee for Maggie's cancer charity. "When I missed out on the Bucket Trail last time I was determined to get involved with this one," he said.
"I was delighted when I got the chance to do this Ben Nevis Oor Wullie.
"Let's face it, who doesn't love Oor Wullie?"
Douglas got the penguin up the Sidlaws on a Second World War stretcher borrowed from his school's history department and that was on hand as a back-up this time. But a new one, custom-designed by the school's technical department, was the primary transport.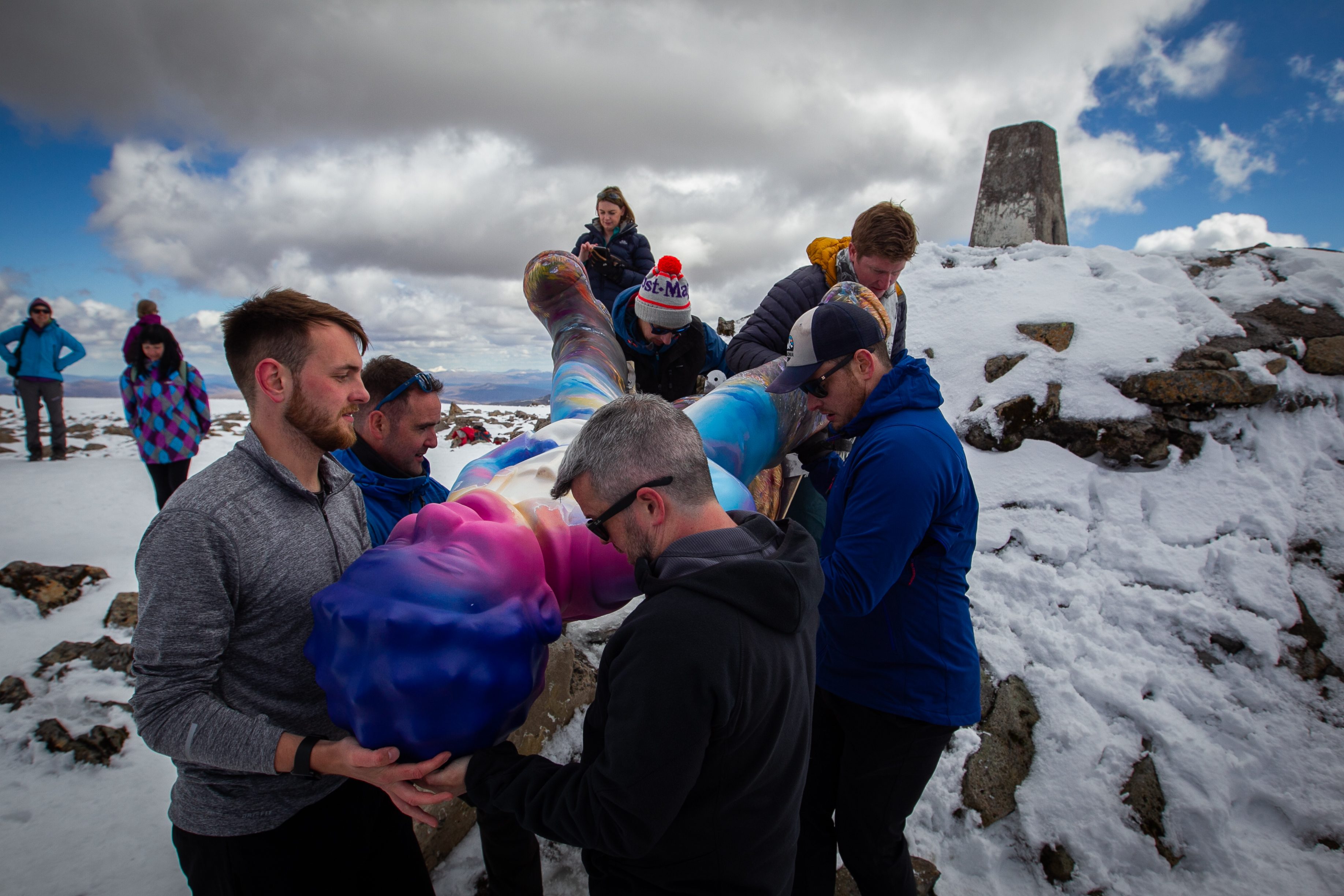 "It took months of planning," he said. "We've had quite a few folk drop out but we finally got this group of 12 fit volunteers, including mountain leaders and ski instructors.
"Oor Nevis Wullie weighs a good few stone, so we had to really make sure we could do this. We even had a hammock in case the stretchers broke.
"We even planned for hitting the snow level by making sure a few of us had crampons.."
A weary but triumphant Douglas said he was delighted to be helping such fantastic casues.
"I was going to do Just Giving fundraising, but I thought it'd be much better to have it auctioned off in due course," he added."Someone is going to be able to own this Oor Wullie knowing it has been to the top of Ben Nevis."
Dawn Cowie, Highland fundraiser at The ARCHIE Foundation, said: "A Ben Nevis trek is challenging at the best of times – never mind while carrying up a 5ft Oor Wullie!"
VisitScotland are Douglas's sponsors and Chris Taylor, regional leadership director, said: "We are thrilled to work with Douglas Roulston to create an Oor Nevis Wullie. Capturing the rugged beauty of Ben Nevis, this wonderfully painted sculpture celebrates Scotland's stunning scenery and landscapes."
Oor Wullie's BIG Bucket Trail runs from June 17 until August 30 when Wullie statues will be placed in five host cities – Glasgow, Edinburgh, Dundee, Aberdeen and Inverness – before being auctioned off to raise millions of pounds for Glasgow Children's Hospital Charity, Edinburgh Children's Hospital Charity and the ARCHIE Foundation, which help almost half a million sick children every year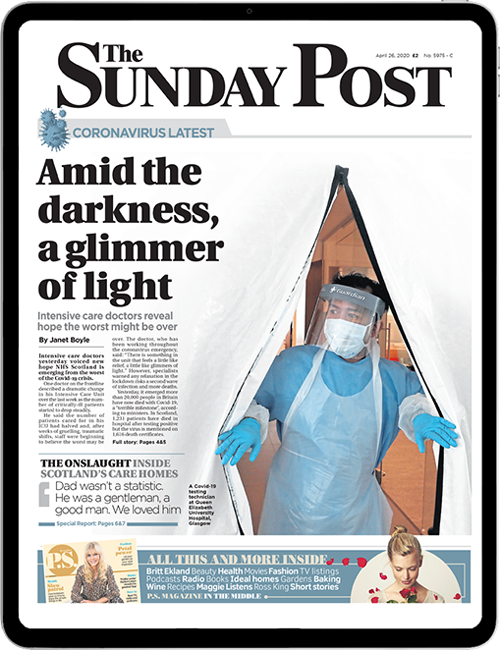 Enjoy the convenience of having The Sunday Post delivered as a digital ePaper straight to your smartphone, tablet or computer.
Subscribe for only £5.49 a month and enjoy all the benefits of the printed paper as a digital replica.
Subscribe