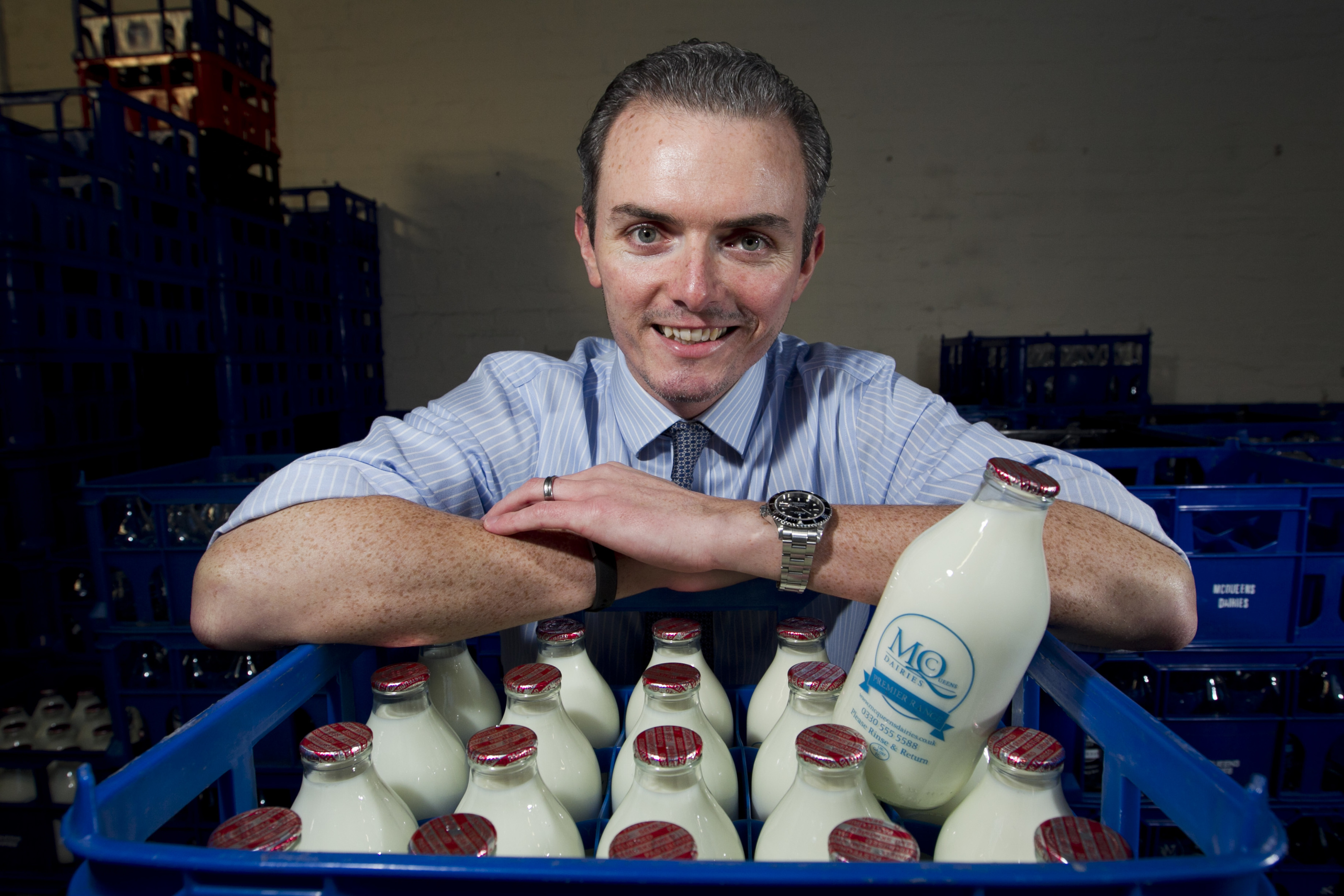 THE traditional glass milk bottle is making a comeback as concerns mount over plastic pollution.
Environmentally-conscious customers looking for ways to cut their consumption are switching from plastic milk cartons.
Demand is rising so fast that the humble glass doorstep pint, which looked to be doomed, is enjoying a new lease of life.
And dairies say that David Attenborough's recent BBC1 blockbuster Blue Planet II, with its distressing shots of creatures tangled in plastic dumped in our oceans, could be behind the sales switch.
McQueen's Dairies is one of those seeing a massive increase in orders for glass bottles.
"Glass bottles make up about 10% of our deliveries and we've seen a 25% jump in demand since Blue Planet II," said director Callum McQueen, who runs the dairy business, founded by his parents, with his three brothers and his sister.
"That was both from new customers who'd been affected by what they'd seen and wanted to find an alternative to the plastic they'd been buying and from existing customers looking to change."
The dairy has three depots covering the central belt of Scotland and another three in the north of England.
They have 20,000 glass pintas out for doorstep delivery every day.
Unlike plastic cartons which are used once before being discarded, each glass bottle is re-used around 20 times.
"The customers will give them a wash and leave them back on the doorstep for the driver to uplift again," said Callum. "We wash them, put them through our machines and re-fill them ourselves.
"We've got hundreds of thousands of bottles and are happy to add to that as demand grows.
"And although the vast majority of our milk still goes out in plastic containers, we're looking even harder at seeing if there's anything else we can do to help the environment.
"We're also looking to see if we can promote the glass bottles even more."
In the mid-1970s 94% of UK milk was delivered in glass bottles but five years ago that had fallen to a mere 4%.
However, there has been a recent resurgence in interest.
According to industry body Dairy UK, deliveries of glass bottles have surged to about one million in the past two years.
When multi-national dairy giant Muller took over Dairy Crest it reversed plans to close a major glass bottling plant, phase out all milk in glass bottles and sell only plastic bottles.
Instead it decided to make a major push back to glass on their doorstep deliveries to more than 600,000 homes through 3000 milk floats.
Other dairies have also reported booming demand as consumers look to move away from plastic and are happy to find alternatives to buying milk on their weekly supermarket shop.
How Sir David's show has changed the world
Blue Planet II has been hailed as one of the most influential TV shows of all time.
All seven episodes of Sir David Attenborough's underwater natural history series made the top-20 list of most-watched programmes.
But the impact on attitudes towards the plastic polluting our oceans and shoppers' habits was even bigger.
The biggest audience of the year, 14 million, tuned into the first episode.
Viewers were horrified by the impact plastic is having on our oceans and the programme has been hailed for not just transforming public attitudes but also influencing government policy.
Environment secretary Michael Gove said he was "haunted" by the images of damage done to the oceans.
Subsequently, unveiling the UK's government's 25-year plan to improve the natural environment last month, Prime Minister Theresa May pledged to get rid of avoidable plastic waste in the UK by 2042.
Frozen food giant Iceland announced plans last month to become the first retailer in the world to axe plastic packaging from its own label products,
Meanwhile, a campaign is under way to get bars, restaurants and cafes in Scotland to stop providing plastic straws for customers in a bid to cut down on marine pollution.
Wee Isle Dairy, on Gigha, which took the decision to switch to glass and bottle their own milk has attracted huge interest, with boss Don Dennis also saying Blue Planet II had made a huge difference.