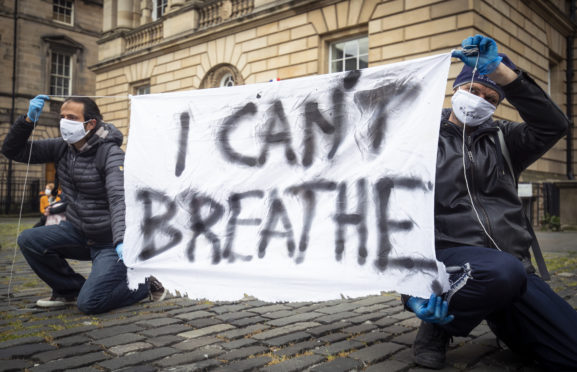 As the Black Lives Matter protests rage on in the United States, many people in Scotland are wondering what they can do to show solidarity with the movement.
After unarmed black man George Floyd died last week in Minneapolis when white police officer Derek Chauvin – who has now been charged with second-degree murder – knelt on his neck for more than eight minutes, peaceful and violent demonstrations have erupted across all 50 US states and people across the world have taken to social media to voice their support for the Black Lives Matter movement.
Peaceful, "socially-distanced" protests are scheduled for this Sunday at Glasgow's George Square and Edinburgh's Holyrood Park – the latter of which is to be live streamed – in unity with the demonstrations overseas which are demanding justice for victims of police brutality and an end to systemic racism.
As well as standing with the movement in the US, organisers of the Edinburgh demonstration acknowledged racism is prevalent here, stating "racism and discrimination is very much alive in the UK and Scotland".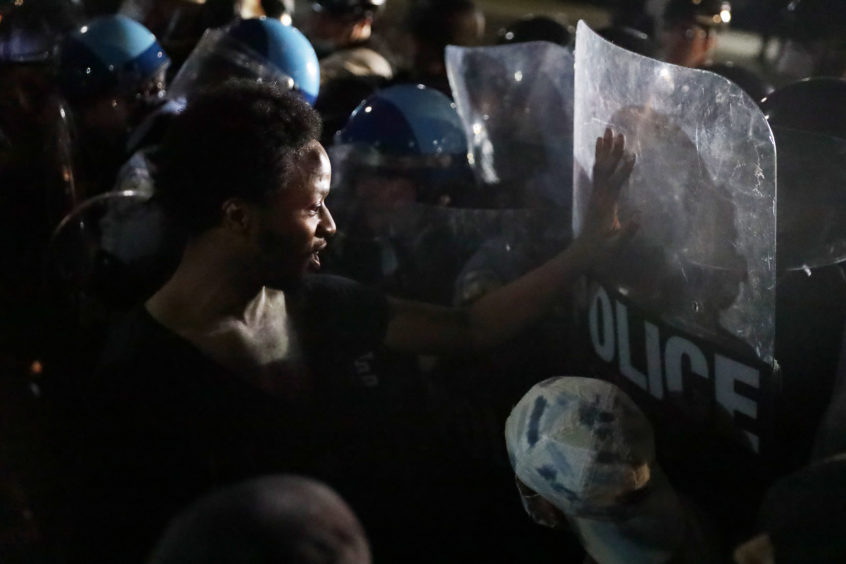 Between 2000 and 2013, there were more race-related murders per capita in Scotland than in the rest of the UK – 1.8 murders per million, compared to 1.3, according to the Coalition for Racial Equality and Rights (CRER).
In 2014-15, there were 3,875 racist incidents recorded by Police Scotland and nearly 75 per week, said CRER, and racial hate crime remains the most commonly reported hate crime in Scotland.
It is expected protesters in Scotland's cities will highlight the case of Fife man Sheku Bayoh, 32, who died in police custody in 2015 after being restrained by officers in Kirkcaldy. The Police Scotland officers involved, who deny any wrong-doing, have not faced prosecution.
However, a joint statement urging protesters to show solidarity with Black Lives Matter digitally – instead of breaking lockdown rules to gather in large crowds – was issued by Aamer Anwar, the lawyer for Sheku Bayoh's family, Sheku's sister Kadijartu Johnson, Labour MSP Anas Sarwar and Cabinet Secretary for Justice Humza Yousaf on Thursday.
Joint statement issued by Kadijartu Johnson (sister of ShekuBayoh & Staff Nurse) @AamerAnwar Bayoh family lawyer @AnasSarwar MSP & @HumzaYousaf Cabinet Sec for Justice expressing our solidarity with #BlackLivesMatter but urging people to protest using digital means this weekend pic.twitter.com/chtRKNS80r

— Aamer Anwar🎗✊🏽#BlackLivesMatter (@AamerAnwar) June 4, 2020
They said they stand with the Black Lives Matter movement and support those challenging racial injustice and discrimination in Scotland, but asked for members of the public to protest using other methods to protect the lives of BAME people, after a Public Health England inquiry showed these groups were up to twice as likely as white Britons to die from Covid-19.
First Minister Nicola Sturgeon said the mass gatherings could "pose a risk to life" and called on those planning on attending to make their voices heard in a way that is "safe".
People in Scotland who feel concerned about catching coronavirus, or cannot attend the demonstrations due to travel restrictions, may therefore be wondering how else they can support the Black Lives Matter movement from home.
There are still several ways you can take action to demonstrate your support:
---
Ways you can help in Scotland
Listen to a demonstration on the airwaves. TAAHLIAH, a music producer and DJ from Glasgow, helped to organise another Black Lives Matter protest in the city, now cancelled due to Covid-19 concerns. Instead, she is set to take over Clyde Built Radio's weekend broadcast on June 6 and 7 for an "alternative space to protest", celebrating music by black artists, talks from activists and speeches.
https://t.co/7VDQ3l0apI pic.twitter.com/RRkroLIQRY

— Clyde Built Radio (@clydebuiltradio) June 2, 2020
Set up an at-home protest. You can still protest peacefully and without leaving home by making Black Lives Matter signs for your windows or garden to encourage neighbours to support and start talking about the movement.
Donate to and join Scottish anti-racism charities and groups. Show Racism the Red Card is Scotland's anti-racism education charity which uses football to help tackle racism and discrimination in schools, workplaces and society. There is also CRER, a Glasgow-based strategic racial equality charity, focused on working to eliminate racial discrimination and promote racial justice across Scotland. Stand Up To Racism, which organises the March Against Racism protests, also has a Scottish branch and has been staging peaceful George Floyd demonstrations. The Anti-Racist Educator is a collective working towards building a Scottish education system that is free from racial injustice. Or, donate directly towards the Black Lives Matter movement, in order to support the organisation's "ongoing fight to end state-sanctioned violence, liberate black people, and end white supremacy forever".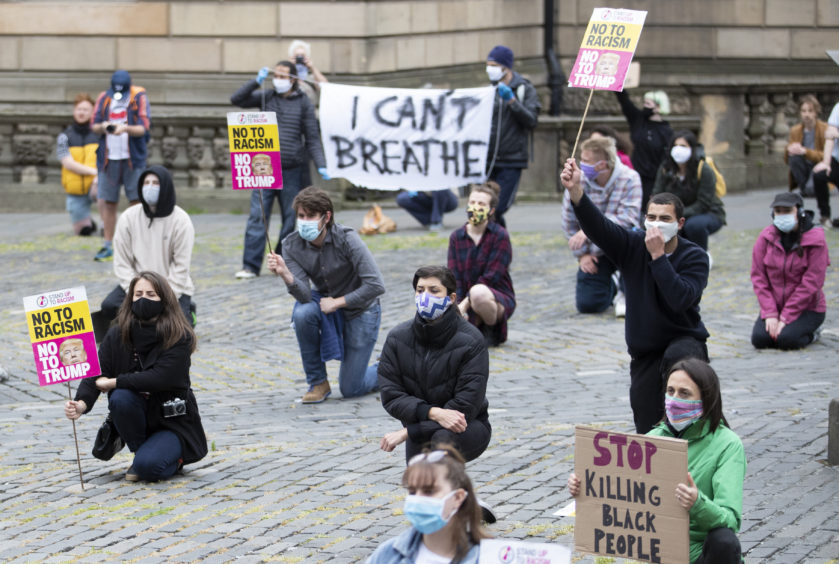 Follow educational social media accounts. There are many black people on Instagram and Twitter who are constantly posting anti-racism educational resources for white people to read, learn from and share with friends and family. Rachel Cargle, Layla F. Saad, Ijeoma Oluo, Brittany Packnett Cunningham are some accounts to follow. It is then useful to amplify black voices by sharing their content so they reach a wider audience.
Educate family and friends about racism in Scotland. A lot of people do not understand the global Black Lives Matter movement, or they view racism as a problem which exists solely in the US. It is useful to start difficult discussions with relatives and friends on race and white privilege, and explain that systemic racism also exists in Scotland, and why.
Read, listen and watch. Stream and buy the books, podcasts, films and series created by black people, a lot of which teach white people why racism exists, what racial injustices black people experience on a daily basis, and how they can become anti-racist allies. Black people have asked white people take the time to educate themselves, instead of relying on black people to tell them what to do. However, black creators have sent out reminders that not all of their work is based on race, and people should enjoy the rest, too.
Sign petitions. Petitions are an effective way to hold governments and authorities to account over racial injustice, and signing them is a small and quick way to contribute to the wider Black Lives Matter movement from your phone. You are able to sign US petitions even if you're in Scotland.
Advocate for black Scottish history to be added to the school curriculum. In order to tackle systemic racism, people are signing a petition calling for Scottish pupils to be taught about the part the country played in colonialism and the Atlantic slave trade, the contemporary legacy of this – profits derived from the enslavement of Africans helped to build Scotland's cities – and the struggles for racial injustice still going on today. Intercultural Youth Scotland has been campaigning for Scotland's education system to be revised to include black history. And The Black Curriculum is a social enterprise advocating for curriculum reform in Britain. They shared an email template for people to contact John Swinney, Cabinet Secretary for Education in the Scottish Government, to ask for reform in Scotland.
Champion black-owned and POC businesses, musicians, artists and creators in Scotland and the UK. Small, black-owned companies and artists are often overlooked, but you can help to draw attention to and support them by sharing, buying, streaming and using their services. The website UK Black Owned lists companies across the country and there are now lists of businesses on social media.
A list of some black owned businesses in the UK. There are more businesses and more upcoming businesses that people have started recently. If you know any businesses please drop it in the comments. It's about time we support eachother pic.twitter.com/Qirc7OxTk3

— Nubian king 🇸🇩🇸🇸 (@ygnubian) June 2, 2020
Write to your MP. The UK supplies the US with crowd control equipment – namely tear gas, riot shields and rubber bullets – which in some cases are being used violently by police departments to disperse protesters. Activists have called for people to write to their MPs to ask them to pressure the government to stop the sale of this equipment, to condemn President Donald Trump's use of force against his own people, to demand justice for Sheku Bayoh and to provide more detail on and release recommendations from the Covid-19 BAME report. You can find your local MP here.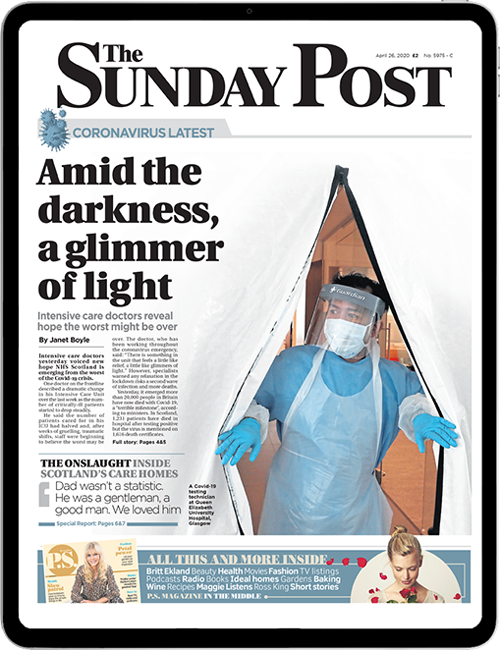 Enjoy the convenience of having The Sunday Post delivered as a digital ePaper straight to your smartphone, tablet or computer.
Subscribe for only £5.49 a month and enjoy all the benefits of the printed paper as a digital replica.
Subscribe