Social media feeds have been taken over by black squares as part of the #BlackoutTuesday campaign.
Users worldwide have chosen to show their support for the Black Lives Matter movement with the gesture replacing their usual posts for the day.
It comes as protests continue across the US in the wake of the killing of George Floyd.
The campaign began in the music industry as #TheShowMustBePaused, started by  Jamila Thomas and Brianna Agyemang.
Artists were encouraged to take time away from promoting their work to instead focus on amplifying Black voices, sharing links for further education on the movement and supporting fundraising efforts as protests continue worldwide.
#TheShowMustBePaused pic.twitter.com/JHTUG34Ibj

— theshowmustbepaused (@pausetheshow) June 1, 2020
In a statement posted on the #TheShowMustBePaused website, the founders said: "In response to the murders of George Floyd, Breonna Taylor, Ahmaud Arbe and countless other Black citizens at the hands of police, #TheShowMustBePaused is an initiative created by two Black women in music in observance of the long-standing racism and inequality that exists from the boardroom to the boulevard.
"We will not continue to conduct business as usual without regard for Black lives.
"It is a day to take a beat for an honest, reflective and productive conversation about what actions we need to collectively take to support the Black community.
"The music industry is a multi-billion dollar industry. An industry that has profited predominantly from Black art. Our mission is to hold the industry at large, including major corporations + their partners who benefit from the efforts, struggles and successes of Black people accountable.
"To that end, it is the obligation of these entities to protect and empower the Black communities that have made them disproportionately wealthy in ways that are measurable and transparent.
"This is not just a 24-hour initiative. We are and will be in this fight for the long haul. A plan of action will be announced.
"We are tired and can't change things alone. In the meantime, to our Black friends and family: please take the time for you and your mental health. To our allies, the time is now to have difficult conversations with family, friends and colleagues."
Artists including Rihanna, Nile Rogers, Calvin Harris, Billie Eilish and the Rolling Stones have taken part.
There were moments for reflection on BBC radio stations, as well as UK commercial broadcasters.
Spotify will add a period of eight minutes and 46 seconds of silence to selected playlists and podcasts, to mirror the length of time police officer Derek Chauvin kneeled on the neck of Floyd.
MUSIC INDUSTRY BLACK OUT TUESDAY

Due to recent events please join us as we take an urgent step of action to provoke accountability and change.

Join us on Tuesday JUNE 2 as a day to disconnect from work and reconnect with our community.#THESHOWMUSTBEPAUSED pic.twitter.com/Yqb3D2CRWz

— Nile Rodgers (@nilerodgers) June 1, 2020
The posting of black squares onto social media feeds in solidarity with the campaign quickly spread beyond the world of music to actors, sports stars and the general public.
Users were reminded not to share their posts with the hashtag #BlackLivesMatter as it would flood the feed and push out useful information on fundraising campaigns.
Instead, they were encouraged to use #BlackoutTuesday.
UK Black Pride, however, suggested instead to post "useful, helpful, uplifting and empowering information and images that further the #BlackLivesMatter cause."
The organisation added: "Social media is a vital tool in the fight for equality, and a feed full of black squares does not let us know that you stand in solidarity with us.
"It is a silence and an erasure that we cannot afford."
UK Black Pride would like to encourage those who care about Black lives to delete their black squares and post useful, helpful, uplifting and empowering information and images that further the #BlackLivesMatter cause.

— UK BLACK PRIDE (@ukblackpride) June 2, 2020
The death of Mr Floyd has resonated worldwide, with the examination of societal racism not just limited to the US.
Appearing on Newsnight, rapper George the Poet was questioned by host Emily Maitlis on whether the UK was "on the same footing" as the US when it came to race issues.
He said: "When you talk about the history of race relations, you have to consider the role of the British empire, as I've spoken about extensively, on the African content. The political and economic consequences of that interaction.
"I hope this is a learning point for many people who think along the lines that you just expressed, that this is an American and not a British issue."
"It's tragic that 60 to 70 years after the highly publicised civil rights movement in America we still need to educate and sensitise everyone" – broadcaster @GeorgeThePoet tells #Newsnight pic.twitter.com/hPQnG1gcaF

— BBC Newsnight (@BBCNewsnight) June 1, 2020
Earlier today, Radio 1's Clara Amfo broke down in tears as she explained why she had taken a day off from her show yesterday.
The BBC presenter said she was absent as she didn't have the "mental strength to face you guys."
She said: "My weekend was terrible. I was sat on my sofa, angry, crying, confused, stuck at the news at yet another brutalised black body.
"Knowing how the world enjoys blackness but seeing George, we get the feeling that people want our culture but don't want us. In other words, you want my talent, but not me."
Please listen to this clip from Clara Amfo on her Radio 1 show earlier.

Important and powerful radio. pic.twitter.com/KXtnXhHqVG

— Steve Holden (@SteveH1982) June 2, 2020
She added: "There is a fake idea that racism and anti-blackness is just name calling and physical violence, when it is so much more insidious than that.
"One of my favourite thinkers is a woman called Amanda Seales, and she says that you can't enjoy the rhythm but ignore the blues. I say that with my chest.
"I want to say to black listeners, I hope you feel seen and heard, and to those of you who already let me know you're doing the work so we can do better, I see you, so let's do this. Let's all be anti-racist."
As the world examines attitudes and accountability when it comes to race, tensions in the US have continued to rise since the death of Mr Floyd in Minneapolis last week.
Last night, US president Donald Trump threatened to deploy the military if state governors did not stamp out violent protests over police brutality.
Mr Trump's announcement came as police under federal command forced back peaceful demonstrators in Washington DC with tear gas so that he could walk to a nearby church and pose with a bible.
Mr Trump demanded an end to the heated protests in remarks from the White House Rose Garden and vowed to use more force to achieve that aim.
He said that if governors throughout America do not deploy the National Guard in sufficient numbers to "dominate the streets", the US military would step in to "quickly solve the problem for them".
And the US leader declared: "We have the greatest country in the world. We're going to keep it safe."
The Rt Rev Mariann Budde, bishop of the Episcopal Diocese of Washington, to which the church Mr Trump visited belongs, said she was "outraged" by his actions and said the president did not pray during his visit.
She said: "He took the symbols sacred to our tradition and stood in front of a house of prayer in full expectation that would be a celebratory moment."
The bishop added: "There was nothing I could do but speak out against that."
Mr Floyd died last week after he was pinned to the pavement by a white police officer who put his knee on the handcuffed black man's neck until he stopped breathing.
His death set off protests that spread from Minneapolis across America. His brother Terrence pleaded with protesters on Monday to remain peaceful.
More than 5,600 people are estimated to have been arrested in the US since the protests began, with violent scenes being witnessed across the country, particularly in New York state.
Countless social media posts have shown videos of armed riot police using shields, batons, tear gas and rubber bullets to force back demonstrators, many of whom have been engaging in peaceful protests.
A number of accusations have emerged of police officers or demonstration infiltrators sparking the violence.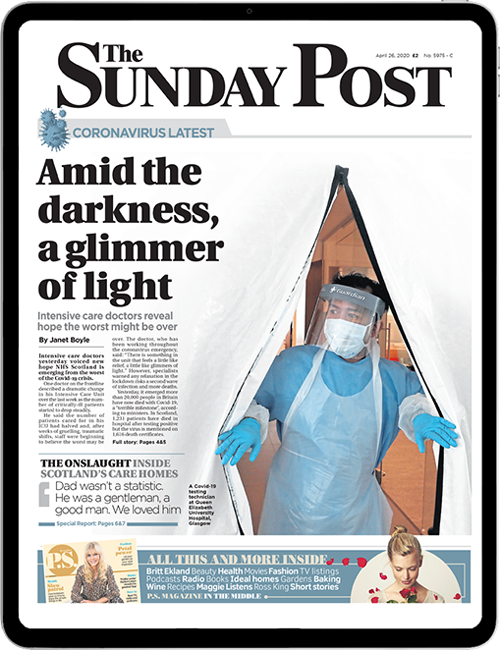 Enjoy the convenience of having The Sunday Post delivered as a digital ePaper straight to your smartphone, tablet or computer.
Subscribe for only £5.49 a month and enjoy all the benefits of the printed paper as a digital replica.
Subscribe