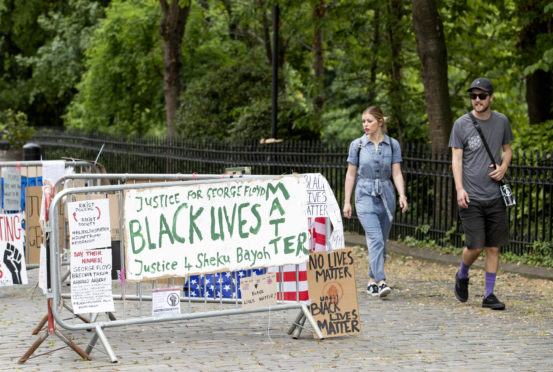 First Minister Nicola Sturgeon commented on the Black Lives Matter protests due to take place in Scotland this weekend, saying people should "make their voices heard" in a way that is "safe".
Peaceful protests are scheduled for Edinburgh and Glasgow on Sunday in solidarity with the violent and peaceful demonstrations which have spread across the US in retaliation to the death of unarmed black man George Floyd.
Despite Covid-19 lockdown restrictions still being in place, demonstrators are expected to gather in front of Glasgow City Chambers and at Princes Street Gardens in Edinburgh with placards to show support against racism and police brutality.
The Facebook event for the Edinburgh protest instructs people to wear masks and stick to the two metre social distancing rule.
Nicola Sturgeon was asked by a journalist during Tuesday's daily press briefing if she had advice for people who want to peacefully protest on Sunday.
Pointing out she has "total solidarity with the Black Lives Matter movement", she said, although large gatherings of people could "pose a risk to life", people must be allowed to make their voices heard in a way that is safe and is not putting protesters or the wider community at risk.
She said: "I absolutely believe people have a right to make their voices heard and in times like this, when we look on with concern and horror at the scenes in the United States, it is important that we do have the opportunity to speak up.
"Obviously it is the case right now that, unfortunately and regrettably, large gatherings  of people could pose a risk to health and indeed to life, and unfortunately that's the case whether it is a peaceful protest or a football match when large numbers are coming together in close proximity.
"So I would say to those who want to protest – and I say this as an an ally – is we need to find ways of allowing people to make their voices heard and to make the point that many of us want to be made right now, but to do so in a way that is safe and is not putting people protesting or the wider communities at risk."
Ms Sturgeon said the government and local authorities will be "happy" to have discussions on the protests and offer whatever guidance they can.
She added that people should consider how they can protest in a way that is safe but also allows them to send a "very strong and unequivocal message about the evil of racism that we want to see eradicated".
The First Minister said: "No country and no society is immune from racism. We all have issues to look in the mirror about and to confront, but all of us right now feel a very strong desire to stand in solidarity with those protesting racism and to make clear that it is an evil that has no place in our society."
Ms Sturgeon had previously stated her support for the Black Lives Matter movement on Monday, when she tweeted a quote from Toni Morrison.
"If you can only be tall because somebody is on their knees, then you have a serious problem" – the words of the late, great Toni Morrison. Racism is an evil that none of our societies can claim to be immune from. But we must stand against & eradicate it. #BlackLivesMatter

— Nicola Sturgeon (@NicolaSturgeon) June 1, 2020
A Black Lives Matter protest has already been staged in Edinburgh in the form of a socially distanced 'poster protest', as people gathered to stick placards up outside the US consulate in Edinburgh on Monday.
George Floyd was arrested and killed last week in Minneapolis when white police officer Derek Chauvin knelt on his neck for more than eight minutes until he stopped breathing.
The violent incident was posted to social media which generated widespread outrage, sparking protests across at least 140 US cities with demonstrators calling for justice for Mr Floyd and an end to institutionalised racism.
Derek Chauvin has now been arrested and charged with third-degree murder and second-degree manslaughter.
The US demonstrations have become increasingly violent, with police firing rubber bullets and tear gas at people in the streets and President Donald Trump threatening to deploy the military if governors did not stamp out the protests.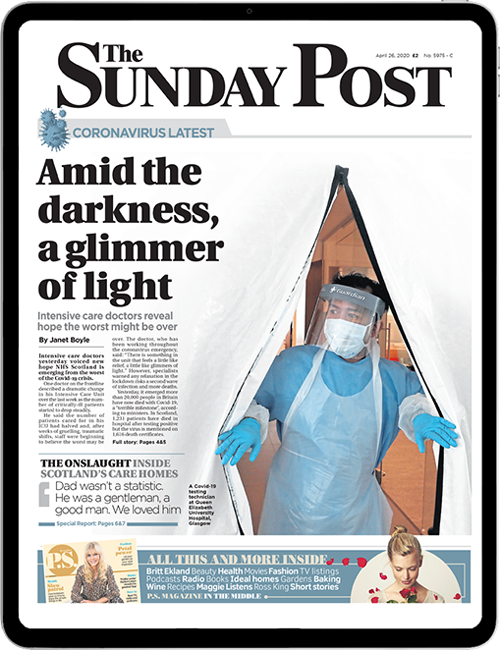 Enjoy the convenience of having The Sunday Post delivered as a digital ePaper straight to your smartphone, tablet or computer.
Subscribe for only £5.49 a month and enjoy all the benefits of the printed paper as a digital replica.
Subscribe