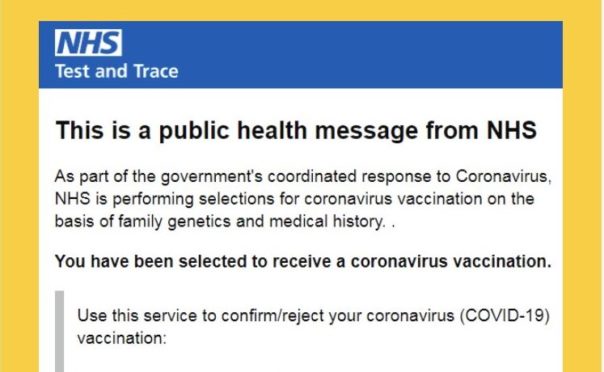 As the rollout of the coronavirus vaccine continues, so too have the efforts of fraudsters to take advantage of the pandemic.
The latest scams in operation have seen people across the UK sent spam emails and text messages offering them appointments for their jab.
Particularly convincing emails have carried NHS branding and exploited people's eagerness to get vaccinated, taking bank details and personal information.
The NHS has urged people to take care, and remember that the vaccine is free and that you should never be asked for bank or payment details.
There is also no need to register to receive the vaccine, or provide identity documents.
In Scotland, the NHS will never email you to arrange your Covid-19 vaccination, or turn up at your residence unannounced.
The COVID-19 vaccine is free of charge on the NHS.

We will never ask for:

❌ your bank account or card details

❌ your pin or banking password

❌ copies of personal documents to prove your identity such as your passport, driving licence, bills or pay slips. pic.twitter.com/fZtLhBAMCp

— NHS (@NHSuk) January 25, 2021
Gordon Young, Head of NHS Scotland's Counter Fraud Services said "During the Covid-19 pandemic, NHSScotland has been under increasing pressure and this includes the NHS and its staff being the target of new frauds. These frauds are also aimed at members of the public.
"It is totally unacceptable that at a time of a national health crisis, unscrupulous individuals would attempt to take advantage of the health service and the public."
Don't click – More scamming of the care sector. Invitations to receive your covid vaccine will come either from your employer or from your GP or health board via a letter. Never from a hotmail email account. If in doubt ask your manager. @scottishcare pic.twitter.com/TiNPmSJk91

— 𝙺𝚊𝚛𝚎𝚗 𝙷𝚎𝚍𝚐𝚎 (@hegeit) January 27, 2021
Action Fraud have received almost 60 reports of scam emails & texts related to the Covid-19 vaccination programme so far.

Remember that the vaccine is FREE and the NHS will NEVER ask for bank details or any payment

Get official info about the vaccine: https://t.co/MP33q8m0Tc pic.twitter.com/57Uv7fezck

— TradingStandardsScot (@TSScot) January 22, 2021
An email that has been circulating recently claims to be from "NHS Test and Trace" and invites recipients to click on a link to accept or decline the offer of a vaccination.
The link directs to a series of forms to input data, and eventually leads to a page asking for bank details.
I got this one this morning. My heart skipped a beat for a second before I realised. Incredibly cruel. pic.twitter.com/JFHqwfaplr

— Stephen (@Donnan_S) January 25, 2021
Still Game star Gavin Mitchell was one of those targeted with the scam.
He tweeted: "Complete scam but incredibly convincing! Disgusting."
Other scams have seen people sent text messages with links to click on to "register for the vaccine".
BEWARE : received 'NHS' e mail to accept or reject vaccination , reply with 12 hours. Started to fill out the forms until the final page was bank details. Complete scam but incredibly convincing ! Disgusting.

— Gavin Mitchell (@GavsterNo1) January 25, 2021
What to look out for
Always double-check who has sent any communication, whether it be by text, email, WhatsApp, or any other platform offering messaging services.
Be wary of unfamiliar email addresses, or messages claiming to be from official sources but forwarded on by a suspicious address. Googling the email address can be helpful, as this can help verify if it's a legitimate sender or has perhaps previously been reported as a scam.
If you've received an unexpected or unusual message from a friend, check it's from their real account, and ask them if they were the one that sent it.
National Cyber Security Centre guidance says: "While everyone is worried about the coronavirus, cyber criminals have seen this as an opportunity.
"In emails and on the phone, they may claim to have a 'cure' for the virus, offer financial rewards, or encourage you to donate to worthy causes.
"Like many scams, these criminals are preying on real-world concerns to try and trick you into interacting. They may also mimic real NHS messages.
"These scam messages can be very hard to spot. They are designed to get you to react without thinking.
"If you think you've already responded to a scam, don't panic. Whether you were contacted by phone, email, or text message, there's lots you can do to limit any harm."
What to do if you receive a suspicious message or fall for a scam
If you have received a suspicious email, forward it to the Suspicious Email Reporting Service (SERS) at report@phishing.gov.uk.
Text messages can be forwarded to 7726, and you will not be charged.
If you have provided your bank details, get in touch with your bank and they will be able to help.
If you've opened a link on your computer, run a scan on your antivirus software.
Change passwords on your online accounts.
If you've lost money, report it as a crime to police.
Useful links
For more advice, visit ncsc.gov.uk/guidance/suspicious-email-actions
For information on receiving a vaccine, visit nhsinform.scot/covid-19-vaccine
You can report scams to the Crimestoppers dedicated COVID fraud team https://forms.theiline.co.uk/crimestopperscovidfraudhotline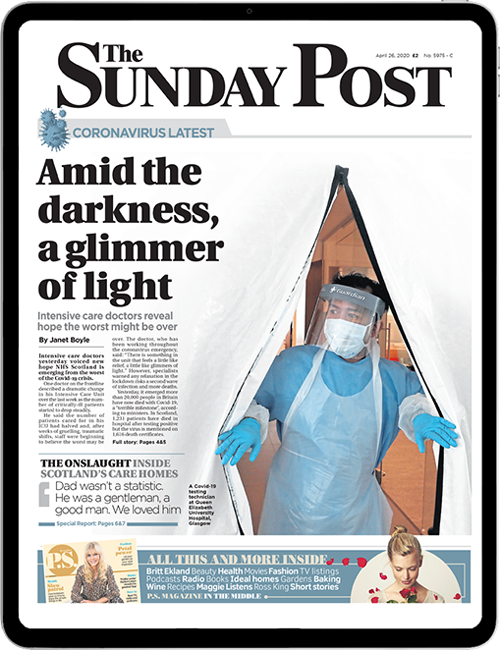 Enjoy the convenience of having The Sunday Post delivered as a digital ePaper straight to your smartphone, tablet or computer.
Subscribe for only £5.49 a month and enjoy all the benefits of the printed paper as a digital replica.
Subscribe