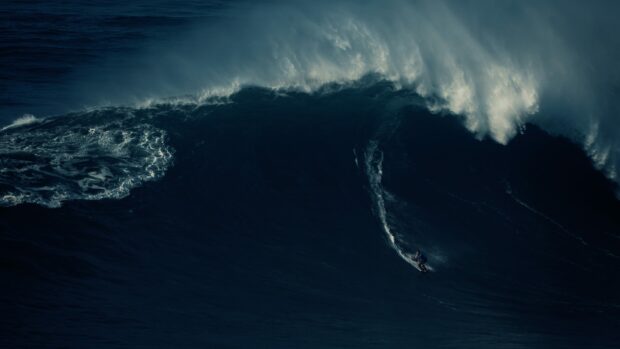 Surfer Ben Larg stares out across the machair on the Isle of Tiree, watching the waves crash on the sand beyond.
The 16-year-old has been surfing these powerful waves since he was a toddler, but he's about to put his life on the line to ride one of the biggest and most dangerous cold water waves in the world in Mullaghmore, Ireland.
If he gets it right, he joins an elite group of surfers. If he gets it wrong, the consequences are life-threatening.
Larg's remarkable story is explored in new documentary, Ride the Wave, premiering at Glasgow Film Festival on March 11.
Billed as 'a story about boyhood and adventure', the film, produced and directed by Martyn Robertson, follows Larg's journey into professional surfing across four years of his young life.
Hailing from the Isle of Tiree in the Inner Hebrides where he lives with his mum, dad and two sisters, the teenager won the Under 18 Scottish Surfing championship at just 12 years old, and has since gained international recognition for his sport.
Although his accolades are to be applauded as the film will show, Larg's inherent passion for the sport is the real driver for him as he travels the world pursuing big waves.
"When you're surfing, it feels like you're flying when you're going that fast on the crest of a wave," he said.
"The feeling of adrenaline you get from rising a wave – it's an amazing euphoric feeling.
"I was two when I caught my first couple of waves. It was my dad and my uncle that got me into it but it was from the age of seven that I really started surfing every day."
---
The world's largest and most dangerous waves
Pipeline, Oahu, Hawaii
Pipeline has one of the most fearsome reputations and is regarded as one of the hardest waves to surf in the world,
Its difficulty comes not from its size or weight, but from its hollowness and barrel-riding potential.
Nazaré, Portugal
The fishing town of Nazaré remains the record holding place for the biggest wave ever surfed on earth.
The waves form as a deep canyon of water meets shallow waters near the coast and creates a massive wall of water above the surface.
The Right, Western Australia
The Right has been dubbed one of the world's the heaviest surfing barrels but its dangerous nature also comes from being a place often frequented by sharks.
Teahupo'o, Tahiti
As these huge waves break on a razor sharp reef in the shallows below, there is very little room for error, making them extremely dangerous to surf.
Located on the south side of Tahiti, these waves were considered as a non-surfable until the end of the 20th century.
Cortes Bank, California
This is one of the hardest to reach waves in the world, located around 100 miles off California's coast.
The huge waves come as Pacific waters meet a submerged mountain chain and create enormous swells in the middle of the sea.
---
Larg's dad Marti, also a keen surfer, features heavily in the film, as it shows how he helped to inspire his son to get on a board and start participating in competitions around Scotland.
"Ben's family feature throughout the film – they're a fantastic, warm family who only want the best for their kids," explained the film's director, Martyn Robertson.
"His Dad, Marti, is Ben's unofficial coach in the film and goes on a journey of letting go of his wee boy and allowing him to ride a big wave on his own.
"When Ben decides to focus on the dangerous sport of big wave surfing we follow how Ben's parents come to terms with the risks associated with this. I think this will have resonance for anyone who is a parent watching."
Larg's mother, Iona, is also a big part of the film, although her son admits she is slightly more reticent about him riding the 'monsters.'
"You can get pinned down for several minutes under water so you need to learn to relax," he said.
"My family were apprehensive at first but my mum and dad have been so supportive.
"My Mum gets really nervous though and often can't face watching me do the bigger waves."
While the film shows Larg's process to attempting the enormous, treacherous swells at Mullaghmore, it also depicts his life in the four years leading up to this, something Robertson says is extremely special about the story.
"This became one of the film's greatest assets I think," he said.
"To have the chance to film a boy growing up was always going to be exciting and it is what makes the film work for me.
"We've captured the whole backstory to his rise to success.
"Ben is a great kid. He's talented, has no ego and is always polite and friendly. What struck me about him is how humble he was and so I knew he'd be a warm chatter on camera.
"I wanted to capture a time in his life where I knew that a lot would change for him. We see him turn from a young boy to a young man with the film."
Although depicting Larg's life on land was fairly straightforward, filming him in the water amongst giant waves was a slightly different story, explains Robertson.
"As a filmmaker surfing doesn't always happen when you want or need it to!" he said.
"We filmed for days and days and got nothing. It's so dependent on conditions being right.
"But when it works you've got to be ready. We travelled the world with Ben carrying heavy kit across beaches in far flung places but it was all worth it in the end.
"We lost quite a bit of kit in the sea over the four years as well."
The film travels with Larg across the world to surfing hotspots like Japan, Lanzarote, Ireland and Portugal.
Nazare in Portugal is one of Larg's favourite places to surf, he says, where he has become one of the youngest people in the world to ride its 40ft monster waves.
But despite more famous world surfing locations, surfers have also been flocking to Scotland to ride its cold water waves.
In the last few years in particular, the sport in the country has been growing, with surf schools popping up in big wave hotspots.
But it is Larg's native Tiree, with its tiny population of just 650, that is fast becoming one of Scotland's true meccas for surfing. It has even been dubbed the 'Hawaii of the north,' for the big swells from the Atlantic crashing into its 36-mile coast of white sand.
Larg's parents have opened their own surf school, Blackwater Watersports, and the tiny isle is also home to Scotland's first surf and yoga retreat, Surf Tiree.
"When I was younger, there weren't as many young folk that surf as seriously as me in Tiree so it was sometimes a bit lonely," said Larg.
"But across Scotland it's massive now. The Scottish Surfing Federation is really helping the sport to grow and we're doing well in competitions across the world."
Larg is helping to solidify this success, as he hopes to moves on to even bigger waves and competitions as he gets older.
In pictures: Hebridean surf culture explored as swell-lovers make their home on Isle of Lewis
"I really want to perform well on big waves and build my confidence on the biggest wave in the world – that's what I'm focusing on for the next few years," he said.
"I realised at quite a young age that I enjoyed bigger waves rather than the smaller ones.
"And it's now something I love more than anything."
---
Ride the Wave, Glasgow Film Festival, March 11.  Tickets available here.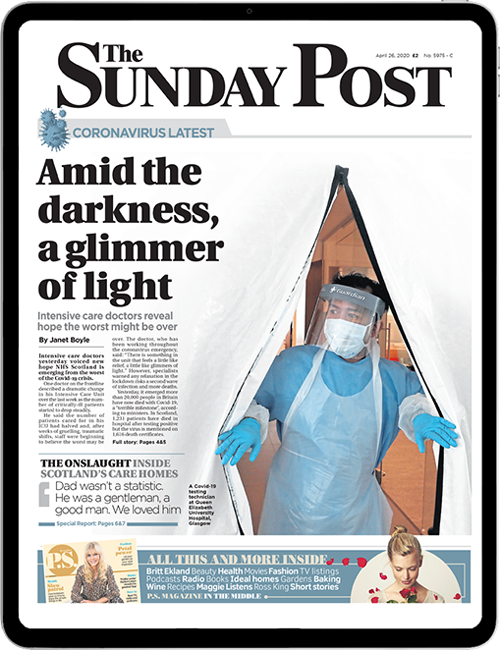 Enjoy the convenience of having The Sunday Post delivered as a digital ePaper straight to your smartphone, tablet or computer.
Subscribe for only £5.49 a month and enjoy all the benefits of the printed paper as a digital replica.
Subscribe