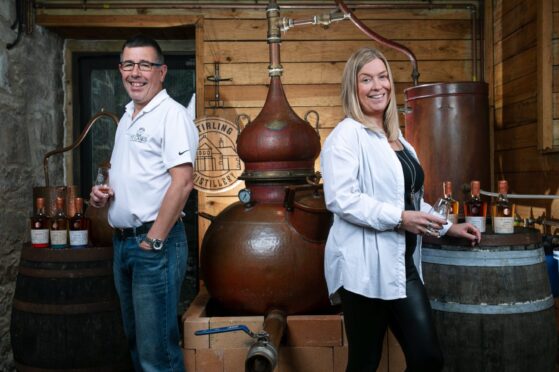 In the shadow of Stirling Castle and at the heart of Scotland's medieval capital, a new piece of history has just been created.
For the first time since 1852, whisky is being made in the city and, for the co-owners of Stirling Distillery, it's a real family affair.
Husband-and-wife team Cameron and June McCann are making the move into whisky having already built up a gin business in the city's Old Smiddy, where their daughter, Elle, is the manager and son Hugo works in production.
The success of their gin – which they've been selling since 2019 – and visitor centre have allowed the new foray into whisky, but it has been a long and emotional journey making the dream become a reality.
"I did actually have to fight back the tears," June said, having watched over the first malt being poured for mashing last week. "It's finally started the whisky journey, and it doubled as a proud mother moment because my son was the one distilling it."
Cameron added: "I don't think it's hit home yet.
"We've been working towards it so long and there have been setbacks here, there and everywhere."
Making history
Whisky hasn't been distilled in the city since the closure of the original Stirling Distillery over 170 years ago.
Last Tuesday saw the first brewing mash take place, with the first gravity reading to measure the alcohol later that evening.
Over the coming weeks and months, the delicate distilling process will see small batch runs as the team develop their own unique, gentle lowland flavour, with a view to releasing bottles in around three years' time.
The McCanns delved into the world of spirits when they started their first business together, an art gallery and whisky shop on the banks of Loch Lomond, after Cameron, originally from Helensburgh, Dunbartonshire, retired from the police force through injury in 2007 at the age of 40.
The couple, who have been married for more than 30 years, had moved back to Scotland in 2001 after 15 years living and working in London.
June said: "I came from Luss, a small town, so the thought of London was very exciting. When our daughter was born, the heart strings started tugging and we wanted to be back home in Scotland, closer to my family.
"It wasn't until we moved away that we realised how beautiful Scotland was.
"Stirling came from friends we met on holiday a long time ago, we kept up the friendship and used to visit them all the time. It seemed right to move to this part of Scotland."
With Cameron starting a malt whisky collection in his retirement and June buying up Scottish art, they decided to turn their hobbies into a business.
They ended up creating a whisky festival in Stirling in 2010, followed by a gin festival, soon realising an opportunity to make their own.
"I walked out of the gin festival and thought, 'oh, there's no Stirling gin'," Cameron said. "Knowing it's a lot easier to make than whisky, we created one. We could've gone to a wee warehouse and started making a gin there but we had it done by somebody else and branded it.
"We then found The Old Smiddy building and it gave the gin a home and a history and it was the natural progression to make the whisky.
"If you said to me when I joined the police in 1989, or in 2001 when I transferred up here and was hobbling about with a bad back, that I'd eventually own a distillery and make whisky I'd laugh it off."
Family is key to distillery
Family is at the heart of the distillery, from the co-owners shaping the taste and brand of the gin and whisky to one of the stills being named Flora after June's mother.
And it wasn't just a dinner or getaway Cameron and June celebrated their 26th wedding anniversary with in 2015 – the date just so happened to be the day they distilled their very first bottle of Stirling Gin. "It was almost like a new baby was born," June laughs, Cameron adding: "I would say I arranged it to make it a romantic moment, but it was an accident!"
The couple had always wanted to go on to make whisky and, like many new-start distilleries, gin sales provided a platform for them to move into a business that takes time, effort and a lot of patience.
June and Cameron say they have a great working relationship, with both wearing many hats as they run various parts of the business and try to maintain the work/life balance.
"It's been a very emotional journey," June said. "Like running any business, it's not easy at all and you get your good days and bad days. It's when you get your good days like last Tuesday, seeing it all starting, then it really makes you feel you're getting somewhere and it's all worthwhile.
"Especially Cameron, he's been dealing with HMRC and all the legalities for alcohol. Gin you can turn around in a day, but for a whisky there's so many loops to go through to be a producer.
"Having a whisky shop, it was then a dream to go on and have a distillery to produce whisky. It's not been an easy road though, for sure."
Cameron said: "If it was easy, everybody would do it. Playing about with casks, all the elements and the different options, it's fascinating and lovely and great fun. It is a kind of science.
"We want to grow bigger, but we don't want to be a worldwide corporation. We want to be Stirling Distillery and do it the way we want to do it, not part of a bigger global brand."
Steeped in history
The distillery was first opened in 2019 on the castle rock in The Old Smiddy, with the building refurbished with care into a modern distillery that remains steeped in history.
The structure was first built in 1888, and legend says it is the site where King James VI stabled his horses in the 1500s.
The McCanns hope to harness the mythology and history of the area to build on the success of their gin company and give the area, and the family, a product to be proud of.
"I want to put Stirling on the map for whisky," Cameron said. "We're saying it's a spirit from Scotland's heart.
"The city doesn't get treated with the reverence it deserves because some folk still think it's a town and don't understand the benefits of being a city and how it should be punching higher above its weight than it is.
"The aim is to make a whisky that represents us. Interesting, memorable. Everything we do will tell a story.
"We'll set things aside so we can have a 10-year-old, or whatever, down the line. Whether I'm here to see it or not I don't know, but I want to leave it as a legacy.
"I'm not saying we'll be a Grant family but a McCann family legacy might be it – although it doesn't quite have the same ring to it!"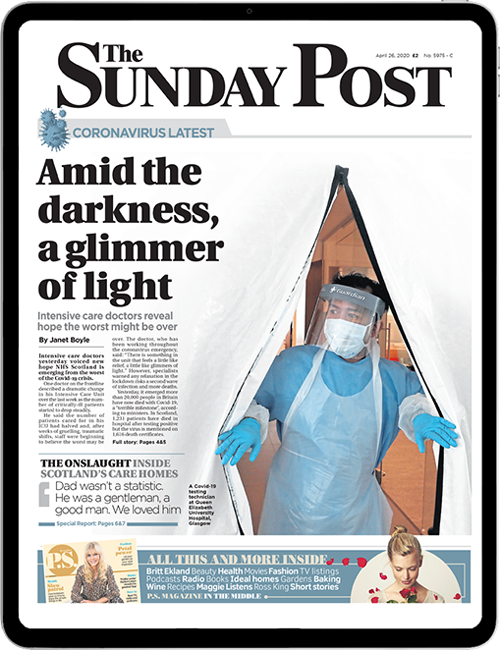 Enjoy the convenience of having The Sunday Post delivered as a digital ePaper straight to your smartphone, tablet or computer.
Subscribe for only £5.49 a month and enjoy all the benefits of the printed paper as a digital replica.
Subscribe