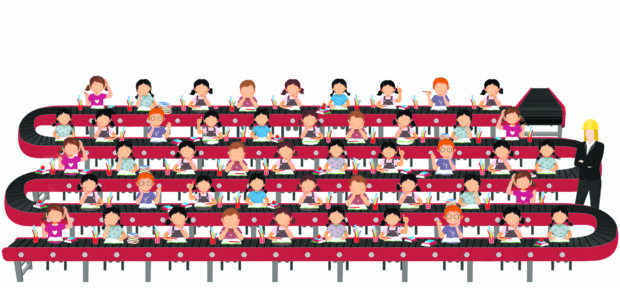 Some of Scotland's schools now take in literally thousands of pupils – but how well do pupils and teachers thrive in big-roll campuses?
Teaching unions fear that these huge schools, some of them bigger than factories, cut back on the space teachers need to offer the best in support for ­children and their families.
Leading education union the SSTA reports a lack of space in some schools.
One in six Scottish schools is now struggling to cope with rolls "beyond breaking point", with pupil numbers at more than 100%.
One in three secondaries operates beyond 90%.
Kemnay Academy, in Aberdeenshire, was named Scotland's most overcrowded school after official figures revealed it was running on a 131% capacity.
The north-east high school is designed for 730 pupils, but currently has 959 – with that figure expected to rise.
Meanwhile, Larbert High has a school roll of 2,050 and Glasgow's Holyrood Secondary matches that with more than 2,000 pupils – both big-roll campuses but neither is overcapacity,
However, education experts argue that bigger schools bring more choice in subjects for pupils.
Lindsay Paterson, professor of ­education at Edinburgh University, said: "Children in smaller schools do not have the choice of subjects available in larger ones. They are able to choose the ones in which they are likely to achieve good grades, without ­ switching schools for subjects.
"There is also evidence to suggest that children from deprived areas can aspire to, and achieve, more in large catchment areas.
"But, while big schools offer pupils more choice of subjects, they have to be managed well or children struggle to find a 'home' and somewhere to thrive."
Nottingham Academy describes itself as "a very large organisation with capacity for 3,780 pupils" and is currently the biggest school in Europe. When researchers drilled down to how well pupils performed in large schools, they discovered a mixed bag of results.
University of South Carolina studies said that data suggested in high schools beyond a certain size, students may not do as well in reading and that students in poverty may perform better in reading in smaller schools.
It added that statistical ­analysis ­concluded there was no correlation between pupils' performance in ­mathematics or writing and school size.
Mentoring charity Lifeline Projects warns that large schools only work if they are properly managed and funded.
The charity mentors 300 pupils a week in London's east end, from nursery to high school students.
Nathan Singleton, Lifeline's chief ­executive, said: "A good management structure that is given the resources to operate in an inclusive way to support all pupils does work in large schools.
"Inclusiveness is paramount with ­academic achievement, and in that order. It is very possible to achieve both. Pupils are more likely to achieve ­academically and get the grades they need, if they feel part of the school community. A good head teacher and ­senior leadership team is vital in making that happen, though.
"However, when schools are ­overcrowded, both staff and pupils are put under pressure. Some of the schools we mentor in are overcrowded and we struggle to find a place to mentor."
He points to success stories of pupils who have gained entrance to universities after mentoring. He said: "Schools previously labelled sink ones (under-­achieving), are now getting good reports after inspections."
This concern was echoed by the Scottish Secondary Teachers Association (SSTA), which said staff in some schools struggle to find rooms for private meetings with parents when children are experiencing challenging times.
"Supporting pupils and their ­families is of the upmost importance, but there's a lack of space in some large schools", says the SSTA's general secretary, Seamus Searson. "Teachers have to find a quiet place for parents to have a face-to-face meeting, and in schools with overcapacity that is a bigger challenge.
"There is not enough space for teachers to carry out their work as ­effectively as they would wish.
"What teachers are being asked to do is hot-desk and move room with classes often during the day.
"That provides challenges, additional work and disruption, especially for those with disabilities. Moving class frequently with pack-up boxes is hardly ideal.
"Acceptable space to prepare lessons is also at a premium for teachers.
"Add to this the current shortage of staff, and you can see the obstacles which lie between teachers and the real desire to give pupils their undivided attention."
Paterson suggested English schools had greater autonomy to provide solutions to such problems, while Scottish institutions follow policies decided by the Scottish Government's education ­strategy of the day.
He said: "There are examples of schools in the north of England being able to recruit university students to mentor after-school homework classes.
"It is a good example of a head teacher recruiting strong local educational links to help pupils achieve."
The tutors employed to help pupils north of the border are more likely to be recruited by parents privately, and by those who can afford the cost.
Governments and councils are ­mindful of balancing the books, and education tops the biggest spend in every local authority area, with social work getting the second-biggest share of the budget.
Last month The Sunday Post revealed the number of children in "super-size" primary classes has soared above 40,000.
Scottish Government ministers have been urged to take urgent action after new analysis showed 40,111 pupils are being taught in classes of 31 or higher – an increase of almost 9,000 over the past decade.
The latest pupil census data shows a staggering rise in the number of children now being squeezed into over-stretched classrooms.
It is happening against a background of promises the SNP made to cut classes when it first came to power in 2007.
Former first minister Nicola Sturgeon staked her personal reputation on improving education as first minister.
Ahead of the 2007 election, the party promised it would shrink numbers for P1 to P3 classes to 18 or less, but the target was relaxed two years later after ­negotiations with councils.
Those pupils, now adults themselves, must be wondering what overcrowded schools hold for their own children.
Louise Wilson from the EIS – Scotland's largest teaching union, described the rise in class sizes as completely unacceptable.
She said: "Smaller class sizes are ­essential to the delivery of a high-quality learning experience and enable each individual pupil to spend more time with their teacher, which improves learning. Past studies have shown that smaller classes have a positive impact on attainment with children from more deprived backgrounds benefiting the most."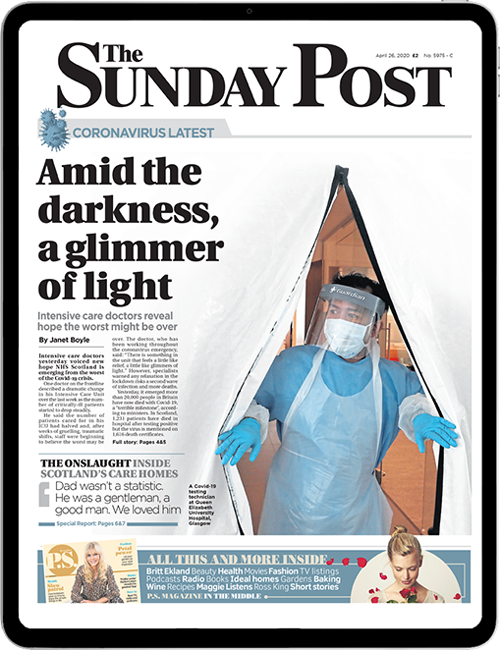 Enjoy the convenience of having The Sunday Post delivered as a digital ePaper straight to your smartphone, tablet or computer.
Subscribe for only £5.49 a month and enjoy all the benefits of the printed paper as a digital replica.
Subscribe