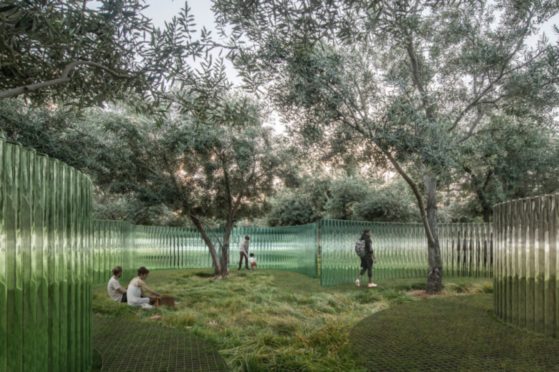 Tech giants Apple scoured the world to find the perfect artist to create a mesmerising glass and sand sculpture at their Californian headquarters – and found her in Scotland.
Katie Paterson will use sand from all 58 of the world's deserts to make the artwork, Mirage, featuring 400 glass columns cast from the sand to form three wave-like structures mimicking a desert dune.
The sculpture, due to be unveiled next summer, is a multi-million dollar project to create an outdoor public space in an olive grove at the Apple's campus in California.
Paterson, who is based in Fife, said: "Our goal is to bring together every desert on earth. Visitors are going to be able to walk east to west around to every desert on the planet. We're going to make this a microcosm space that brings all these immense and diverse deserts right there to Apple Park."
The project, led by Paterson collaborating with German architecture firm Zeller & Moye, will also involve a team of dozens of artists, architects, geologists and desert experts.
She said she had previously considered using desert sand to make glass for a sculpture but it only "really came to life" when she teamed up with Zeller & Moye.
One of the biggest challenges will be collecting the sand from subtropical, coastal, rain-shadow, interior, mountainous, volcanic and fossilized deserts then melting it down into glass.
Glasgow-born Paterson described the project as unique in its scale, and said it will need global cooperation to succeed. She has undertaken high-profile works of art before, including Hollow, a canopy-style sculpture featuring 10,000 samples from different species of tree around the world, at the Royal Fort Gardens in Bristol.
One project involved her creating a map of 27,000 dead stars, and she has also done several artworks about melting glaciers.
Paterson forms her ideas by writing them down but has spoken about how dyslexia has made it far easier for her to communicate through art.
On a BBC podcast with the novelist David Mitchell, she said: "I'm quite severely dyslexic. I can see things really clearly but I can't get them out there in a semblance that makes sense with words, and so words are both my complete enemy but also it's where all the ideas start because I write them down.
"It's just that I write in this really scrambled up way. But words were a great enemy for a long time and now I feel really lucky in that my language is the artwork that I do."
The award-winning artist said her inspiration is often using ordinary objects as a way of accessing "other worldly" ideas for her sculptures.
As a student at Edinburgh College of Art, she said she often arrived with scribbled notes for ideas such as turning Saturn's rings into art.
She said: "I always felt kind of very outside but actually as soon as I graduated something opened up.
"But also I'm in a place and time where you can cross disciplines so easily, so smoothly and so fluidly."
Paterson once travelled back from Iceland carrying pieces of melting icebergs in her hand luggage for an artwork involving a recording of melting glaciers.
But collecting desert sand to bring Mirage to life will involve the help of a team behind her.
Ingrid Moye, of Zeller & Moye, said: "We're working with these materials in an experimental way, but focusing on one material as the core of the artwork: desert sand.
"It has this artisanal quality because it is cast glass, so it will show a lot of variations and shapes and discolourations."
She added that people have felt isolated and disconnected from the world during the pandemic, adding: "It's important to have back these connections to the physical."
Her co-founder, Christoph Zeller said: "This is a very different way to use glass. We have glass everywhere in our daily lives, but we often experience sheets of glass, glasses of water or glass vases.
"With this project, we're moving away from the commercial aspects of glass and referring to the solidity of glass."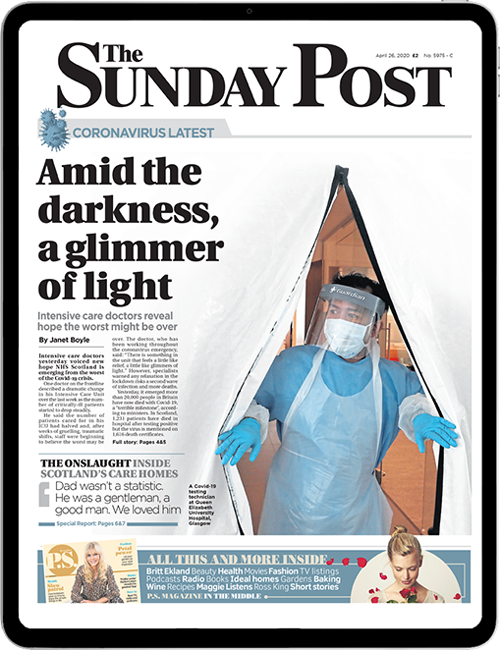 Enjoy the convenience of having The Sunday Post delivered as a digital ePaper straight to your smartphone, tablet or computer.
Subscribe for only £5.49 a month and enjoy all the benefits of the printed paper as a digital replica.
Subscribe