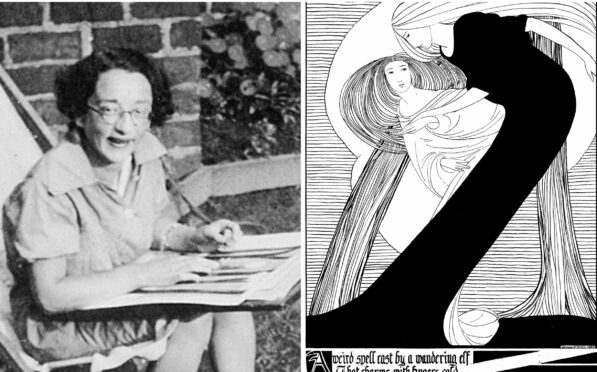 She was the daughter of Jewish-Lithuanian immigrants, who became one of Scotland's most acclaimed artists. Her neighbourhood was – and remains – a melting pot of language and nationalities, a cultural stew of immigration and inspiration.
She was Hannah Frank, it was Govanhill, and, more than a decade after her death in 2008, aged 100, her work – monochromatic and ethereal – will soon be framed on the streets there in tribute to a famous daughter.
Ten of Frank's prints will appear as part of Govanhill Festival, an annual celebration of diversity in the multicultural neighbourhood on the south side of Glasgow. It is a perfect match, according to Fiona Frank, her niece and curator of her legacy.
"Govanhill is a fantastic area where people from all over the world have come to live and be welcomed in Glasgow," she explained.
"The Jews arrived at the turn of the last century, following the Irish and preceding the Italians and the Muslims. When the Jewish community arrived they mainly lived in the Gorbals and then, as they prospered, they moved south, to Govanhill. That's where the Frank family moved when they got their first main-door house."
It was there that Frank began to create her drawings, typically haunting, black and white renditions of women.
Frank was one of Scotland's important artists of the era, who provided a link between Charles Rennie Mackintosh and the more modern era, according to Jan Patience, Sunday Post arts correspondent.
"Frank's early work – black and white, elongated illustrations – represent a direct link back to Victorian Romanticism and the Art Nouveau of Charles Rennie Mackintosh and The Four, a couple of decades earlier," said Patience. "Their work in turn was hugely influenced by what was happening in Europe, especially in and around Vienna.
"They were all trying to break away from the rigid rules of the art that had gone before – trying to find new ways to make art. Their art also had more of a design aspect than the art of previous generations."
Between 1925 and 1997, she created a trove of drawings and sculptures yet it wasn't until her niece got involved that Frank's work won the attention and acclaim it deserved. "In the early 2000s my aunt moved to a care home in Newton Mearns and she originally thought she'd have to get rid of all her art and all her books and letters," explained Fiona. "But the home was fantastic and had lots of space in the attic for everything.
"A lot of her letters and scrapbooks are now in the Scottish Jewish Archives Centre at Garnethill Synagogue and her artwork is still on show around the care home. I took on the mission to make her a household name by her 100th birthday and I think I achieved that, at least in her native Glasgow.
"My aunt said I can't make money off of her work for myself but that I could use any money we got from selling the prints to help to set up exhibitions.
"That's what's happened, and at one point we had a £30,000 turnover from selling her prints and bronzes, and we organised an international tour of her works, going all round the UK and to the USA, leading up to the 100th birthday exhibition which was held at Glasgow University.
"At her 100th birthday exhibition Miriam Margolyes came along. Auntie Hannah was there, it was just fabulous. Interest in her has never really stopped since then."
Margolyes, whose Jewish immigrant family lived on Allison Street in Govanhill, counts herself as a fan of Hannah's work. "I came up to Glasgow to meet her and I was very impressed, although I don't think she was quite as impressed with me," said Margolyes. "She was very nice but I don't think I was of interest to her!
"She was magnificent, though; a Jewish girl from a lower-middle-class family who, out of that, came the most wonderful drawings."
For TV presenter and author Margolyes, Frank's relative obscurity in her life is baffling.
"I love her work – she was a special artist. The precision of the draughtsmanship is incredible," she added. "But she never got the recognition in Scotland, or anywhere, that she deserved. It's wonderful her niece Fiona is able to draw attention to her work. She is a real champion of Hannah's.
"These black and white sketches of strange, elongated spirits, they had an otherworldly quality, as if she saw beyond reality."
For Frank's niece the neighbourhood of Govanhill, with its vibrant mix of more than 40 ethnicities, retains its friendliness. That extends to the current residents of the home where she grew up.
"At the moment there's a Muslim family living in the house that my aunt and dad grew up in, who have been absolutely wonderful," explained Fiona. "They've been kind enough to invite us in and show us around the house.
"I took some family in for a tour of their house for Hannah's 100th birthday exhibition and her 110th birthday, they've always let us come in to see where she grew up and where she did her drawings. They're such a lovely family, and it's been an important connection to Hannah for us."
Part of Fiona's work involves teaching students about her aunt's art and, despite being nearly a century old, the drawings often captivate young female artists.
"I've worked with three different generations of Glasgow University students, young women who are the same age as she was when Hannah was at university," she said.
"Each of the three generations finds the work immediate – it completely speaks to them. She was working in the late '20s, basically 100 years ago but it's interesting to see that these young women identify with her. They get a feeling of immediacy, contemporaneousness and modernness. It's like she's in the room with them.
"Her work doesn't seem to age. If you look at the images you might feel they were created yesterday."
Recently money raised from the sale of Hannah Frank prints has been going towards helping those displaced by Russian aggression, something with which she may have been able to identify with.
"Our family came from Lithuania but so many Jews in Glasgow come from Ukraine, so there are so many links in the Glasgow community," said Fiona.
"I have musician friends in Ukraine who have had to flee the country and start a new life in Germany or Poland, much like Hannah's and my own family had to do over 100 years ago from the pogroms in Russia.
"We've still got some signed prints available on Hannah's website and 80% of print sales income will go to charities helping Jewish communities in Ukraine and those who have been able to escape."
It is thanks to Fiona's curation that her aunt is receiving the recognition as an artist she deserves.
"Were it not for the devoted support of her niece, Frank would probably have suffered the fate of many talented artists – especially women – and languished in obscurity today," added Patience. "But a lot of work was done around her work in the last few years of her long life which put it out in front of people to enjoy.
"She represents a link back to an era in which art, literature and culture was everything. A fin de siècle European sensibility wrapped up in a distinctly Glasgow point of view."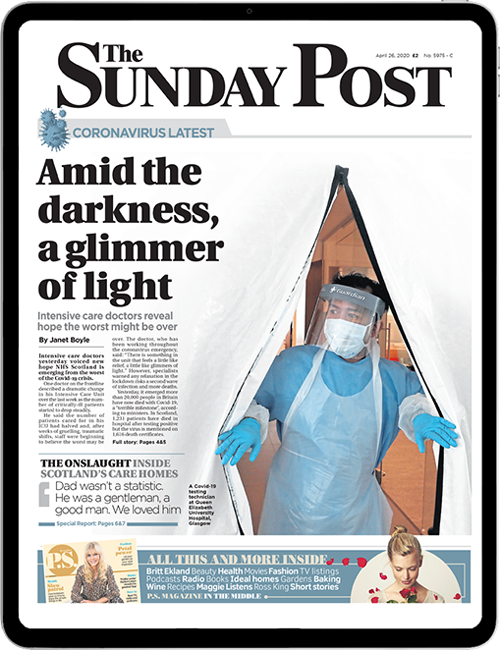 Enjoy the convenience of having The Sunday Post delivered as a digital ePaper straight to your smartphone, tablet or computer.
Subscribe for only £5.49 a month and enjoy all the benefits of the printed paper as a digital replica.
Subscribe