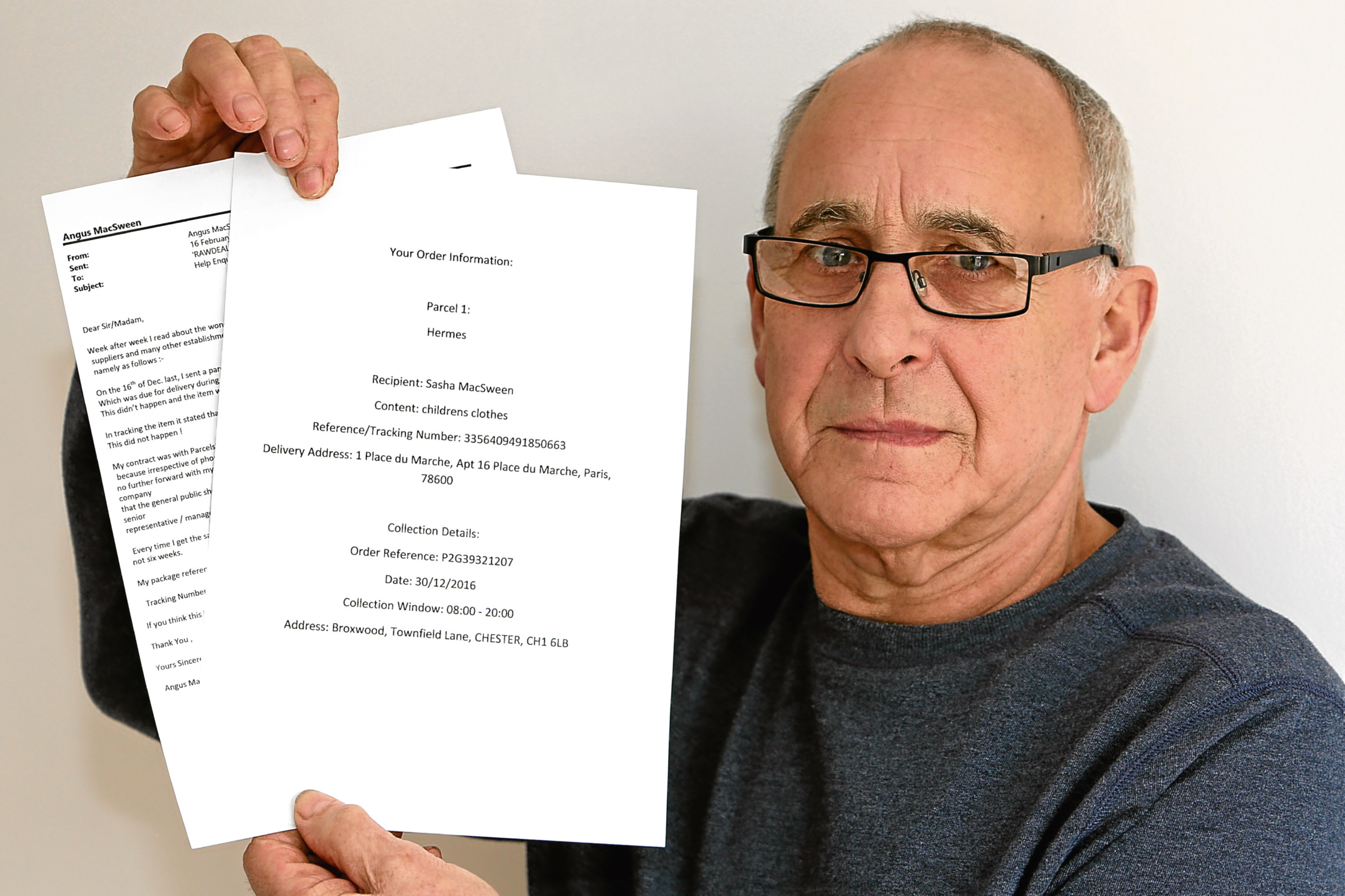 BIG firms rely on their procedures and workflows to do the job, which is sometimes spread over many different venues in several cities.
Delivery companies, for instance, have a process to follow and each member of staff plays a part.
Usually, it works well. Sometimes it goes wrong.
When that happens, human intervention is required.
Indeed, when people complain that service isn't what is used to be, they are usually referring to a lack of a human touch.
When Angus MacSween, of Chester, wrote to tell Raw Deal he had posted a parcel to Paris using Parcels2go, but it had never arrived despite many frustrating phone calls, we knew what had gone wrong.
Angus was told that the "tracking system" said his parcel hadn't been delivered (with no reason given for this) and had been returned to depot and then sent back to the sender (which it hadn't).
Despite Angus's efforts, he was repeatedly told that Parcels2go were "awaiting a response from the international courier."
But Angus quickly grew tired of repeatedly giving his package reference number and having the operative on the other end of the line read out what his computer screen was relating.
He phoned seven times, spoke to seven different people and was told (that's right – seven times) the same information.
The package hadn't been returned to the depot and thereafter to the sender, no matter what the computer was saying.
Angus knew this because he was the sender, but hadn't had the parcel returned to him.
The promised "response from the international courier" was obviously never going to come after such a long wait.
This went on for six weeks, but the complaints process seemed to be an ever-repeating loop.
Angus kept asking to talk to a supervisor, a manager, a senior person…someone who could cut through the automated responses and investigate just what had happened and find out where his parcel had ended up.
He contacted Raw Deal. We tried phoning too. A futile exercise.
It was time to go to the top and contact someone in senior management.
The next news Angus got was a lot better.
He told us: "The Sunday Post brought a very satisfactory result.
"The package has now been received at the Paris address.
"You really are wonderful in the way you got me a positive result after me trying for six weeks.
"Thank you and kindest regards."
No problem, Angus.
The world is an increasingly automated place.
Machines and computers now do jobs that humans used to do.
This is true of far more than just parcel delivery services, it is is a worldwide, all industries and all-encompassing, fact of life.
The vast majority of the time, computerised systems do the job they were intended for. Your details are processed, the service you paid for is carried out.
But sometimes the process doesn't work. Sometimes there's a glitch in the matrix.
When that happens, human intervention is required. All firms, from international banks to elastic band makers, have to ensure that when something goes wrong, they can give proper customer service.
This service should be overseen by someone who knows what they are talking about and has the authority to intervene in whichever process has gone awry.
That shouldn't be too much to expect.