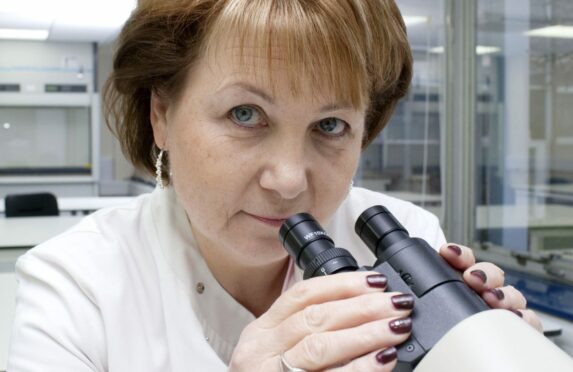 She was just a child when she had her first encounter with crime but forensic scientist Angela Gallop still vividly remembers riding in the back of a police car as officers hunted the man who had exposed himself to her.
Six decades on and she is still striving for justice for victims and their families and for the wrongly accused, propelled into a life of crime by her passion for solving puzzles and an acute sense of justice instilled by her mum.
The University of Strathclyde professor and author, whose bloody baptism in forensic science began at the Home Office laboratories in Harrogate in 1974, is publishing her second book How To Solve A Crime: Stories from the Cutting Edge of Forensics.
In it, she takes readers behind the police tape and into the heart of a crime scene. From the seemingly unsolvable and the downright bizarre, she explores the work of the many different types of forensic scientists and the issues they face.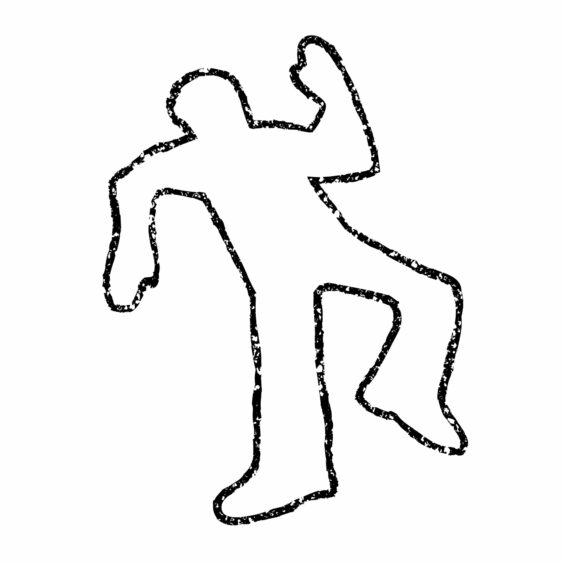 Gallop, 72, who reveals she is beginning to wind down after decades helping to crack some of Britain's most monstrous murders – overseeing complex cases like that of Stephen Lawrence, Damilola Taylor, and Rachel Nickell – reflected: "When I was a young girl I was flashed at and I remember riding in a police car through our village looking in doorways and seeing if we could see him. They didn't find him but my subsequent career wasn't inspired by that, it was more using science as a puzzle that attracted me, and a sense of justice. Growing up my mum – her ancestors were Langbaines from Scotland – gave us lots of lectures on people being fair with each other. That's very well embedded in me. And here was a way of using science to try to achieve that."
Gallop – whose laboratory in the Thames Valley helped identify the man responsible for the near fatal stabbing in 1999 of former Beatle George Harrison – was hired after graduating as the first female court-going forensic biologist at the Harrogate lab. Her first assignment was the murder of a woman by her husband, followed by her first crime scene; the Huddersfield wood yard where 18-year-old Helen Rytka had been murdered by Yorkshire Ripper Peter Sutcliffe.
Reliving her first day on the job, she said: "I was the first reporting officer there that was a woman. And I remember my boss saying to me on my first day, 'I don't know how you are going to cope. I really don't think this is the sort of job for a woman'. That's something you'd never get away with these days.
"But over the years, gradually, it all changed. Now there are probably more women than men in forensic science."
While not quite ready to retire – she still has four cold cases back in the lab – Gallop, admits she is "learning" to take life at an easier pace as she prepares to pass on the baton.
But justice remains top of her agenda. Founder of Forensic Access and co-founder of Forensic Alliance (subsequently LGC Forensics and now Eurofins), she was until fairly recently the University of Strathclyde's Strategic Director for Forensic Science.
Speaking from her home in Oxfordshire, the mum-of-one said: "I am now Visiting Professor at University of Strathclyde and I have just recently stepped back from day-to-day operational forensic science in two of the companies I founded and co-founded respectively.
"I am still doing cold cases, I have four cases in the lab at the moment but I obviously can't say what they are as it is all so sensitive. I wouldn't say I am properly retiring but at least I'm not having to think about operational stuff everyday which I've probably had enough off. It's been 48 years now."
Unlike her largely autobiographical debut When The Dogs Don't Bark, her new book puts the focus on the broader spectrum of forensic sciences and the challenges the service faces.
She said that having written articles about the "use and abuse" of forensic science, she had "an ulterior motive to bring it to everyone's attention", adding: "I am at the end of my career but there are people at the start of theirs and I thought it might be useful."
She added: "I also want the public to 'get' forensic science. I want them to see that it's a team activity, it is not one single miraculous, marvellous person. It is more complex and subtle than that, so I'd like them to get an insight into how crimes are really helped to be solved by using science and forensic science. It's not like what you see on the telly which, I admit, is terribly entertaining.
"In reality you spend days, weeks, months going through with a fine tooth comb what can be ghastly heaps of stuff on the lab bench and having a challenging time at crime scenes. But it is all worth it when you find a critical piece of evidence.
"I wanted them to think more deeply about who is providing forensic services. Because we have had this mixed economy, we have had experiments with forensic science and now in England and Wales we have the police doing more and more of their own forensics, including more of the initial searching of items."
She explained: "Cases are won or lost on whether evidence is discovered in searching, and evidence can be tiny. Edmond Locard, a French criminologist, said in 1910 said that every contact leaves a trace, and it absolutely does. You just have to find it, and that's the trick of it. It requires really careful, imaginative searching strategies. You can find evidence or you can miss it, or lose, or compromise it. I have a huge respect for the police, for the investigators and their teams. I have worked with them for a long time. I'm also aware of the tight budgets they work to and which can influence the amount and type of forensic work they do or commission others to do and the influence this can have on what they find or what they make of it.
"We should be asking ourselves if the people charged with detecting crime, and going out and hunting down criminals, should also be responsible for producing independent, impartial, scientific evidence. Every time I raise this in my talks around the country, people always get it, but they didn't know it first. To help the course of justice – because it's all about criminal justice – we should be sure that if you are going to rely on forensic science as evidence, it should be truly independent and impartial."
Scotland's forensic science services are no longer under the direct control of police forces, having transferred to the Scottish Police Services Authority, a government body who run four laboratories across the country – a move she broadly favours. But Gallop believes that, in any event, where forensic science is going to play a significant part in a prosecution, it should still be independently checked.
She explained: "The laboratories will work in similar ways to the same set of processes and procedures. Where as an independent might take a slightly different approach and one which is heavily context dependent. It is all quite subtle, but from my vast experience, I know it is a good idea to have someone give an independent and impartial view of the evidence to make sure it is safe before assuming it is and drawing their conclusions.
"That was largely behind the work that I have been doing at the Centre for Forensic Science at Strathclyde University – making sure that lawyers know that there is somewhere they can go locally to get the forensic evidence checked in their cases."
Having taken a step back from the daily grind, she has more time for writing; her books a platform on which to raise the profile of the profession to which she has devoted her life, as well as the need to protect its integrity.
She is also looking forward to spending more time with her disabled son, who is the great joy of her life, as well as travelling again and indulging her love of gardening and opera.
Gallop told the Post: "I am gradually learning how to be fairly normal again. I have never lost any of my passion for forensic science. I will always have that; what it can do and the strength of what it can do to identify the guilty and exonerate the innocent. I just want to contribute to the next generation, if they are interested, so that they don't have to reinvent the same old wheels."
---
How To Solve A Crime: Stories from the Cutting Edge of Forensics by Dr Angela Gallop is published by Hodder & Stough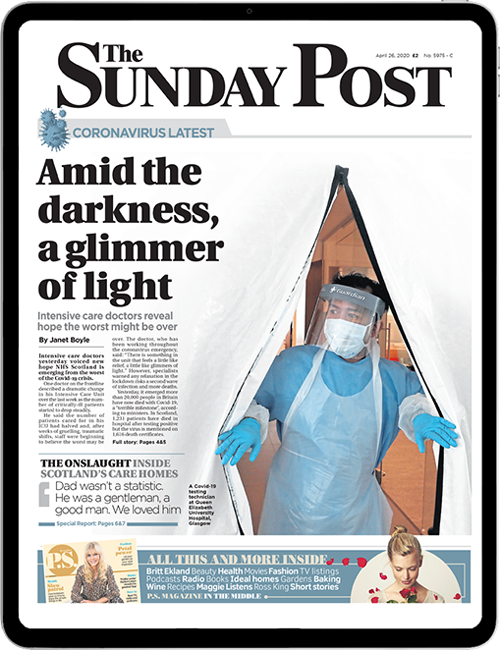 Enjoy the convenience of having The Sunday Post delivered as a digital ePaper straight to your smartphone, tablet or computer.
Subscribe for only £5.49 a month and enjoy all the benefits of the printed paper as a digital replica.
Subscribe