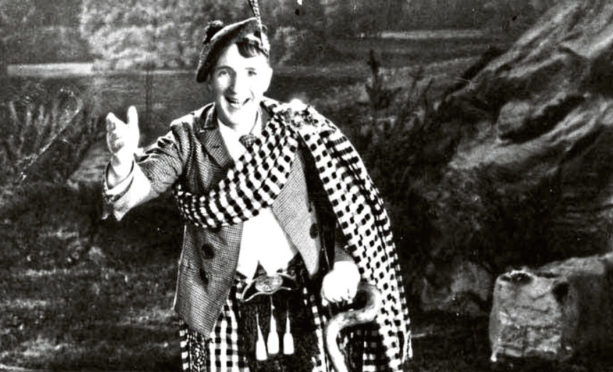 By the age of 14 he was down the mines, spending five years at the coalface in Lanarkshire, but when Harry Lauder emerged into the daylight he took his first steps on the road to global superstardom.
In the early years of the 20th Century, stars didn't shine any brighter than the Scot, who in his day was as big a name as Elvis Presley, with adoring fans all over the world.
Packed-out audiences from New York to Sydney sang along to his popular hits such as I Love A Lassie and Roamin' In The Gloamin', which led to record sales of more than a million.
Now the "wee Scotch comic" with his trademark twisted walking stick, jaunty bonnet and kilt, is being honoured on the 150th anniversary of his birth by the University of Glasgow, who hold an extensive collection of Lauder memorabilia in their Scottish Theatre Archive.
"Harry Lauder was like a pop superstar in his day, with worldwide success equivalent to that of Elvis Presley or Michael Jackson," said Kirsteen McCue, professor of Scottish literature and song culture at the University of Glasgow.
"A huge star, he was at the forefront of the uniquely Scottish tradition of musical theatre and entertainment."
The university had planned a conference and exhibition to celebrate Harry Lauder's achievements this month, along with a one-man show about his rags-to-riches life but these events will now take place next year, due to the Covid-19 crisis.
Instead, tenor Jamie MacDougall's tribute show, Lauder, which was filmed at the King's Theatre, Edinburgh and showcases his best-loved songs, is now available online.
Jamie is keen to bring Harry Lauder to the attention of a younger generation of Scots.
"Harry Lauder had a huge impact on the Scottish theatre. When I was 10, I went to see Jimmy Logan perform this one-man show with my grandpa. Everyone in the audience sang along and I was bowled over.
"His songs are catchy and timeless, and were sung all over the world," added Jamie, who co-produced the play with Scottish Opera.
"Now I'd like to bring these songs that are so much part of our musical inheritance to younger Scots through this play, which tells how Harry Lauder rose from humble beginnings to become a worldwide star."
Lauder was the first British artist to sell a million records in the days of cylinder records – and went on to sell another million when flat discs came in.
"People enjoyed his simple, music hall songs – they're terrific, catchy and immediately memorable," said Jamie.
Professor McCue added: "Many of us know Harry Lauder's songs from when our grandparents or even great-grandparents sang them to us, and they featured on television variety shows in the 1960s and '70s. After that, they went out of fashion and were considered embarrassingly kitsch, which is a pity as they are great songs."
But Jamie plans on staging a Harry Lauder comeback by touring Scottish primary schools to introduce children to his songs and encouraging them to take their grandparents to see the show in the theatre.
The play reveals how Lauder came up with the idea for one of his most popular songs, I Love A Lassie.
"When he was leaving a London theatre one night, the doorman remarked that he was always in a hurry to get home, and Lauder explained he wanted to get home to his wife, Nance," said Jamie.
"The doorman said, 'So, you love a lassie?' and Harry replied, 'Aye, I love a lassie, a bonny lassie.' And that gave him the idea for the song."
His songs are still catchy with simple rhymes – Lauder said you should be able to sing his songs, and if you can't sing, whistle them, and if you can't whistle, tap your toes along to them – but his life story is just as compelling.
"The Lauder songs are sentimental in a direct and simple way, matched to catchy tunes, and accompanied by Harry's famous chuckle. Songs such as I Love A Lassie, Roamin' In The Gloamin', Stop Yer Ticklin' Jock, Just A Wee Deoch An' Doris, and Keep Right On To The End Of The Road, will not easily be forgotten. Neither will Harry Lauder."
Claire McKendrick, chief library assistant at the University of Glasgow, said: "We are proud to have the largest collection of Lauder memorabilia, most of which belonged to Jimmy Logan. It would be wonderful to see a resurgence of Harry Lauder's music through the power of social media."
---
From Arbroath pig-feeder to the world's highest-paid performer
Sir Harry Lauder was born in 1870 in Portobello. His father, a potter, died from pneumonia when Harry was only three. His mother and her eight children moved to Arbroath where Harry, as the eldest child, took various jobs to help the family – as a pig feeder, a strawberry picker and golf caddy. When he was 12, he worked part-time at the flax mill, in between going to the mill school.
The young Lauder won prizes at singing competitions but when the family moved to Hamilton, he worked down the coal mines. His paid singing engagements led to him leaving the pit at 19.
After touring Scottish theatres, he took the leap to London in 1900. He was inundated with offers after his first week and was soon the toast of London, playing four venues in one night with a horse-drawn carriage waiting to take him to different theatres.
Harry began to make records that were listened to all over the world. In 1907 he sailed to New York where he was met by a pipe band and a tartan-draped motor car. He went on to make 22 tours of the US, and by 1911 he was the highest-paid performer in the world, commanding $1,000 a night.
Lauder had his own train in the US, including a Pullman sleeping car for the company and a parlour-car for himself, his wife and his American agent, William Morris.
He became friends with Charlie Chaplin – they began to make a silent film together that was never completed – and he was feted by the President Theodore Roosevelt.
Lauder described himself as being "quite good friends" with the Prince of Wales, who added to his collection of twisted sticks, bringing one back from Japan for him. These knobbly sticks, or crummocks, became his trademark – one is held in the University of Glasgow Theatre Archive along with his make-up box, kilt jacket and pipe – and he was presented with them wherever he went, on tours to Australia, South Africa and the Far East.
He was in Australia with his family when the First World War broke out in 1914 and his only son John, a captain in the Argyll and Sutherland Highlanders, was recalled to his regiment.
Lauder spent the war entertaining the troops at the front, visiting hospitals, and fund-raising, raising more than £1 million for maimed servicemen. Despite his stage persona's famous meanness, he was a generous man and to this day, wounded servicemen benefit from the royalties from his estate.
He was performing in London when on New Year's Day 1917 he received the dreaded telegram from the War Office, stating simply: "Captain John Lauder, killed in action". Despite his tremendous grief, he went back on stage three days later, and wrote Keep Right On To The End Of The Road in the wake of his son's death.
Later that same year, Lauder went to France and entertained the troops in the trenches at the front, against War Office advice to stick to the bases. His war work was acknowledged in 1919 when he became the first popular entertainer to receive a knighthood.
The first knight of the music hall retired in the 1930s to his 22,000-acre estate on Dunoon with its own loch – he joked it was "cheaper to keep clean than a swimming pool". But during the Second World War, he was again entertaining the troops and helping war charities, with Churchill describing him as "Scotland's greatest ever ambassador".
His last stage appearance was in 1947 at a concert in the Gorbals in Glasgow and he died three years later in his home in Strathven, Lauder Ha', aged 79. The Duke of Hamilton, a close friend, led the funeral cortege through Hamilton, and wreaths were sent by the Queen Mother and Winston Churchill.
---
See Jamie MacDougall's Lauder at youtu.be/2Rt5Sp56XeQ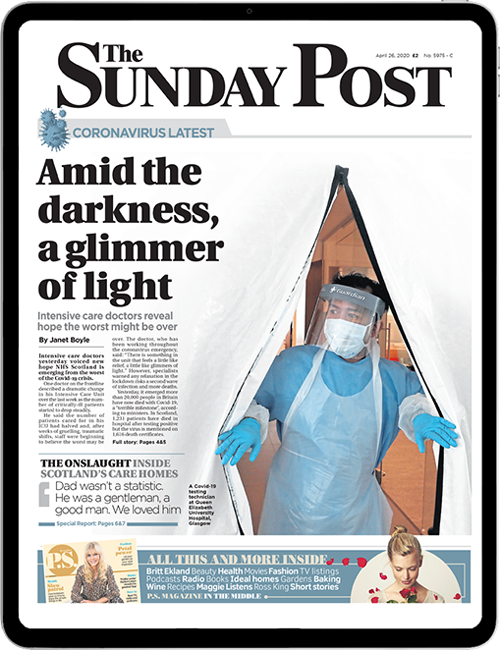 Enjoy the convenience of having The Sunday Post delivered as a digital ePaper straight to your smartphone, tablet or computer.
Subscribe for only £5.49 a month and enjoy all the benefits of the printed paper as a digital replica.
Subscribe